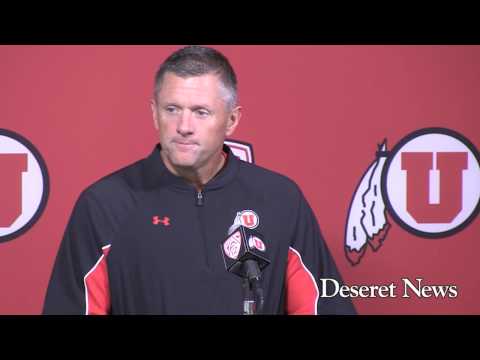 View 2 Items

Bubba and Kelvin are 1 and 1-A as we mentioned last week, and they're both on equal footing. They really both bring a different skill set to the table. Karl Williams is not far behind the other two. I mean, he's got his role as well. We think he's a good addition to those two guys.

—Kyle Whittingham, Utah head football coach
Kyle Whittingham addressed the media on Monday, Sept. 2, 2013, at the University of Utah campus and answered questions regarding Utah's 30-26 victory over Utah State and the upcoming contest against Weber State.
Here is a full transcript of that press conference.
Don't have the time to watch or read? Take the audio with you by clicking this link.
On mobile? Watch the video on YouTube.
Kyle Whittingham (KW): OK, we got off to a good start to the season with the win against Utah State. I thought it was a great effort by our guys from start to finish. We weren't real efficient throughout parts of the game, but we did enough to get the win and hung in there 'til the bitter end, and it was good — really good — to get that win under our belt.
Moving forward to Weber State, this week we've got a lot of things to address that we've got to get better at, and that's our focal point, obviously, taking care of our deficiencies and trying to strengthen those.
I think there were seven or eight Division 1 teams that got beat by 1-AA teams this past weekend, so that certainly will get our players' attention. We know that we've got to play well, and Weber's coming off a big win. (There's a) lot of offense. They rush the ball extremely well, and really put up a lot of points. We've got our work cut out for us on defense, but like I said, more than anything this week, we've got to fix what we're not doing so well.
Questions?
Reporter: Coach, can you talk about what you saw from Travis Wilson? What press did you see from him?
KW: I saw a lot of growth and maturity compared to last season. Now, we saw that same growth and maturity during spring ball and throughout fall camp, but obviously he hadn't had a chance to show it in a game until this past week. He made great decisions. He threw the ball very efficiently. He was over 300 yards on only 28 attempts, which is outstanding if it only takes you 28 attempts to get over 300 yards. He took care of the ball as far as not turning it over in interceptions, and just ran the offense. He did a good job of staying poised and making sure that the offense ran as we wanted it to.
Reporter: After the game you weren't very pleased with some of the aspects of your offensive line play. When you went back and looked at the tape, was it an effort thing, was it a scheme thing, was it an opponent thing, and is that easily fixed or cleaned up this week?
KW: Well, it wasn't an effort thing at all. There's no question that we had great effort from all the players throughout the entire game, so that was something that was a positive. We've got to do a better job getting movement on our offensive line. Utah State did a good job slanting and gap exchanging and we've got to be able to pick that up.
We didn't handle the blitz very well. They pressured us a bunch — over 50 percent of the time — so we've got to do a better job of not only picking up blitzes but exploiting. When people blitz, you've got to have an answer and be able to make them pay for that. Those are two of the areas right there.
I didn't think we ran the football violently enough. The run game needs to be more productive and more physical.
There were a lot of good things. I don't want to put too much of a negative spin on the game, but there's a lot to work on.
Reporter: The loss of Kenneth Scott was obviously a big one. How much of a drop-off is it to Anthony Denham and Sean Fitzgerald? Do you expect them eventually to get back to where Kenneth was?
KW: Well, those guys that you mentioned stepped up big time in the game. (Audio cut) I thought they both responded.
It's a big loss losing Kenny Scott. Him and Dres, as we've mentioned several times throughout the course of camp and game week, they're our two best receivers. They had separated themselves from the rest of the group, but both Fitzgerald and Denham both stepped up and really performed well for us Thursday night.
Reporter: I know it's an obvious question, but it's been a couple years since you've been able to get off to a 2-0 start. How big of a deal is it to get that mindset — to get that winning track start before you start Pac-12 play?
KW: Well it's a big deal on a couple different levels: 1) As you mentioned, before Pac-12 play begins, and 2) the schedule, how it lays out this year, with a bunch of home games in the beginning half of the schedule, we need to gain some momentum. And I think it's important that we take advantage of the home schedule early in the season because it gets very difficult as the season goes on.
Reporter: Were you pleased with the effort of your secondary, your corners and your safeties in this past game?
KW: Effort, yes. Outcome, not so much. Chuckie Keeton had a big day throwing the football. Our techniques were a little bit sloppy, and it wasn't all the defensive backs. The linebackers didn't have the route awareness that we need in the zone coverages. Defensive line, I think, can get a better pass rush, which will speed things up for us. Overall, our pass defense was very, very below average, I guess you could say.
Reporter: Kyle, in the first week, aside from the captains Travis (Wilson) and Trevor (Reilly) any guys on the practice field you're seeing step up on the practice field and become the vocal leaders that you look for?
KW: All four captains are doing a great job of that. Tenny (Palepoi) and J.T. Tofaeono, the other two, are really responding. Eric Rowe is a great leader for us. V.J. Fehoko out of the linebacker corps … Jake Murphy out of the tight end position … So there's a lot of guys in addition to the captains who have been instrumental in the leadership of the team.
Reporter: Off topic on the play part, but what do you think of the new closed captioning services that Rice-Eccles Stadium is offering to fans who are hearing-impaired?
KW: I think it's great. Anything we can do to make the game and the experience at Rice-Eccles more accessible to everybody, I think that's a positive thing. I like it, and I think that it's going to be a benefit to a lot of people.
Reporter: Coach, can you talk a little bit about the run game and what's going on there?
KW: Our run game as far as the Utah State game or … ?
Reporter: Going forward.
KW: As I mentioned, I think we've got to be more efficient. We got some yards, 140 or somewhere in that range, but our yards per carry wasn't good enough. Too many plays that were stalemated, where we had little or no gain. The goal-line stand was disappointing, where we had a chance to get a touchdown there late in the game, and we end up settling for a field goal. There was just a lot of things that we need to clean up.
I don't think it was a scheme issue. We had a solid rushing attack as far as the schematics. We just have to be more violent and be better at what we're doing in the run game.
Reporter: You mentioned that you made some drastic defensive changes at halftime in that ballgame. Without getting too much into X's and O's, are those changes that we could see throughout the season, or was that just an in-game adjustment for Utah State?
KW: Well, I think more of an in-game adjustment as to what was happening in that particular game. The changes we made are things that we already have in our package. We didn't put in any new coverages that we don't have in the defensive playbook, but we certainly were in need of some different looks in that second half, not only in the coverage, but in the front play. We made some changes up front to help us out in the run game and in the pass rush.
That's part of college football, and coaching is obviously halftime adjustments. A lot of games are won or lost based on halftime adjustments. I thought our guys did a nice job at halftime.
Reporter: Were you at all concerned with the missed opportunities at bringing down Chuckie Keeton in the backfield, or do you just attribute that to how good of a player he is?
KW: Both. He's a tremendous player, and he's very difficult to sack. We had him, I don't know how many times, back there in the backfield, and he'd break two, three, sometimes four tackles or make people miss. Great players do that, and he's a great player. The great players bring a whole bag of minuses to the game, and they hand them out to defenders as the play goes on.
Reporter: Coach, do you look at the running backs as a running back by committee type thing now, with (James) "Bubba" Poole upgraded to a co-starter with Kelvin York? I know you don't talk about injuries, but do you expect Kelvin to be ready to go this week?
KW: "Bubba" and Kelvin are 1 and 1-A as we mentioned last week, and they're both on equal footing. They really both bring a different skill set to the table. Karl Williams is not far behind the other two. I mean, he's got his role as well. We think he's a good addition to those two guys. Then Lucky Radley, who you didn't get to see much of at all in the game on Thursday, is still a guy that we think can help us out.
Reporter: Do you use the Eastern Washington upset and games like that as a motivation so the team doesn't look past Weber State?
KW: Without a doubt. We'll address that in the team meeting today. I think, if our count is correct, that there were eight teams in Division 1 that got beat by FCS teams.
Reporter: Other than just not having a letdown this week and getting another win, is there something you're hoping to accomplish this week in the Weber State game?
KW: Well, yeah. As I mentioned, the things that we were not good at in the Utah State game. … Football coaches, they study film and they look for weaknesses, and if you can't handle the blitz or hit movement on your offensive line or cover a fade with your corners, they're going to try to exploit everything that we didn't do very well. We've got to get that addressed, or else you're going to keep seeing it week after week, and that's the nature of coaching. You see a soft spot in their PAT field goal protection, you're going to go right at it.
The main objective this week, like I said, is to shore up those areas of weakness that we had in the Utah State game.
Reporter: You talked a lot about stepping up the tempo of the offense. Were you satisfied with the tempo?
KW: Very much so. I think tempo's overrated. I hear so much about tempo, it's starting to be a little irritating. If my information is correct, there were 10 teams in Division 1 football that snapped it 88 times or more this past weekend, and seven of those teams lost. There's a point of diminishing returns for tempo.
It's not about tempo. It's about execution and the players that are playing for you. Tempo is all fine and dandy, but like I said, there's a point where if you start to go too fast, I think it has a negative effect. I think we snapped it about 74, 75 times, which is just about right as far as I'm concerned.
Reporter: Coach, with Kenneth Scott's injury, who are you really looking at to step up into the hole that he leaves.
KW: It's got to be Anthony Denham and Sean Fitzgerald, the two guys that really stepped up in the game on Thursday, and in addition, we've got to get the tight ends more involved. Jake Murphy and Westlee Tonga are two of our best playmakers, and as coaches, I think we need to do a better job featuring those guys, get them the ball more and make them more impactful to the game. The combination of those two things: the receivers that were behind Kenneth, and get the tight ends more involved.
Reporter: You talked a little about Travis' pass efficiency and how improved that was. I think it was his second 300-yard game. Do you see more 300-yard passing games out of Travis, and could you talk about his pass efficiency?
KW: I sure hope so. That's something that last year was lacking. We couldn't get a 300-yard throw game. If we continue to do that and, as I mentioned, get the run game where we think it can be, then we can be a pretty potent offense, but we've got to keep working.
One game doesn't a season make, but we got some really good things out of all aspects of the throwing game, with the protection, the route structures and where Travis put the ball.
Reporter: Is he just showing more patience, or what is he doing better?
KW: Better decision-making, a little more patience, and a little more command of the offense. He understands concepts a little better than he did last year. Coach Erickson has streamlined things a little bit so it's easier to grasp, and we're just trying to play to Travis' strengths.
He's a better runner than people give him credit for, as I've said over and over, and I think we saw that a couple times in the game on Thursday night where he escaped the pocket and made some good plays. He got a big first down for us in the 4-minute offense, running that Q-power where he got the necessary first down yardage, so he is a guy that is much improved and we need to see that trend continue.
Reporter: How did the play calling go with Dennis up in the box, and having Brian and the different coaches involved? Did everything run smoothly this game?
KW: Yeah. I think we're very satisfied with the channels of communication and the lines of communication, and I don't think we were disoriented or missed personnel or anything on any of the snaps. We didn't have to burn any timeouts, which you typically see in the first game where there's a personnel mistake or something's not correct. I thought in that respect, everything went very smoothly.
Reporter: Just a follow-up to Dennis Erickson — you mentioned that he streamlined the playbook a little bit for Travis, but even still, that game plan seemed to be very effective against a very good Utah State defense. It's got to be satisfying to know that you've got his eyes up there, a very experienced pair of eyes, in the booth guiding you with that offensive game plan.
KW: Without a doubt. As I've said all throughout the spring and fall camp, he's been a great addition to our staff. We feel that it's been very positive thus far. Again, one game is not the end all, be all, but I think from what we saw in game one, he's been a big help for us, and a big benefit.
Reporter: Talk a bit about Andy Phillips and his performance with the three field goals and the onside kick and how he did.
KW: Outstanding. I was bragging on him through fall camp, but with an asterisk saying he'd never kicked in a game yet, and don't get too excited about things at this point, but now that he's kicked in a game and that's translated from practice ….
The onside kick that he executed to near-perfection was the play of the game. I think that was the biggest momentum-changer and the thing that sparked us. For a kid that had never played in a football game at any level in any circumstances — he'd been a skier and a soccer player — phenomenal poise and mental toughness. I couldn't be more pleased with what he did.
Reporter: Coach, you mentioned Karl Williams coming up close behind the other two. What does he need to do to step up his game, and what did you see out of Poole that you liked?
KW: Karl, he's a physical back, he's a big back. He's 230 (pounds) plus. The first thing he needs to do is hang on to the football. He put it on the ground, which was our lone turnover, which can't happen. You've got to secure the football. That's job one.
He missed a couple reads in the zone schemes. Particularly down at the goal line, there was one that would have been a walk-in had he been able to see the daylight, but he just has to keep getting better.
There's no harder worker on the football team than Karl Williams. He's a guy that puts in all the time necessary, in the film room, on the practice field, in the weight room, he does it all. I expect that he's going to continue to get better.
I didn't think Bubba got on track in that game. He's more elusive and more dynamic than what I think you saw in the game Thursday night. Now a lot of that is due to Utah State's defense. They're a very good defensive football team, but I think Bubba Poole is going to make some very big plays along the way for us this season.
Reporter: How much of your offensive playbook did we see last week? Is it just a matter of execution or is there more to roll out?
KW: Well, there's more to roll out, but again that's a week-to-week thing. There are things that will be in the playbook that aren't in it right now based on the opponent. When you study the opponent's film and you see things that you may be able to exploit, you put a thing or two in each week for that exact reason. I think as per what we were facing against Utah State — a new defensive coordinator, a lot of unknowns going into that game — I think we had a really nice game plan.
You're going to see that alter and modify as the season goes on based on what we start to do well as well as what the opponent that particular week is vulnerable to.
Reporter: What's your read on Weber State? What's your takeaway from their win over the weekend against Steven F. Austin?
KW: A lot of offense. More than 300 yards rushing, 50 points, their receiver had a big day and went over 100 yards. The coordinator has an Oregon background, and so it's very similar to what just about everybody's doing with the spread and the hurry-up, and so we've got to be ready and do things better defensively than we did last week by a long shot.
Reporter: You talked about your film work leading up to that game. In running that onside kick, Nate (Orchard) talked about being a little tipped off in film study on the play that led to the sack, fumble and recovery. How much pride do you take as a coaching staff in your players in the film room and the recognition that comes from that in their ability to be able to dissect what an opponent might be able to do?
KW: A great deal of pride, and I stress to our guys all the time that film study is as important if not more so than practice itself. Being able to study your opponent and know exactly, based on split or alignment or stance or all those little details and things that oftentimes make the difference, you pick up in film study. I tell them the coaches watch film for hours on end, but a player that's watching concentrated film on one guy, he can pick up things that a coach can't because a coach is seeing everything.
I harp on them all the time that it's got to be hand-in-hand with practice. It's every bit as important as practice, and our guys really take that to heart and do a good job of getting in the film room all week, and they have their iPads where they can watch it on their down time. It's invaluable. Film work is an absolute must.
Reporter: The offense seemed to struggle trying to punch the ball in inside the five-yard line against Utah State, what do you guys have to do better going forward to correct that?
KW: We missed a couple reads with the back where the hole was actually there, but we didn't find it. That's part of it. More violence in the run game, as I mentioned …. Being able to roll people off the ball a little better and create more movement with the double teams.
We might have got a little predictable down there in this game, and maybe a little more diversity in our offensive play calling down in tight to keep people honest instead of packing the box in and defending the zone cut snap after snap.
Any more questions?
(No answer)
KW: Thanks guys!