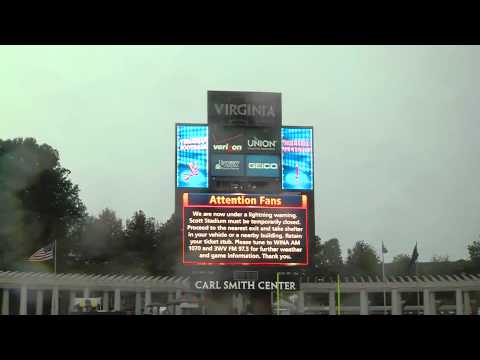 View 4 Items


My job is to prepare them for that. It's not their fault. That's something I need to prepare them better for.

—BYU coach Bronco Mendenhall, on the weather conditions
CHARLOTTESVILLE, Va. — About an hour after kickoff Saturday afternoon, Scott Stadium was empty and eerily quiet.
Quiet, except for the lightning storm in the distance.
Severe weather delayed the BYU-Virginia game for two hours, and as a precaution, fans were evacuated from the stadium and the teams returned to their respective locker rooms.
"It's hard to describe," Cougar coach Bronco Mendenhall said about what effect the delay had on his team. "All kinds of thoughts go through your head, from, 'Are we going to play the game?' 'What is the best approach for our players (during the two-hour delay)?' All the emotions of traveling to get to the game, then you stop it, then go through pregame again — it was a unique challenge. However, I thought our team was mature, came out and handled it OK."
Virginia beat BYU, 19-16. But this game belonged to Mother Nature.
After the contest resumed, a torrential rain storm blew through Charlottesville, creating a slippery field.
"I'm not trying to make excuses, because we didn't make plays, but by the fourth quarter, the balls we were throwing were completely waterlogged," said quarterback Taysom Hill. "The middle of the field was a swamp. You step and the water splashed. There was a couple of times when I got tackled and slid 5 or 6 yards because of how wet it was. … The conditions made it tough."
BYU linebacker Spencer Hadley said coming back to the field after the prolonged delay was a challenge.
"It took a lot mentally and physically and emotionally to get up for the game, then sit in the locker room forever, then get up for it again," he said. "It seemed like a really, really long second half. It was a draining experience."
"You play a long first quarter and we had just got a first down and felt like we had some momentum going," Hill said. "Then it was cut. We went into the locker room for two hours. It's hard to keep the hype and enthusiasm that you had … for two hours. We came out and started a little sluggish. We were able to pick it up and make big plays. We put ourselves in position to win the football game. We came up a little short."
Mendenhall said he should have gotten his team ready for the wet conditions.
"My job is to prepare them for that," he said. "It's not their fault. That's something I need to prepare them better for."
INJURY UPDATE: Wide receiver Cody Hoffman and defensive back Mike Hague did not play due to hamstring injuries.
Meanwhile, linebacker Uani Unga was checked at a local hospital for possible broken ribs after the game. Unga recorded a team-high, and career-high, 10 tackles.
STREAK OVER: BYU saw its six-game winning streak in season openers come to an end Saturday. The Cougars' last loss in an opener came at Arizona in 2006.
NOTES: Announced attendance was 53,310. … Defensive lineman Eathyn Manumaleuna and linebacker Alani Fua both tallied career highs in tackles with 10 and 8, respectively. … Safety Craig Bills intercepted a pass in the second quarter. … Linebacker Kyle Van Noy had 2 1/2 tackles-for-loss, a pass breakup and one quarterback hurry. That hurry led to Bills' interception. … Jamaal Williams ran for 144 yards, 11 shy of his career high.