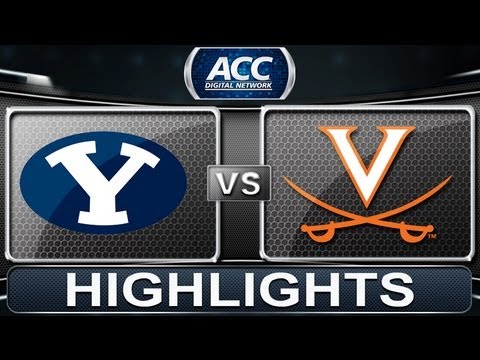 View 5 Items

I should not have stressed out the offense at that juncture. It was a real-time decision. It was not how you draw it up. If it wasn't there, you throw it in the dirt.

—BYU offensive coordinator Robert Anae
CHARLOTTESVILLE, Va. — Offensive coordinator Robert Anae kept it simple after BYU blew a fourth-quarter lead with a turnover in a 19-16 loss to the University of Virginia on Saturday.
All the drama of Anae returning to Provo, reorganizing the Cougar offensive staff, installing a "go-hard, go-fast" offense and revamping the O-line got caught up and whisked away in a mistake-laden, lightning-delayed season opener.
There was one specific mistake Anae wished he had back.
"It was my fault," said Anae of his ill-fated third-and-6 call on the Cougars' 34-yard line with BYU leading Virginia 16-12 with a little less than three minutes left in the game.
It appeared that BYU — a team that had overcome a blocked punt and safety and had allowed the Cavaliers exactly zero sustained long scoring drives all day — was in total control, ready to skip out of town with a win. All that was needed was a conservative play followed by a punt before allowing the Cougar defense to do what it had done all daylong — stop the other guys.
But Anae's sideline decision was to throw to convert that third-and-6. He thought he could get his quarterback an easy throw. Despite being pressured, despite a young offensive line getting whipped most of the night, despite a shaky 13 of 40 completion rate at the end of the night by sophomore quarterback Taysom Hill, Anae decided to pass the ball in hopes of keeping the drive alive.
It backfired.
Hill spotted workhorse Jamaal Williams in the flat in front of Virginia's sagging zone coverage. He threw a pass that sailed a little high — a common occurrence throughout most of fall camp. Williams had a play on the ball — it was catchable and he almost pulled it off. But the pass sailed right through his outstretched hands, where Cavalier strong safety Anthony Harris easily picked it off and raced to BYU's 13-yard line.
From there, Kevin Parks took advantage of a rare BYU missed gap with linebacker Uani Unga on the sidelines. Virginia said, "Thank you again, BYU," and socked away the win.
"I should not have stressed out the offense at that juncture," confessed Anae. "It was a real-time decision. It was not how you draw it up. If it wasn't there, you throw it in the dirt."
Anae didn't blame anyone but himself.
And that's what he should have done.
It was a dumb call, a call that cost BYU's defense a chance to win the game.
Sure, it came down to that play and it was a glaring mistake.
But the Cougars had plenty of chances to take Virginia to the woodshed and should never had been in a position to lose the game on one play.
We're talking about false starts early and late that put the offense in horrible third-and-long yardage, just inviting Virginia's solid front four to put ears back and go kamikaze on the Cougar offensive line.
We're talking about failing to take advantage of a fumble recovery on a kickoff, a first-half interception, a myriad three-and-outs, and misfires in the passing game. It took scrutiny off a holding penalty on a great kickoff return to midfield after that crucial turnover when Adam Hine took a the ball to midfield with time to get a late score.
It took away the drama of a two-hour lightning delay that affected both teams, but may have watered down BYU's go-fast, go-hard strategy to get Virginia tired — only to produce the mother of all rests.
It took away from a dramatic 11-play, 92-yard fourth-quarter drive led by Hill and workhorse back Williams (33 carries, 148 yards) in which the Cougar offense provided a 13-12 lead and looked like it really did wear down Virginia's defense.
In short, Anae's bad call stung and pierced the hearts of this Cougar football team, teetering on trying to get an early road win in a season of independence where wins count like gold because there is no conference trophy.
That is how big that play was.
"This is a launching point for us," said Anae, "and I'm looking forward to the future."
Anae's short assessment is that BYU's new offense has a lot to learn from this launch pad.
Correctamundo.
While he sees that Hill has made progress, Anae said there were 10 other guys who need much more work to get the unit where it needs to be.
"Taysom's uniform was the dirtiest on the team and that has to change. It should be the cleanest."
BYU's offense, the one he returned to build, seeks an identity and he's bent on finding it while preparing for Texas this coming Saturday.
Too bad that one play, plus a million punts, currently defines BYU after one six-hour game.
Dick Harmon, Deseret News sports columnist, can be found on Twitter as Harmonwrites and can be contacted at [email protected].