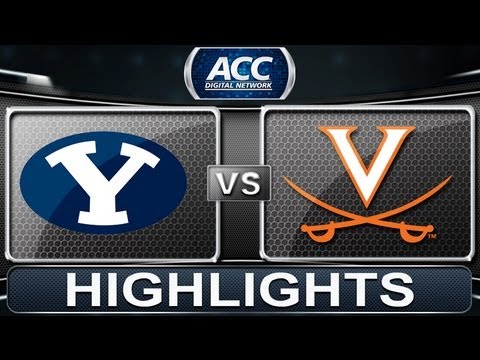 View 13 Items



It was a really difficult loss for our team under really unique circumstances — so many different momentum shifts.

—BYU coach Bronco Mendenhall
CHARLOTTESVILLE, Va. — It took about 54 minutes of game time — and about five hours of real time, including a two-hour severe weather delay — for BYU's go-fast, go-hard offense to show up at soggy Scott Stadium.
But in the end, too many mistakes doomed the Cougars, who saw a chance of a season-opening victory slip away in a 19-16 loss at Virginia Saturday afternoon amid monsoon rains and a lightning warning that forced the evacuation of the stadium and the teams to return to their respective locker rooms.
In what had to be one of the most surreal openers in BYU football history, Cougar quarterback Taysom Hill led a 92-yard touchdown drive to lift his team to a 13-12 advantage late in the fourth quarter.
But moments later, Hill threw an interception that set up the Cavaliers' game-winning TD.
"It was a really difficult loss for our team under really unique circumstances — so many different momentum shifts," said BYU coach Bronco Mendenhall. "The stop of the game was a unique challenge for our program, as I'm sure it was for Virginia. All the way to the end, the game was back and forth. I think our offense started to find its rhythm, and move the ball. To Virginia's credit, it took a long time for those breakouts to happen."
Trailing 12-7 midway through the fourth quarter, Hill took over at BYU's own 8-yard line. Suddenly, an offense that had sputtered most of the day marched 92 yards in 2:26 on a drive capped by Hill's 1-yard touchdown run. At that point, BYU led, 13-12.
Then, on the ensuing kickoff, the Cougars recovered a fumble and eventually added a 36-yard field goal by Justin Sorensen to claim a 16-12 advantage with five minutes remaining.
It appeared that BYU was on the brink of winning its seventh consecutive season opener.
After BYU's defense forced yet another Cavalier punt, the offense returned to the field. But on third-and-6 from their own 34-yard line, the Cougars were determined to get a first down and extend the drive. Hill threw a pass that sailed through the hands of running back Jamaal Williams — who rushed 33 times for 144 yards — and into the arms of Virginia safety Anthony Harris, who lateraled the ball to Henry Coley, who was tackled at the 13-yard line.
One play later, Kevin Parks burst through the line and ran for the game-winning touchdown.
"Virginia made one more play than we did," said Hill, who completed 13 of 40 passes for 175 yards and one touchdown. "It was a tough way to lose a football game."
"We were right there. We had it," said linebacker Spencer Hadley. "We just didn't finish as a team. It's frustrating right now."
The Cougar defense held the Cavaliers to 223 yards. Virginia's touchdown drives came after a blocked punt (16 yards) and Hill's interception (13 yards).
Not that it mattered to Hadley.
"As a defense, especially at the end, they shouldn't have scored," Hadley said. "We controlled the line of scrimmage most of the game. There was no reason they should have scored. As a defense, I don't feel like we did everything we could to win that game."
And there was a mishandled BYU snap that rolled backward and into the end zone for a safety late in the third quarter. It likely would have been a touchdown for Virginia had Williams not pounced on it in the end zone.
"They played well," Mendenhall said of his defense. "There was a blocked punt, a short field and a safety and a turnover. … I don't think Virginia ever found any rhythm whatsoever nor really posed any threat other than we had some unique circumstances. But when those happen, then we need to respond at a different level."
Mendenhall was pleased overall with what he saw from Hill, while acknowledging he has room to grow, as well as the offense in general.
"I would say he was gritty and tough," he said of Hill. "He'll learn as we go about managing a game and making the critical plays. But he gave us a chance from beginning to end."
Offensive coordinator Robert Anae took the blame for Hill's interception, and he expressed support for his sophomore QB.
"I'm really excited and pleased with the way our quarterback (played)," Anae said. "I came off the field and his uniform seemed to be the dirtiest. Hopefully, we get to a point where our quarterback's uniform isn't so dirty and the other 10 guys on the field are pulling their weight and doing their job to a higher level."
BYU hosts Texas next Saturday (5 p.m., ESPN2).