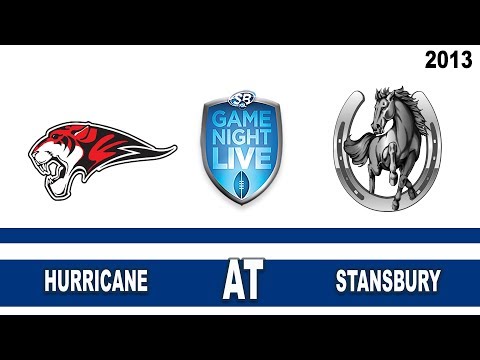 View 2 Items

The Deseret News streamed this game live. Watch the replay here!
STANSBURY PARK — Game Night Live was at Stansbury High School Friday Night as the Hurricane Tigers made the long trip northward to take on the Stallions. Each team was coming off a loss, and needed a win to get their seasons back on track.
Stansbury was able to do that, winning the game 34-21, and moving to 1-1 on the season.
Jesse Horowitz rushed for 150 yards and a TD on 16 carries, Spencer Wihongi had a school record 19 tackles, and Utah State commit Chase Christiansen rushed for 129 yards and added 56 passing yards and a score.
"This was a big win for us," Wihongi said. "Last week we had a tough loss, but we used that as a learning experience. We figured out where we were, made some changes, and were able to get the win."
Stansbury drew first blood in the first quarter when Hudson Conrad finished off a 10 play drive and found the end zone from three yards out to give the Stallions a 7-0 lead with 4:54 left in the first.
Zayne Anderson found the end zone with 8:47 left in the second quarter to give the Stallions a 14-0 advantage, and all the momentum seemed to be on their side.
"Our offensive line was great tonight," Anderson said. "They were definitely at their best. I just followed their blocks and found wide open lanes."
Hurricane struck back with 2:55 left in the half when Jeremiah Ieremia blocked Stansbury's punt and recovered it in the end zone to cut the Stallion lead to 14-7.
Christiansen was able to find his tight end Austen Kincaid for the 28 yard pass just before the half, and the Stallions took a 21-7 lead into the locker room.
Hurricane made a game out of it in the third quarter, erasing a 14 point deficit to tie it at 21 apiece with 2:54 left in the third quarter.
JD Stansworth took matters into his own hands, scoring both touchdowns, and powering through the Stansbury defense on each run.
Stansbury was able to answer on the ensuing drive when Horowitz broke through the Tiger defense and raced down the sideline and into the end zone to make it 27-21 just before the end of the third.
"Our offensive line stepped up more than I could've ever asked," Horowitz said. "I could've backed my truck through that hole. It was huge."
Hurricane ran 11 plays and took up nearly six minutes off the clock, but were not able to come away with points on their ensuing drive.
Ethan Stratton missed a 32 yard field goal wide left, and Stansbury took over at their own 20.
Anderson was able to find the end zone for the second time on that drive, bursting through a big hole on the left side, and putting the Stallions up 34-21 for good.
"We definitely came more prepared this week," Stansbury coach Clint Christiansen said. "That offensive line played great, man. I'm really proud of those kids."
Stansbury moves to 1-1 on the season, and will travel to Springville next week. Hurricane moves to 0-2 on the year and will play at Legacy, Nevada next week.
CJ Pronk is a Deseret Digital Media intern and a Stansbury High School graduate. After serving an LDS Mission to the Dominican Republic, CJ will attend Southern Utah University. Follow CJ on Twitter @BigCeeJ3113.