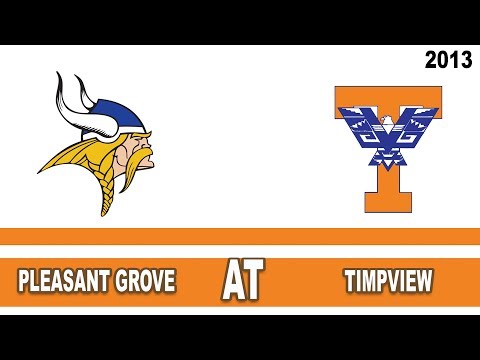 View 6 Items

The Deseret News streamed this game live. Watch the replay here!
PROVO — Pleasant Grove coach Les Hamilton likened his team's 21-19 win over Timpview on Friday night to when he stole a kiss in junior high school.
"The girl was ugly; I didn't want anyone to know about it, but it was still worth it and it made me feel really good," Hamilton said. "That's what tonight's win feels like. No matter how ugly, hey, you still got to kiss a girl at the end of it all."
Nothing was ugly about how Pleasant Grove started the game.
After Timpview's Britain Covey opened the contest with an 88-yard kickoff return for a touchdown, the Vikings responded with three quick touchdowns to end the first quarter up 21-7.
Quarterback Jeremiah Evans hit Micah Jones with a 12-yard pass to start the scoring and then found Spencer Romney for an 81-yard pass to cap it. In between was a 5-yard run from running back TJ Wind.
From there, it turned ugly for the Vikings — at least on the offensive end.
Timpview's defense settled down and pitched a shutout over the final three quarters.
"That's an outstanding defense they have here and my hat's off to them," Hamilton said. "They made adjustments and we just couldn't get anything rolling. They have some outstanding players here at Timpview and we're incredibly fortunate to come out of here with a win."
Timpview ended the first half with a 1-yard touchdown run from Kendall Tu'ua and after a successful 2-point conversion, found itself down just 21-15 at the half.
The second half turned into a defensive struggle on both sides of the ball.
Both defensive units stepped up big in key moments to keep the game close and, as Hamilton would describe, "ugly."
For Timpview, defensive linemen Isaiah Nacua and Max Anae wrecked havoc in the offensive backfield. Anae forced a key fumble while Nacua tipped a pass at the line of scrimmage that was picked off by linebacker Pio Stowers.
For Pleasant Grove, BYU commit Zac Dawe led the way on the D-line and Romney led the way in the secondary.
Romney's biggest play came with just 2:56 remaining and Pleasant Grove clinging to a 21-17 lead. The senior stepped in front of an Isaiah Holloway pass to snuff out Timpview's last great chance to take the lead.
"Our defense was phenomenal tonight and the credit goes to the line, and all my teammates," Romney said. "I was just fortunate to be there to make the interception. But yeah, it felt great and it feels great to come in here and beat a tough team like Timpview."
1
comment on this story
Romney finished out the game in unusual fashion — taking a pitch with nine seconds left and then running it backward before taking a safety as time expired.
"That felt different, but it was a great play call by coach," Romney said. "This was a great win for us, and it took everyone. It was a total team effort tonight."
With the win, Pleasant Grove improves to 2-0 on the year and will next take on Timpanogos at home. Timpview falls to 1-1 and will travel to take on Alta next week.
Email: bgurney@desnews.com
Twitter: @BrandonCGurney