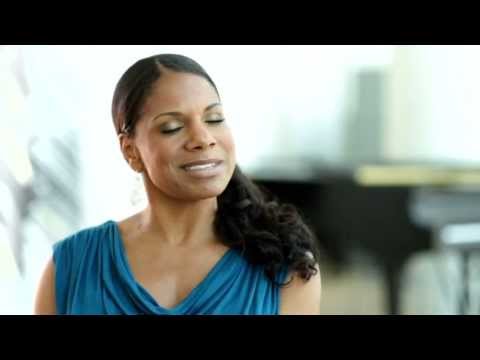 View 4 Items

Audra McDonald will feel "a bit odd" performing in Utah.
Not because she is a stranger to the state, after thrilling audiences as a soloist at the Mormon Tabernacle Choir 2004 Christmas concert and reprising one of her Tony-nominated roles on the intimate stage of Hale Center Theater Orem in 2010.
"I've spent so much time in Utah with Will's family that it's going to be a bit odd being there and performing," she says. "It really is a beautiful state with just gorgeous scenery, and it's so great to spend time with family."
The "Will" she refers to is her husband, Utah native Will Swenson, whose family produces compelling stage works at Hale Center Theater Orem. McDonald re-created her role of Lizzie Curry in "110 in the Shade" opposite Swenson, her co-star from the 2007 revival of the musical, and the couple first met in that Broadway production. All ticket proceeds from the special, limited engagement were generously donated to support the nonprofit Hale Center Foundation for the Arts and Education.
Hearing the appraisal that "110 in the Shade" was the greatest evening of live theater in Utah, she replies, "Oh, thank you. That's so nice. It was something that I was happy to do and perform opposite Will. It was a lot of fun doing the role of Lizzie again and spending so much time with his family."
While she is the most highly acclaimed Broadway actress regularly performing, family is of the utmost importance.
"My family is just my heart and my joy," she explains. Her "wee posse of three," as she calls them, are her daughter Zoe, 12, and Swenson's two sons, Bridger, 11, and Sawyer, 8 — and two rescue dogs, Georgia and Butler.
"Other people find their purpose in other things, like social activism or other worthy endeavors. But for me, my family is where I find my strength and where I am the most fulfilled. I feel life because of them."
While other high-profile performers shy away from publicly discussing their personal lives, McDonald revels at every chance to share her happy moments with her family, which are at times refreshingly candid and comical. Via Twitter she mentions her "Best moment of the day: hubby disciplining Zoe & her turning around & critiquing him saying she didn't find his admonishment very believable." And a tweet to @thewillswenson: "You could try, but you would never stop me from going to Taco Bell today."
"While I love performing, my focus in life is not achieving titles and awards; there's no real value to that," she explains.
Yet these honors include a record-tying five Tony awards (for "Carousel," "Master Class," "Ragtime," "A Raisin in the Sun" and, most recently, "Porgy and Bess") and two Grammys. There is wide critical acclaim ("For devastating theatrical impact, it's hard to imagine any hurricane matching the tempest that is the extraordinary Audra McDonald," writes the New York Times), and she has become not only a star but also a muse of sorts for producers, directors and songwriters. Master composer Stephen Sondheim considers her voice "one of the glories of the American theater."
"I don't sit around thinking what people think of me or what I have been able to accomplish artistically," she explains. "It's just not productive. I want to continue to evolve and grow as an artist and do good work, but my family and my friends are what are important to me. I want to continue to evolve as an artist and do good work, but that's not how I look at my life personally."
McDonald will be performing her three Utah concerts to promote "Go Back Home," her first release in seven years. ("Life happened," she has said to explain the gap. "And I wasn't quite ready to say anything. I was like, 'I don't want to force it. I don't want to make an album simply to make an album. I need to have something to say.' ")
The CD includes classics dedicated to her daughter, Sondheim's "The Glamorous Life" and "First You Dream" from the John Kander and Fred Ebb show "Steel Pier." It also highlights younger composers such as Zina Goldrich and Marcy Heisler (the hilarious "Baltimore"), Adam Gwon (a heartbreaking song titled "I'll Be Here") and two songs by Michael John LaChiusa ("Virtue" and "Married Love").
Accompanied on the acoustic guitar by Swenson, McDonald offers a distinctly American version of "Edelweiss." At age 9, she sang the popular Rodgers and Hammerstein tune for her first theater audition, with accompaniment by her father.
Each of the 12 songs are infused with the excitement of discovery, along with passion and intelligence that convey basic emotional truths. One song, "Make Someone Happy" by Jule Styne, Betty Comden and Adolph Green from the musical "Do Re Mi," has lyrics that appear to be tailor-made for McDonald: "Fame if you win it/ Comes and goes in a minute/ Where's the real stuff in life to cling to?"
If you go
What: "Audra McDonald in Concert"
Where: Brigham Young University de Jong Concert Hall, Sept. 5 and 6; Weber State University Browning Center for the Performing Arts, Sept. 7
Tickets: byuarts.com, weberstatetickets.com