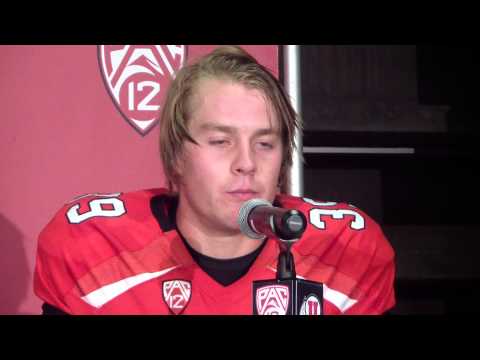 View 30 Items


We've been practicing it all week and when he did that, it kind of turned the momentum. That got our blood flowing. It was an awesome play, probably the biggest play of the game.

—Utah tight end Jake Murphy
SALT LAKE CITY — Football is a game of momentum and two big plays in Utah's favor late in the third quarter turned what looked like a likely loss into a 30-26 win over Utah State.
The Ute offense was floundering and the crowd was almost comatose late in the third quarter as the Utes trailed by nine points. Utah was deep in its own territory facing third down and nine.
Suddenly Travis Wilson found Dres Anderson behind the Aggie defense for a 56-yard gain. That led to a field goal and then came the play everyone was talking about afterward — the onside kick that gave the Utes the ball, after which they quickly scored a touchdown.
As defensive end Trevor Reilly said afterwards, "We're down 10 and all of a sudden we're up one. It was unbelievable.''
On the pass, the Utes noticed the Aggies in a corner blitz, which meant the safety had to watch Anderson.
"I kind of eluded him and gave him a move and got behind him,'' Anderson said. "We were kind of going slow and knew we need a big play to pick us back up again. I'm glad I could do that for us.''
"That was definitely a big play,'' Wilson said. "I saw the guy come down and Dres was wide open and he went up and made the catch. It really changed the momentum in that third quarter. That was something we lacked last year, we didn't have that many big plays.''
As for the onsides kick, the Utes had been practicing all week and executing it well in practice. Coach Kyle Whittingham gave credit to special teams coach Jay Hill for making the call, even if the play didn't go exactly as it was supposed to.
"It didn't go as planned — I'm supposed to recover that,'' Phillips said. "But Karl (Williams) did a great job of coming up behind me and falling on the ball.''
"We've been practicing it all week and when he did that, it kind of tured the momentum,'' said tight end Jake Murphy. "That got our blood flowing. It was an awesome play, probably the biggest play of the game.''
After the game, Whittingham praised his offense, saying he was "proud" of the way it came back in the second half and how it used up most of the last four minutes to clinch the game and keep the ball out of Chuckie Keeton's hands.
10
comments on this story
For the night, the offense finished with 450 yards as Wilson completed 17 of 28 passes for 302 yards and two touchdowns. Whittingham called Wilson "efficient.''
Anthony Denham was the top receiver with six catches for 113 yards, including a 51-yarder that set up Utah's second field goal.
It didn't help that the Utes' top receiver Kenneth Scott went down with a leg injury in the first quarter that put him out for the season, but his replacement, senior Sean Fitzgerald, played well in his place, catching five passes for 79 yards.
The Ute running game never got untracked as James Poole led the way with 47 yards and Williams had 46.