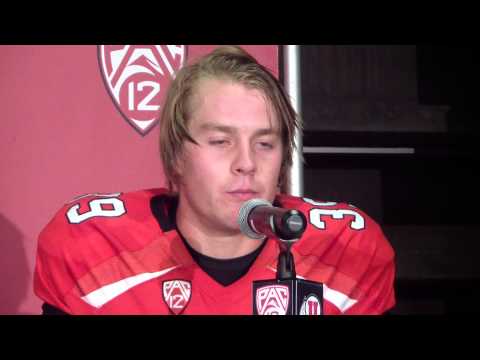 View 13 Items


SALT LAKE CITY —
It might be Montana State that Utah opens its season against next year. Or Northern Colorado. Better steer clear of Towson, a small-school winner over Connecticut on Thursday.
Utah football coach Kyle Whittingham said this week that, given a choice, he'd open every season with a I-AA (FCS) opponent.
Good idea.
Anything tougher might be too much.
Although the Utes finished things off with a flurry of production, the talking point of Saturday's 30-26 win over Utah State was this: USU is far better prepared for its conference than Utah.
After beating Utah last year and nearly pulling it off again, the Aggies are showing signs they'll be fine in their first year of Mountain West Conference play. The Utes could be experiencing turbulence.
There aren't many Pac-12 teams they'd have beat on Thursday.
Until the Utes rallied in the second half, the offense looked a lot like last year, which is to say not ready for prime time. That high-powered attack co-offensive coordinator Dennis Erickson was supposed to bring? It didn't happen for most of the night. It took three field goals by Andy Phillips (so there's one area the Utes can relax) to give them the needed margin.
Their worry factors: spotty offensive line play, a tepid run game and a defense that still can't contain USU quarterback Chuckie Keeton, who combined for 399 yards alone.
That's isn't to say the Aggies were low-level competition. First-year coach Matt Wells had his team leading 23-14 in the third quarter. It took an onside kick to get the Utes started.
But overall, Erickson's offense didn't dazzle. Not unless you consider three consecutive goal line plunges — and zero yards — dazzling. Maybe the Utes didn't want to get fancy. They moved ahead 27-26 with 6:38 remaining on a Phillips field goal and added another with 19 seconds remaining.
USU outgained the Utes 487-450, got one more sack, controlled possession and did far better on third-down conversions.
Erickson did hit his goal of scoring at least 30 points a game.
Barely.
Maybe the biggest difference this year was that Utah's quarterback was still standing at the break.
But the Utes defense was often frozen or missing when Keeton tucked and ran — which was early and often. In fact, the Aggies appeared less scared and better prepared.
Thursday's game featured a couple of firsts at Rice-Eccles Stadium. The school announced this week it will include closed captioning services to accommodate hearing impaired fans. But it came with a risk. Did U. officials really want more people hearing what was said if they had lost? Utah hasn't dropped back-to-back games to USU since 1996-97.
Another addition was Utah's first-ever "stripe the stadium" promotion. Fans were urged dress in red or white, according to seating sections.
Not necessarily the image a football team wants — candy cane.
The game held as much intrigue as any Utah-USU game in years. Utah won 12 straight prior to last year, and 20 of the previous 22. It wasn't so much a game as taxation. But the Aggies sneaked up and beat the Utes in overtime. It was a trendsetter for both teams. USU went on to the best season in its history and Utah went on to miss a bowl game for the first time in a decade.
This year it was a different deal. Though the Aggies are one of the most experienced teams in the country, they were working with a new coach, Matt Wells. Utah hoped to resurrect an offense that was 105th in the nation by hiring Erickson.
If the coaches seemed highly focused beforehand, consider this: The series is the 12th-longest in the nation. USU and Utah squared off for the first time in 1892, a 12-0 Aggie win.
It was a one-game season for both schools. Literally. The next year neither Utah nor USU fielded a team.
Apparently they thought football was a fad that would never catch on.
But it did, and fans got another close game to prove it on Thursday. Although the Utes won, the prevailing mood was that even in losing, USU is closer than Utah to its goal.
Email: [email protected]; Twitter: @therockmonster; Blog: Rockmonster Unplugged