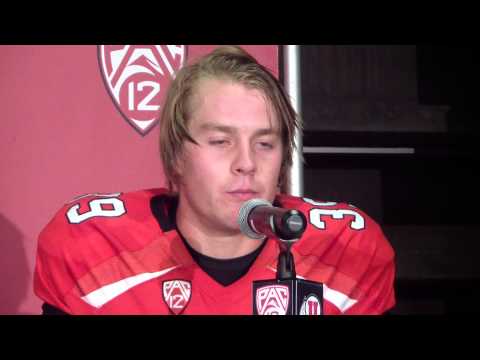 View 114 Items


SALT LAKE CITY — Utah kicker Andy Phillips will likely never forget his first football game, nor will the Utes. The 24-year-old freshman played a pivotal role in Thursday's 30-26 win over Utah State Thursday night at Rice-Eccles Stadium.
Phillips made three field goals, three PATs and had a successful onside kick as the Utes prevailed in the season opener for both teams, avenging last season's 27-20 overtime loss in Logan in the process.
"Oh man, what a thriller. It's just an honor being out there with these guys. These guys fight and they have a lot of faith in me," Phillips said before leaving the field. "So that's kind of what kept me going — knowing that these guys had my back no matter what happened."
The former U.S. ski team alpine racer, who had never played a down of football prior to facing the Aggies, called the experience "one of the most fun things I've ever done in my life."
Phillips noted that he couldn't even remember the opening kickoff. However, after that, he felt comfortable and at home out on the turf.
"We worked hard at fall camp. Coach always talks about executing what we work hard at," Phillips said. "So that's all I did tonight was just execute my job. I did my job and our team did their job and we won the game."
And for a Utah squad coming off a 5-7 season, it was a welcome outcome.
"We needed it badly and give our players a lot of credit for showing some resiliency," said Utah coach Kyle Whittingham. "When they came out at the start of the second half and scored on us — and drove it right down our throats — we could have folded our tent at that point but didn't. They had no quit in them."
Trailing 23-14 after a 15-yard touchdown run by Utah State quarterback Chuckie Keeton early in the second half, Utah climbed back into contention with a wild momentum shift late in the third quarter. The comeback began when Phillips connected on a 45-yard field goal. Karl Williams then recovered an onside kick for the Utes and later put the finishing touches on a five-play drive with a 2-yard touchdown run. Phillips added the PAT to give the Utes a 24-23 advantage.
It didn't stay that way for long, however.
Nick Diaz put Utah State back on top with a 24-yard field goal less than five minutes into the fourth quarter.
Phillips countered with his decisive field goal a little more than four minutes later in the seesaw affair. For good measure, he made a 38-yarder with 19 seconds to go to cap all scoring in the contest.
Whittingham called the surprise onside kick the play of the game.
"That gave us huge momentum," he said. "We've got a lot of work to do. We're an average football team right now. I'll tell you that. Utah State's going to be very good this year. They're going to win a bunch of games again this year. But we've got our work cut out for us moving forward."
Utah State led 17-14 at halftime after Keeton threw a pair of touchdown passes to Brandon Swindall in the second quarter. The scoring strikes — from 15 and 4 yards out, respectively — wiped out an 11-point deficit and gave the Aggies a decisive edge in total offense (301-183) and first downs (17-12) at the break.
Keeton paced the effort by completing 19 of 25 passes for 202 yards. Utah State converted on 8 of 11 third-down situations over the first two quarters.
It all added up to trouble for Utah at that point.
Before that, however, the Utes got off to a good start. They marched 82 yards on seven plays and scored a touchdown on the game's first possession. A 3-yard scoring strike from quarterback Travis Wilson to Dres Anderson capped a drive that included a 51-yard completion to Anthony Denham.
"We had to ignite it," Anderson said. "On our first drive we said, 'If we get it, we've got to score,' and that's what we did."
Leading 7-3 after Utah State retaliated with a 26-yard field goal by Diaz, Utah added a 30-yard touchdown pass from Wilson to tight end Jake Murphy with 1:37 left to play in the opening quarter.
The points were needed by game's end as momentum shifted back and forth.
"Oh man, if was for sure a dramatic game. But thankfully we got the 'W,' man," Anderson said. "It was a hard-fought game. Credit to Utah State. They played great. But thankfully we came out on top."
Utah State coach Matt Wells also acknowledged the intensity of the rivalry game.
"They made one more play than we did," he said. "I'm proud of our kids. They've got a lot of fight to them."
The Utes return to action Saturday, Sept. 7 at home against Weber State. The Aggies open Mountain West play that day at Air Force.
Email: di[email protected]
Twitter: @DirkFacer