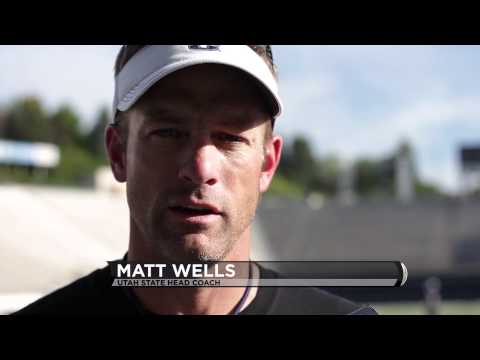 View 4 Items

LOGAN — Utah State University's football program is entering a brave new world.
The Aggies have a new head coach, a new conference to play in and, most importantly, a new winning tradition that they've finally established after enduring so many frustrating years of football in Cache Valley.
Well, that is, if you can call back-to-back winning seasons a "tradition."
Still, make no mistake about it, USU is reveling in its best run of gridiron success in more than three decades — as well it should. Indeed, after more than 30 years of being pretty much an afterthought when it came to college football in the Beehive State, the Aggies have become very relevant again.
Now, it's up to first-year head coach Matt Wells to carry on the tradition put forth by his predecessor, Gary Andersen, and keep this thing moving forward as the Aggies transition into the Mountain West Conference.
Andersen took off for the greener pastures of the University of Wisconsin, but he left behind some mighty big shoes to fill — going 11-2 in 2012, when the Aggies won the Western Athletic Conference championship with a perfect 6-0 slate (their first outright league title since 1936), piled up a school record for single-season wins and notched just the second postseason bowl victory in school history.
Add to that the Aggies' 7-6 season the year before, and it marks Utah State's first consecutive winning seasons in 30-plus years — since 1979 (7-3-1) and 1980 (6-5) under former coach Bryce Snyder.
And those 18 combined wins over two seasons are the most in Logan since John Ralston's USU teams put together consecutive 9-win seasons in 1960-61, when some guy named Merlin Olsen was hunkering down in a three-point stance on the Aggies' defensive line. Those early '60s teams were also the last time the Aggies played in back-to-back bowl games before 2011-12.
Thus, it's obvious that Utah State is breaking new ground here — or, at least, ground that hadn't seen a shovel or a backhoe in more than half a century.
Wells' challenge is to continue what Andersen started — a new-found winning culture within the program and confidence, momentum and tremendous pride within the Cache Valley community.
It won't be easy, either, when the Aggies step up this year to play in the MWC, a much tougher conference where they'll find some familiar folks they've faced in other league affiliations in the past — Boise State, Fresno State, Nevada, San Jose State, Hawaii — and some other schools like Air Force, Wyoming and Colorado State that are certainly not strangers to Utah State.
Those opponents will get a chance to get acquainted with USU junior quarterback Chuckie Keeton, who emerged as the best signal-caller in the state last season and certainly maintains that distinction head-and-shoulders above anybody else this year.
After all, Keeton threw for 3,373 yards and 27 touchdowns last season, ran for 619 yards and eight more scores and is a dynamic difference-maker in the Aggies' offensive attack. Add seven returning starters on a strong defense, including a trio of guys who were all-league linebackers, and Utah State would appear to be primed to further establish that winning culture in 2013.
It all starts Thursday, when the Aggies face in-state rival Utah in Salt Lake City. Another 11-win season may be far too much to ask for or expect, but after turning the corner the last couple of years, the Aggies aren't about to turn back now.
EMAIL: rhollis@desnews.com