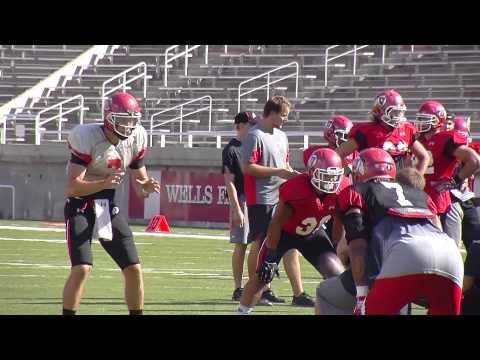 View 5 Items

They're the right guys. They're the right guys to be the leaders of this football team. If you would have just told me who is the team going to elect, I would have probably said those four.

—Utah head coach Kyle Whittingham
SALT LAKE CITY — As captains of the first University of Utah football team to come off a losing season since 2002, Tenny Palepoi, Trevor Reilly, Jeremiah Tofaeono and Travis Wilson are determined to help get the program back on track.
"One thing we can't let the team forget is the feeling that we had last season. When we had to go home for Christmas — it was just the worst feeling," said Palepoi, a senior defensive tackle. "And that's something we have to push towards the team, just to never let them forget that feeling that we felt that year and just have a sense of urgency this year to push each other to get better."
Utah went 5-7 last season and ended a run of nine consecutive bowl appearances.
"It hurt. It hurt a lot," Palepoi said. "We had such high expectations for ourselves and also everyone else did. Then to not live up to those expectations, it wasn't a good feeling."
Palepoi considers it a blessing to be a captain and loves the responsibilities associated with it as the Utes prepare for Thursday's opener against Utah State.
"I'm in there with a good group with Trevor, JT and Travis," Palepoi said. "We're doing our part just to get this team going and we're going to start this season off right."
Utah coach Kyle Whittingham is pleased with the captains that the team chose.
"They're the right guys. They're the right guys to be the leaders of this football team," Whittingham said. "If you would have just told me who is the team going to elect, I would have probably said those four."
Tofaeono, a senior who starts at left guard, said that the captains need to take charge and be more responsible for everything that the team does on and off the field.
"We've just got to go back to the basics, go back to like how we've been doing things in the past — (we) don't really need to switch anything up," he said. "We just, as leaders selected this year, have to step up and do an even better job than the captains did in years past. We've got to step it up and take more leadership of this team."
Nothing's really broken, he added, there's just some things that need to be polished up.
"We've learned a lot from captains in the past," Tofaeono said.
Reilly, a senior ticketed to play both defensive end and linebacker, believes that players — including the captains — need to be held more accountable. Calling people out in public, though, is not his style.
"I don't like to embarrass people but privately if I see a guy not giving 100 percent or using the wrong technique I'll say: 'Hey man, fix this, fix that,' " Reilly said. "That's my thing."
Reilly added that leadership isn't just limited to the elected captains. He said that guys like tight end Jake Murphy, running back Karl Williams, linebacker V.J. Fehoko and defensive tackle LT Tuipulotu also lead the team.
Wilson, the starting quarterback and lone sophomore elected to be a captain, acknowledged it really is a group thing — and a situation that calls for staying positive.
"We've just got to be encouraging. I feel like we're a real tight family this year. We're a real tight team," he said. "So we've come a long way from last year and we've just got to stay positive."
Whittingham has similar thoughts.
"Last year, as disappointing as it was, we were still one game away from playing in a bowl, and (we had) two or three games that we felt we let get away from us that we should have won," he said. "So the sky has not fallen. We're still a good football team with a lot of good players in the program.
"It's just a matter of getting back to what we do and how we do it, and that's really the long and short of it," Whittingham continued.
As such, Reilly summed up the situation with lofty expectations.
"We've got to have a winning season," he said. "Everyone's talking about making a bowl game. I want to win the Pac-12 South, man. So that's my goal. That's the first goal here."
EXTRA POINTS: The Utes had a light practice Friday but will have a heavier workload Saturday. Media availability has been canceled so that the team can make it to the Fan Fest (10 a.m.-1 p.m.) at Rice-Eccles Stadium quickly. Practice is scheduled to end at 10:45 a.m. … Whittingham said senior Michael Walker has worked hard and has earned the starting job at strong safety. … Utah officials have announced that a public tour of the new Spence and Cleone Eccles Football Center will be conducted "at a later date to be determined."
Email: dirk@desnews.com
Twitter: @DirkFacer