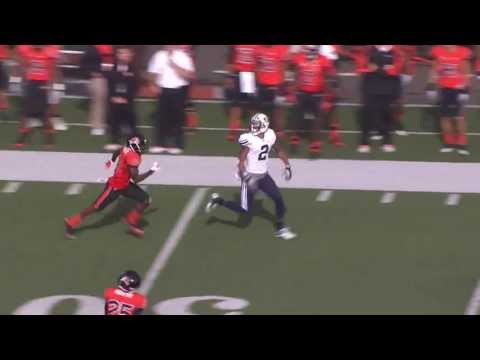 View 4 Items


Bronco went blindly on the kid. The kid had no (scholarship) offers. Bronco took him. Now, if he stays healthy, he's going to be our No. 1 receiver. I think it's great.

—BYU athletic director Tom Holmoe, on Cody Hoffman
PROVO — And the last could be first.
BYU wide receiver Cody Hoffman, who was the final player coaches offered a scholarship to in the Cougars' recruiting class of 2009, is, more than four years later, poised to become No. 1 in the three major career receiving categories at the pass-happy school.
Hoffman needs just 19 receptions, 538 yards and three touchdowns to be tops in BYU history. If he accomplishes those feats, Hoffman would eclipse greats like Dennis Pitta, Austin Collie and Matt Bellini.
The 2013 season opens in one week at Virginia.
And to think that coach Bronco Mendenhall never would have known about Hoffman if it weren't for one of Mendenhall's former teammates at Oregon State, who told him about the tall, athletic receiver from Crescent City, Calif.
"Bronco went blindly on the kid," BYU athletic director Tom Holmoe said this week. "The kid had no (scholarship) offers. Bronco took him. Now, if he stays healthy, he's going to be our No. 1 receiver. I think it's great."
Actually, one other team offered Hoffman a scholarship — Sacramento State of the Big Sky Conference. But for the most part, Hoffman flew under the college football radar.
Crescent City (population: 7,652) is located in the northwestern corner of the California coast, about 20 miles south of the Oregon border. "It's out in the boonies," Hoffman said of his hometown.
While Hoffman would love to etch his name in the record books, that's not what he's focusing on as he enters his senior season.
"Just make plays," the 6-foot-4, 215-pounder said of his personal goals. "Become a play-maker and have the offense be able to count on me. Of course, I want a lot of yards, catches and touchdowns. But with our offense being so good and having so many play-makers, you never know what you're going to get."
Last season, Hoffman turned in one of the best seasons in school history, catching 100 passes for 1,248 yards and 11 touchdowns.
"I don't expect the same production as last year, with defenses keying on me," Hoffman said. "It makes it better for the other guys to step up and make more plays."
In some ways, Hoffman is starting over. After offseason shoulder surgery, he was sidelined for spring drills. While Hoffman worked hard during the summer, he wasn't completely prepared for fall camp, playing in offensive coordinator Robert Anae's go-fast-go-hard offense.
"I didn't come into camp where I needed to be. That's what I'm continually working on every day," Hoffman said. "The first couple of days of fall camp, it was hard. Everything is 10-times faster than it was last year. Picking up the plays was a little more difficult."
Quarterback Taysom Hill said Hoffman has battled through that.
"This was his first time in the fast-paced, up-tempo offense and he was a little out of shape and it caught him a little off-guard about how hard and how fast we were going," Hill said. "But he's gotten better every day."
More than anything, Hoffman is glad to be healthy and back with his teammates.
"You take things for granted when you aren't playing," he said. "So having a break like that (in the spring) made me realize how much I needed to be with my team and get better."
Hill is happy to have an experienced and talented receiver like Hoffman to look for this season.
"Cody's going to be Cody," he said. "He's reliable and he's a big target. You'll see what you saw last year out of Cody, and then some. If not, guys are going to double-team him because of what he's done, and we have other guys to throw the ball to. Offensively, we have a lot of weapons."
Hoffman also has a new position coach, Guy Holliday, who is in his first year in the program. Holliday isn't too concerned about what Hoffman has done in the past. He's only looking ahead.
"A player doesn't make a team. Cody had an outstanding year last year. We'll see what happens when the season starts," Holliday said. "Does he demand double teams? If he does, that's fantastic. If not, we're going to go through our reads. If Cody catches 150 balls, I'm happy. If Cody catches 15 balls and we win 13 games, we should all be happy. Great receivers aren't judged on how many balls they catch. They're judged on what they do with the ones they catch."
Hoffman appreciates Holliday's tough-minded approach.
"He knows I have a lot of potential," Hoffman said. "He makes sure that I work as hard as I can every day to become better."
And if Hoffman stays healthy, his hard work is expected to result in him becoming the all-time leading receiver in BYU history.
Not bad for the last player to receive a scholarship in the Cougars' recruiting class of 2009.