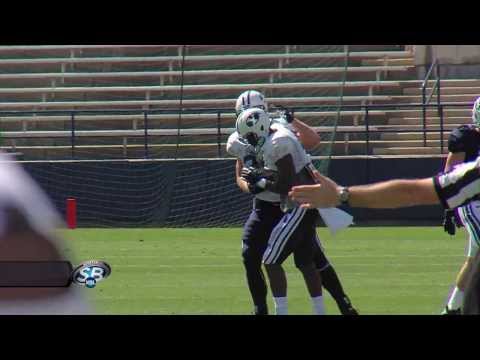 View 2 Items

In junior college, the biggest crowd you ever play before might be a thousand or a thousand and a half if you are lucky. When I went out there on that field, I didn't think I'd be as nervous as I was. He probably doesn't think he will be, but I guarantee he will be nervous.

—Former BYU cornerback Corby Eason, on Robertson Daniel's first game as a Cougar
Robertson Daniel has entered the ring.
The cornerback from De Anza Junior College is expected to be the starting field corner for BYU when the Cougars open at the University of Virginia in ACC territory in Charlottesville.
It will be his first Division I football game, on the road, before the biggest crowd he's ever played before in Scott Stadium.
Due to team policy, Daniel has not been able to talk to the media until he plays his first game. This is standard for newcomers, and Daniel was not on the squad until this fall.
So, Daniel's perspective, his hopes, dreams, desires, what he sees as challenges, his strengths and his views on this upcoming experience are a mystery.
But there is a guy who should know, so I went to him for an opinion.
Corby Eason knows exactly what Daniel must be feeling right about now, a week out from Virginia, a game televised nationally on ESPNU.
You see, Eason's first game as a Cougar took place in Cowboy Stadium in Dallas against the University of Oklahoma. He knows what that first game week feels like.
"You are nervous, very nervous," he said.
"In junior college, the biggest crowd you ever play before might be a thousand or a thousand and a half if you are lucky. When I went out there on that field, I didn't think I'd be as nervous as I was. He probably doesn't think he will be, but I guarantee he will be nervous."
Eason sat behind his desk at First Colony Mortgage in Orem on Friday where he is a mortgage account executive. On his desk sits a hammer and behind him a giant frame with his BYU jersey No. 25 and Eason embossed on the cloth behind the glass. "I gotta put it on the wall. I haven't had time since I moved into this office from another," he said.
Eason, 25, coaches football at Salem High School after coaching at Woods Cross last year. He also works at a residential treatment facility, is working on his master's degree in counseling from the University of Phoenix, and he and his wife, Rebecca, are expecting their first child, a son, on Nov. 30.
Eason said as a defensive player on the road, you don't have to worry too much about crowd noise because crowds are tame when their offenses are on the field.
"Coaches will have a simple game plan for him and he will do fine. He'll have butterflies in his stomach for the first two series, then it will be all business and he'll settle down. As the game goes on, they'll give him more. He's lucky that the front seven is capable of putting pressure on the quarterback, and that helps.
"He'll be playing 90 percent man coverage as a field corner and he can't expect a lot of help except in some situations."
Eason said the field corner takes on the opposing team's best receiver and likely the best athlete on the team. He does it down after down. For him, in his career, he took on some talented receivers like Jarmon Fortson of Florida State; Oklahoma's Ryan Broyles; Vincent Brown and Walter Kazee at San Diego State; Josh Boyce at TCU and Washington star Jermaine Kearse.
Field corners have to have thick skins, better have talent, and no conscience. It helps to have a dose of extreme confidence and carry yourself with a little swagger.
Eason says his best advice for Daniels is to have a short memory.
"You are going to get beat up and you are going to make mistakes and everybody will see it. But you have to forget about it and get to the next play. You cannot dwell on it because nothing is more important than what comes next, and you have to be ready."
With the season-ending injury to projected field corner Jordan Johnson, Daniel's number came up immediately.
Will he be ready?
Eason believes he will.
"These guys are all very excited about this season. They believe they are in better shape than anyone they will go against. Guys on the team say the offense is exciting and it's been like a track meet out there."
So in a week comes the moment of truth for Robertson Daniel and afterwards, he'll be given a voice to talk about it.
Nightmare or dream come true?
Stay tuned.
Dick Harmon, Deseret News sports columnist, can be found on Twitter as Harmonwrites and can be contacted at [email protected].