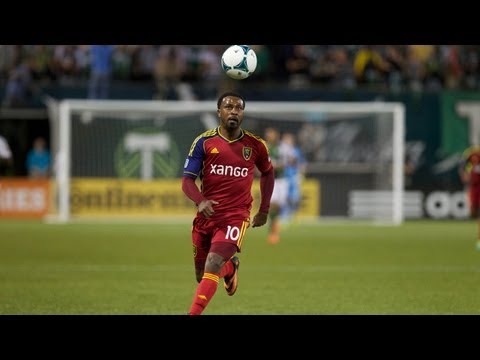 View 2 Items

I think these are actually some of the toughest games historically, we really do well in big games to get up for the better teams and sometimes we struggle against teams that aren't doing well.

—Tony Beltran
With five of its last seven matches at home, Real Salt Lake is clearly in the Supporters Shield driver's seat heading into the final two months of the MLS season.
If coach Jason Kreis' team takes care of business at home, it's going to be very difficult for anyone in the Western Conference to overtake RSL. First, however, it must take care of business at home, and the trickiest of those remaining five matches is this Saturday against visiting Columbus.
Real Salt Lake should have no problem getting up for big home matches against Western foes Portland, San Jose, Vancouver and Dallas down the stretch, but that might not be as easy against a mediocre Crew squad.
"I think these are actually some of the toughest games historically, we really do well in big games to get up for the better teams and sometimes we struggle against teams that aren't doing well," said RSL defender Tony Beltran. "We acknowledge that. The focus is there for tomorrow, cause it's three points we really need."
The eighth-place Crew have certainly had their struggles this season, but they're in good form right now with back-to-back wins over New York and Toronto and have nothing to lose heading into Rio Tinto Stadium.
Coming off a gutty draw in Portland on Wednesday, Kreis said his team can't afford a mental letdown at this juncture of the season.
"We've got too much on the plate and too big of an opportunity for us to be looking ahead at anything. Every home game from here on out we need the full three points, we need points everywhere we go if we're going to have any chance to win the Supporters Shield," said Kreis.
Real Salt Lake earned a point in Portland on Wednesday without the services of suspended Kyle Beckerman, injured Alvaro Saborio and ill Nick Rimando. It figures to get two of the three back against Columbus, but not Saborio. The striker was unable to train on Friday, and Kreis officially ruled him out.
Columbus is 3-2-7 on the road this season, but it hasn't won away from Crew Stadium since mid-May.
Containing Federico Higuain will be the primary focus for Real Salt Lake — which has conceded seven goals in the past two matches. Higuain is tied for the team lead with nine goals and leads with six assists.
"It all goes through him. When good things happen, it goes through well, we just have to limit his touches and limit the balls getting into him," said Beckerman.
Beltran, however, said RSL won't be overly focused on Higuain.
"When teams come here we want to be conscious of their threats, but we want to dictate the play, we want our tempo, our steal, our possession on them so we can take them completely of the game," said Beltran.