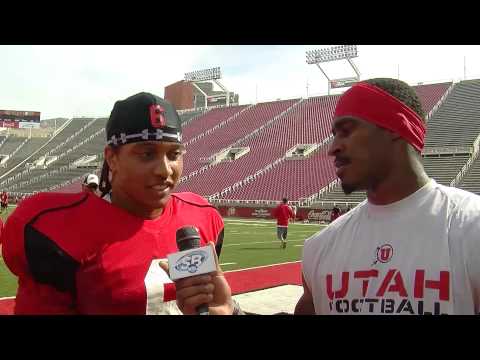 View 5 Items

It's going good. I think we've progressed every single day of practice. That was something we didn't want to take a step back. I think we're getting better, and I think we're going to be real good come next Thursday.

—Utah quarterback Travis Wilson
SALT LAKE CITY — After wrapping up practice Thursday — exactly one week before the season opener against Utah State at Rice-Eccles Stadium — Utah coach Kyle Whittingham said that the Utes were in a good place "relatively speaking."
As is usually the case, there's also a thing or two to get done before kicking things off.
"We've still got a lot of details that we've got to fine-tune and put some finishing touches on the game plans," Whittingham said. "But (things are) pretty good to this point."
Over the next week, however, Whittingham would like to see continued execution of the throw game and have the depth chart at cornerback solidified. While the latter is a matter of sorting out depth, getting Utah's passing scheme on track is a key work in progress.
"It's going good. I think we've progressed every single day of practice," said quarterback Travis Wilson. "That was something we didn't want to take a step back. I think we're getting better, and I think we're going to be real good come next Thursday."
Co-offensive coordinator Dennis Erickson acknowledged that things are coming together with the passing game and that Wilson is throwing the ball extremely well.
"We're better than we were in the spring," Erickson said. "We'll see if that's good enough."
READY TO GO: After being away from the game last season, Erickson is eager to get back.
"It's been awhile," he said. "It's been about a year to finally get back in it. I can't wait."
Running back Kelvin York, who was limited to eight games last season because of injury, is also ready for action — and so, too, are his teammates.
"I'm completely healthy. I'm ready to play Utah State," he said. "We've been out here playing against one another (in camp), but it's time to play another team now."
WHAT TO EXPECT: Whittingham isn't expecting to see a whole lot of differences at Utah State under Matt Wells, who has replaced Gary Andersen.
"I would foresee many more similarities than changes. You don't fix it if it's not broken," said Whittingham, who noted that he held onto a lot of things from Urban Meyer when he took over on the hill. "Matt's a great selection for the head coach. He's a smart guy. My guess is he's going to continue to do what worked for him last year, for the most part."
EXTRA POINTS: Tight end Jake Murphy said that quarterbacks Wilson and Adam Schulz have volunteered to come over to his house, play Xbox and baby-sit his daughter. Murphy's response? "I don't think so," he said. … Whittingham said if the Utes were to play today that Keith McGill and Davion Ophrey would likely be the starting cornerbacks with Justin Thomas joining them in nickel situations. … Utah's annual "Fan Fest" is set for Saturday (10 a.m.-1 p.m.) at Rice-Eccles Stadium.
Email: dirk@desnews.com
Twitter: @DirkFacer