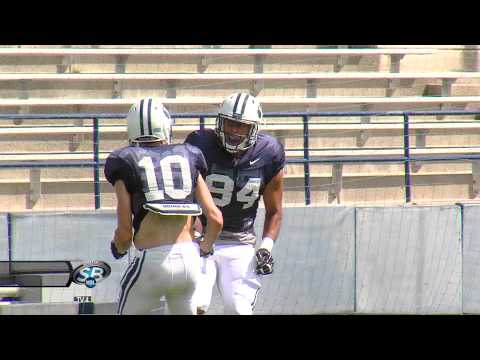 View 6 Items


Taysom's playing well. We're both playing pretty well. I think the coaches are happy with that, knowing that they have two guys who are ready to play.

—BYU sophomore quarterback Ammon Olsen
PROVO — One player who quietly had an impressive fall camp was BYU sophomore quarterback Ammon Olsen.
Offensive coordinator Robert Anae reiterated this week that Olsen is the backup to starter Taysom Hill. Anae added that both quarterbacks have played well in fall camp.
Olsen said he is simply working to improve every day, regardless of his role.
"I'm just trying to play my best, whatever the coaches decide, that's their decision," said the Alta High product. "Taysom's playing well. We're both playing pretty well. I think the coaches are happy with that, knowing that they have two guys who are ready to play."
Last season, the Cougars played three different quarterbacks due to injuries. Olsen knows he could find himself in a game situation at any time.
"I need to have that mindset, that I'm one play away (from playing), because if it's in the middle of the game and I get called on, I need to be ready for the team," Olsen said. "That is my mentality, even in practice. I focus on executing everything they ask me to do."
During the spring game, Olsen suffered a minor injury. He said that didn't set him back much.
"Not at all," Olsen said. "No ligament damage. Just a bruise."
ON THE FIELD AND IN THE BOX: Anae said he plans to call plays from the field this season, while quarterbacks coach Jason Beck will be in the press box.
Coach Bronco Mendenhall supports that move.
"It's (Anae's) call," Mendenhall said. "Jason Beck is really skilled from up above. As the quarterbacks coach, he's also very cerebral and good with numbers and situations and managing two-minute (offense) and time-out management. That combination I think will be a good one for us. Robert is driving the work capacity and the standard of what that looks like, so it will be good to have him, I think, security-wise and motivation-wise on the field."
BIG BLUE BASH: The Salt Lake chapter of the Cougar Club is hosting its 8th annual Big Blue Bash, a preseason BYU football celebration.
The event will be held at the Marriott Downtown Hotel in Salt Lake City (75 S. West Temple) from 7 p.m. to 9 p.m.
Coach Bronco Mendenhall and athletic director Tom Holmoe are among those scheduled to speak.
Admission is $5 if paid in advance and $10 at the door. To RSVP, call the Cougar Club office at 1-800-426-4298.
LONG-TERM SUCCESS: BYU athletic director Tom Holmoe said this week that few football programs in the country have enjoyed more success than the Cougars.
"Since LaVell (Edwards) took over in 1972, BYU ranks No. 5 in total wins, 357 wins," Holmoe said.