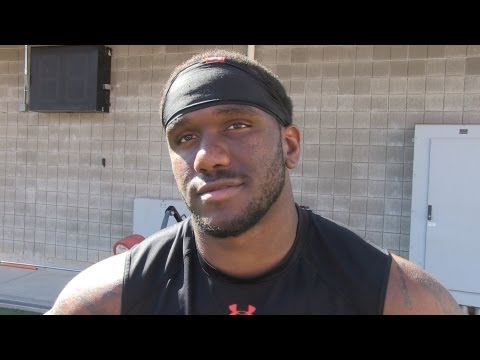 View 5 Items

We're fortunate. We've got four backs that I wouldn't be afraid to play.

—Utah co-offensive coordinator and running backs coach Dennis Erickson
SALT LAKE CITY — Kelvin York and Bubba Poole give the Utah Utes a solid one-two punch on the ground. The running backs bring differing styles to the position, giving the offense added dimension.
"I like that they're different," said co-offensive coordinator and running backs coach Dennis Erickson, who noted that one's pretty powerful and the other brings something else. "We'll use them both. Right now, Kelvin will start and then Bubba will go in. So we'll try to give them two different looks."
York is determined to get in and wear defenses down. The 5-foot-11, 220-pound senior said once they get tired, Poole will get in and do his thing as well.
"It's definitely a one-two punch," York added.
Poole, a 6-foot, 196-pound sophomore, agrees with the description. While noting York is more of a powerful guy, he considers himself more of an elusive runner who tries to create things and get in space to make more plays happen.
"Both those guys are playing real well. They've both made strides forward since spring ball. They were good in spring, but they've been even better in fall camp," said Utah coach Kyle Whittingham. "They're going to be a 1 and 1-A situation. It's not really 1 and 2; it's 1 and 1-A. So we're pleased with both of them."
And that's not all. The coaching staff is also pleased with two other running backs in the program — senior Karl Williams and junior Lucky Radley. Whittingham said they aren't too far behind York and Poole.
"We're fortunate," Erickson said. "We've got four backs that I wouldn't be afraid to play."
Even so, York and Poole have separated themselves from the pack on the depth chart.
York, in fact, is set on becoming the program's next 1,000-yard rusher.
"I'm going to get 1,000 yards. There's no doubt about that and I'm ready to carry the load," York said. "I guarantee 1,000 yards this season."
Whittingham is hopeful York is the next in line. Since 2005, the Utes have had four 1,000-yard rushers — Quinton Ganther, Darrell Mack, Eddie Wide and John White (who did it twice).
Poole also believes York is capable of reaching the milestone.
"Kelvin's a great runner. He sees the hole and he also runs very hard," Poole said. "I'm very confident he can get that. I think he can get more than 1,000 yards."
Poole added that perhaps both backs could do it.
"My goal is to do whatever I can to help my team. I'm going to give it my all," he said. "If I can push for 1,000 and we can get two 1,000-yard rushers, that'll be even better. So that's my goal."
Whittingham, obviously, wouldn't mind if the Utes had two guys make the mark.
"That would be great," he said. "If they both do it I like our chances for the season."
While York is a known commodity as White's backup last season — rushing for 273 yards on 80 carries with three touchdowns over eight games — Poole is coming off a redshirt year. Both came to Utah as junior college transfers.
"I know he's a good back," York said. "He runs the ball, plus he can catch the ball out of the backfield pretty well, so that's going to help us out a lot as well."
Poole is one of the fastest guys on the team. He was on Saddleback College's school-record 4x400 relay squad and was a three-time track letterman at Cimarron Memorial High School in Las Vegas.
Football, though, is his true love. He said he's from a football family and the game comes naturally to him.
"I've been waiting on this all my life," Poole said of his opportunity to play at Utah. "After not being able to come here from high school, having to go to a juco, I've been waiting on this moment my whole life, so I'm ready."
11
comments on this story
Poole has overcome his share of hurdles. When he was just 1 year old, a bullet ricocheted through the side of his stomach and exited through his thigh while he was in his cradle. The shot reportedly occurred during a struggle over a gun that was brought into his family home by two men believed to be after his father's car.
"Yes, sir. I've been taking some hits," he said. "That's true. It's pretty rough back in Vegas; a lot of people don't know that."
Now, in less than one week, Poole will take the field and do something he always knew he could do.
"I've been working real hard and I've just been waiting on my opportunity," Poole said. "So I'm just trying to make the most of it."
Email: dirk@desnews.com
Twitter: @DirkFacer