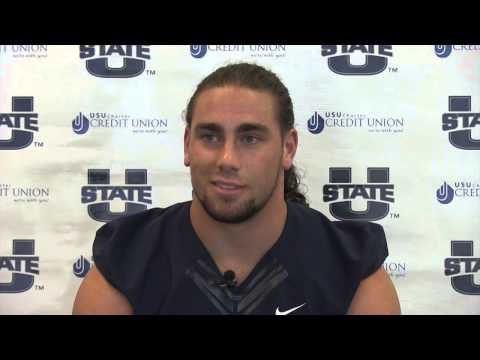 View 3 Items

When I first got here, I let a lot of people down because I don't play hockey. I don't say <i>oot </i>and<i> aboot</i> and I don't wear plaid. I don't know anyone who talks like that.

—Utah State defensive end Connor Williams
LOGAN — It's going to be nippy, Nov. 23 in Logan, when Utah State plays Colorado State. Bet your sheepskin boots on it. The daily averages are a high of 40 degrees and a low of 25. If canyon winds arise, forget about it.
Call in the film crew from "Ice Road Truckers."
That would be fine with Utah State defensive end Connor Williams.
"I like cold," he says. "We'll be out in late November, early December practicing and I'm in T-shirt and shorts."
Time to man up?
"Exactly," he says.
The California (14), Arizona (7), Florida (7) and Hawaii (4) players can wear thermal undies; USU's lone Canadian is ready to roll, as is.
"You know what? The weather is about the same here as back home," Williams says.
Temperatures truly are comparable to those in his hometown of Kanata, Ontario, outside Ottawa, which averages 36 high and 29 low on Nov. 23.
"With the humidity, (Ottawa) has a little more bite," Williams says.
The 6-foot-3, 278-pound senior has bite in his attitude, too. Coach Matt Wells calls his work ethic "unmatched, unparalleled." An explosive rusher, Williams was all-WAC honorable mention in 2012, starting every game. He ranked first on the team and fifth in conference with six sacks and added another in USU's Potato Bowl win over Toledo. Barring injury, he will start again in Thursday's season-opener at Utah.
As Canadians would say, cool, eh?
"When I first got here, I let a lot of people down because I don't play hockey," he says, amused. "I don't say oot and aboot and I don't wear plaid. I don't know anyone who talks like that."
Williams doesn't take, um, oh-fense at the generalizations; he just shakes his head. He theorizes that most stereotypical Canadian talk comes from hockey players who "have all this lingo or terms they use" among themselves, almost in self-mockery. His own accent is as likely to be from Oxnard as Ottawa.
He dropped hockey when his feet started growing out of his skates at age 13. That was about the time an uncle who had played at Utah took him to see the Utes in the Fiesta Bowl.
"I'd never seen anything like that before," he says. "Just the amount of people, the atmosphere, the community, all that. I was really impressed and wanted to be part of it."
Which in a way he is.
As he grew, he "got some film together and went to some camps and (former USU coach) Gary Andersen got ahold of it and gave me a call and here I am."
When the Aggies play Utah at Rice-Eccles, there will be plenty of atmosphere again — though most of it will favor the Utes. But if USU wins for a second consecutive year, he'll have all the atmosphere he could want back in Logan.
Williams isn't the first Canadian at USU. Among others were the Forzani brothers (no, that's not the name of a pizzeria), Joe, John and Tom. The latter was a top receiver for All-America Tony Adams in the 1970s. Pete Lavorato and Elwood Threlfall were other Canadians who played in the '70s for USU.
Wells points out that Canada "has had some strong talent over the years," especially with linemen and tight ends. When he was an assistant at Tulsa there were four Canadians in the starting lineup. But there were only 46 on upper-division American college teams last year.
"It's a little harder to evaluate up there, hard from a recruiting standpoint," Wells says. "The kids come in raw, a little less developed."
In this case, the Aggies grew along with Williams. USU went 4-8 the first season he was in Logan, followed by 7-6 and 11-2. He was drafted in May by the CFL's Ottawa Red Blacks, the 18th pick overall. But going pro was never a consideration.
"I made a commitment when I came here to play all my years of eligibility," he says. "I look forward to leaving it in a better spot than when I came."
But a warmer spot?
Makes no difference to him.
Email: rock@desnews.com; Twitter: @therockmonster; Blog: Rockmonster Unplugged