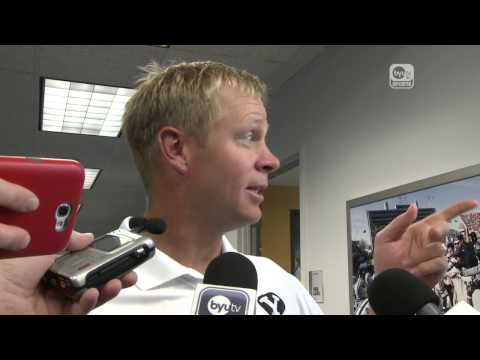 View 40 Items



PROVO — So, what about BYU's cornerback corps?
Is it a scrap heap? Time to panic?
The injury-laden group has absorbed a myriad serious setbacks since spring practice. For starters, the Cougars lost highly touted junior college transfer Trent Trammell and star Jordan Johnson to season-ending ACL surgeries in March and August, respectively.
That's not all.
Talented freshman Jacob Hannemann elected to play pro baseball. Veteran Mike Hague has struggled with an injury for most of the year. Transfer Sam Lee hurt his back right after he got to Provo.
Then, just a few days ago, Adam Hogan, a guy who made it on the two-deep chart, tore up his quad muscles. The injury was a pitchfork toss to the top of a pile of bad news.
How bad is it?
When you bring over freshman receiver Michael Davis and slotback Eric Thornton and accept a rugby player as a walk-on to fill out the depth chart for practice and prep team, it's a salad situation for sure.
No question the loss of Johnson was huge. The Cougars do not have another player with his kind of talent (size, speed, physicality, knowledge, experience and confidence) on the roster.
But is this a complete wreck?
Robertson Daniel looks like a good corner. He has speed, size and good coverage skills, as evidenced by his play in Wednesday's fall camp-concluding scrimmage in which he got a pick. Skye Povey is a tough veteran with skills. And freshman Dallin Leavitt has been impressive, although this is the first time he's played corner in his life.
I see BYU's cornerback situation as a challenge and a test. It'll be one of the intriguing storylines of the season.
And it's similar to a lot of past Cougar corner situations where talent and depth are thin. This can be masked and protected by playing a lot of cover-2, adding a nickel back, and playing a lot of zone.
We've seen those ploys before. It most clearly shows itself when BYU corners give a big cushion to receivers off the line of scrimmage, protecting deep, but sacrificing some yardage early in drives.
The Cougars will also counter any possible cornerback deficiencies by using their front seven to pressure passers, the ultimate best defense in protecting the secondary.
The other deal is this matrix: Some of BYU's most successful football teams in terms of wins in recent years have featured corners who never became household names.
In fact, as I've quizzed some very knowledgeable fans about this, they've failed. I put them on the spot to name the corners on a few BYU teams that earned at least 11 wins. This is no knock on those players. It's simply that BYU did well without press-type corners like 1996's Omarr Morgan and Tim McTyer, whom I consider to be among the very best on the field at the same time in school history.
Here, take the test.
Name the corners who started on the 2001 team that went 12-2.
Tick, tick, tick.
How about the corners on the 2006 team that finished 11-2?
Tick, tick, tick.
Now, name the starting corners on the 11-2 team in 2007.
Tick, tick, tick.
Now name the starting corners on the 2009 squad that finished 11-2.
Tick, tick, tick.
Did you score 100 percent on that test?
If you did, my hat is off to you for your knowledge and roster skills.
Point being, BYU has often had to go the salad route with quick fixes and gambles on returning missionaries.
In the past 14 years, BYU has produced just three all-conference cornerbacks. They were Brian Gray (1999), Jernaro Gilford (2001) and Corby Eason (2011 as an all-independent).
It's been tough to find four-year corners. Only one was in the same four-year caliber as Jordan Johnson and that was Gilford, a corner on that 12-2 team in 2001.
Who were the corners in 2006? Justin Robinson and Ben Criddle.
How about 2007? Kayle Buchanan and Criddle.
And 2009? Brian Logan and Brandon Bradley.
Again, not a knock on those noble souls, but BYU played decent defense, sometimes outstanding defense, with talent at corner that was not Jordan Johnson.
Just a thought as one thinks about the BYU cornerback storyline, which has become one of the top drama points since Kyle Van Noy took things into his own hands and the Cougars left San Diego with a win over the Aztecs last December.
Dick Harmon, Deseret News sports columnist, can be found on Twitter as Harmonwrites and can be contacted at dharmon@desnews.com.