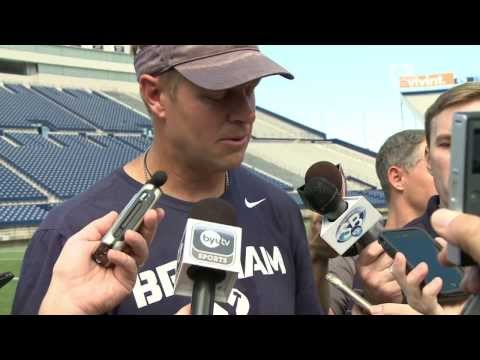 View 41 Items




I think our knowledge of the offensive system, and the tempo, is probably ahead of where I thought it (would be). Execution, we'll have to see on game day, so it's hard to call on that one.

—Bronco Mendenhall
PROVO — Fans anxious to see how effective BYU's new offense proves to be aren't alone.
With fall camp wrapping up with a scrimmage at LaVell Edwards Stadium, coaches and players were hesitant to assess exactly where the offense, and the team, is.
"It's hard to say," BYU head coach Bronco Mendenhall said when asked to assess his team's readiness for the season. "I think our knowledge of the offensive system, and the tempo, is probably ahead of where I thought it (would be). Execution, we'll have to see on game day, so it's hard to call on that one."
Wednesday's scrimmage provided a mixed bag of both good and bad play on both sides of the football. A long pass to Brett Thompson over the top of a blown coverage would be answered by the defense blowing up a short pass in the backfield.
"It's all about consistency and getting more consistent with our assignments," said defensive lineman Eathyn Manumaleuna. "I think we made some good plays today, but we need to make good plays more consistently, and I think it's probably the same for the offense."
Quarterback Taysom Hill, who completed 6-of-9 passes for 81 yards in the scrimmage, likes the progress of the offense, but readily notes it's a work in progress.
"I think it's the little things we need to get better with," Hill said. "I think the system is sound, guys are working hard, but we just need to keep cleaning up smaller stuff that holds us back moving the ball. That goes for myself, as well."
Sorting out the two-deep
Wednesday's scrimmage was an exercise in identifying players who will travel to Virginia and round out the two-deep roster. Coaches will spend Thursday evaluating film before making final depth chart decisions.
"(It was) another chance to get one final look at a few situations today," Mendenhall said. "A lot of this will end up reflecting on personnel issues and depth issues. That was the main intent — to see if we could solidify more players to take with us when we go to Virginia."
The coaching staff hasn't spent much time preparing specifically for Virginia, but that will change dramatically in conjunction with Thursday's final two-deep evaluations.
"We'll spend our entire day tomorrow, as a coaching staff, shifting to Virginia," Mendenhall said. "We'll practice the following day (specifically for Virginia) and then we'll feel like it's (time to play) Virginia."
Mendenhall did indicate that Manumaleuna will be the likely starter at nose tackle and will be backed up by Marques Johnson and true freshman JonRyheem Peoples. At buck linebacker, it will likely be Spencer Hadley seeing the most reps with Alani Fua assuming Hadley's role at sam linebacker.
"I've played buck linebacker before, so it's not new being there at all," Hadley said. "Alani is doing a great job at sam, so we'll be fine there and I just hope I can provide good play on the inside. I feel we're real strong at linebacker and have a lot of guys who can make plays."
Offensive line still has a ways to be sorted out, according to offensive coordinator Robert Anae.
10
comments on this story
"We're still looking for guys to solidify spots," he said. "We're still looking for guys to exert a presence there."
Scrimmage notes
-Starting kicker Justin Sorensen went 2-3 on field goals, connecting from 22 and 39 yards and missing from 39 yards.
-The offense finished off the scrimmage with a bang. Freshman running back Algie Brown broke two tackles for an impressive 27-yard run. Ammon Olsen followed up Brown's run with a 20-yard touchdown pass to Devin Mahina.
-Cornerback Robertson Daniel provided the defensive highlight, picking off a deep pass attempt from Olsen.
Email: bgurney@desnews.com
Twitter: @BrandonCGurney