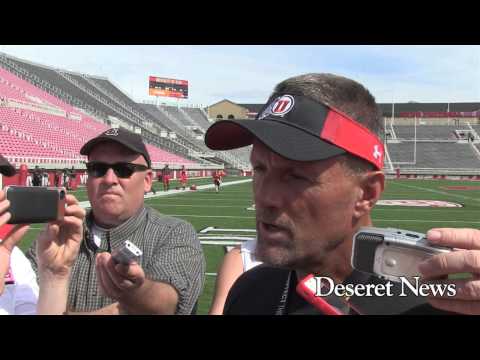 View 16 Items


SALT LAKE CITY — The Utah Utes did a little splishing and splashing Monday. Between practice sessions on a hot double day, they spent some time at Seven Peaks in Salt Lake City.
"They had a good time and it was a nice break for them," said Utah coach Kyle Whittingham, who added that it was a good diversion for them away from football.
Another morale builder has been the new $32 million Spence and Cleone Eccles Football Center. Whittingham noted that it has changed the entire persona of the team in an extremely positive way.
"I didn't think it would have that dramatic of an effect," he said. "We'll see if it translates onto the field, which is really the only thing that matters."
On the field, Whittingham liked what he saw Tuesday morning at Rice-Eccles Stadium. As usual, though, he found room for improvement.
"It was good work," Whittingham said. "Execution continues to get a little bit better each day offensively, but still has a ways to go. ... We need every one of these next nine days that we have."
ABOUT THE AGGIES: Whittingham wouldn't say if there was any extra special circling of the calendar when it comes to Utah's Aug. 29 game against Utah State at Rice-Eccles Stadium. The Aggies edged the Utes 27-20 in overtime last season in Logan.
"We always circle the opener," Whittingham said. "That's our primary focus."
Whittingham did, however, express his respect for USU quarterback Chuckie Keeton and credited him for much of the Aggies' recent success.
"He's the difference maker," Whittingham said. "He's the catalyst for that football team."
Although Whittingham noted that former Ute assistant Gary Andersen did a great job coaching the Aggies, he thought Keeton's arrival in Logan was what really made a difference.
"It's all about players," Whittingham said. "Credit Gary and the staff for bringing him there, because they are the ones that got him there."
CHANGING TIMES: The linebacker position is evolving.
"It's more a speed game. You rarely find the 250-pound plugger that you used to find in the middle. They've all got to be able to run and the guys on the outside are almost hybrid strong safety-type players," Whittingham explained. "They've got to be able to cover and make tackles in space, in a lot of space, and so the job description as well as the physical profile of (the linebacker) position has changed."
Sophomore linebacker Jared Norris noted that schemes have changed a lot, too. Alignments, assignments and proper techniques carry added importance.
"I think it all comes into play," Norris said. "It doesn't matter how fast you are, you've got to do the things the coaches are telling you. That's our biggest thing for linebackers right now.
"Offenses are trying to spread us out and hit us with the bubble routes and all that and as linebackers we've got to be able to run as well as play inside the box for the run — basically being more disciplined," he continued. "Most of these offenses in the Pac-12 run high-tempo, hurry-up offenses. So we also have to be in condition. Sometimes you have to be out there for eight to 10 plays. You've just got to be ready to go. I feel like it's changed a lot actually. You've got to be a little bit lighter than back in the day, just so you can be able to run sideline to sideline."
Email: dirk@desnews.com
Twitter: @DirkFacer