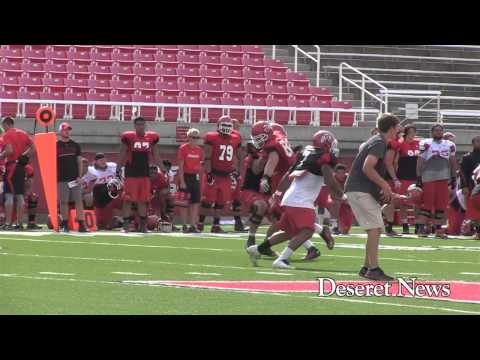 View 16 Items


We underachieved last year at that position due to a number of reasons, but the bottom line is nobody cares about those reasons.

—Kyle Whittingham
SALT LAKE CITY — Utah's linebacking corps proved to be a revolving door last season as injuries and inexperience took a toll. The Utes started nine different combinations and an equal number of players as starters (including three freshmen and two sophomores) over the 12 games of 2012.
"We underachieved last year at that position due to a number of reasons, but the bottom line is nobody cares about those reasons," said Utah coach Kyle Whittingham. "You've either got to make the plays or not and we didn't make enough plays at that position last year."
Trevor Reilly, who led the Utes with 69 tackles, agrees.
"Overall, we just didn't play good enough," he said. "You can make all the excuses in the world, but we as a unit didn't play well enough."
Improvement, thus, isn't just being sought — it's being demanded.
"They need to be better," Whittingham said. "They have to be better."
After finishing 5-7 last season and missing out on a bowl game for the first time in nearly a decade, Utah's linebackers are determined to do their part to turn things around. The task was made more difficult with the career-ending concussion suffered by sophomore Reshawn Hooker early in camp.
"We want to get better. Last year wasn't good enough — not only at linebacker but everywhere," Reilly said. "I don't think we were good enough in the secondary and not on the D-line, so as a defensive unit we're just trying to get better."
Reilly, who was recently elected a team captain, made eight starts at linebacker and four at defensive end last season. He knows the big picture well, earning praise from Whittingham as the leader of the entire football team.
The senior doesn't mince his words in evaluating the situation. He said "we'll see" and "to be determined" when asked about improved linebacker play this season.
"But so far in camp, I think we're further along now as far as recognizing plays and making plays than we were last year," Reilly said. "So that's a positive."
Reilly added that junior V.J. Fehoko and sophomore Jared Norris are looking good and guys like junior Jacoby Hale and sophomore LT Filiaga are coming along. They're joined on the current depth chart by senior Brian Blechen and freshman Uaea Masina.
"They're doing a good job," said defensive coordinator Kalani Sitake. "We've still got a little bit more to polish up, but I feel good about the group that we have right now. I think they're going to be fine this season."
The key, he explained, will be staying healthy.
As was the case last season, Sitake said the linebackers will be asked to do a lot and have pressure placed on them.
"Our guys have to step it up," he added. "And I think the silver lining on the whole thing is a lot of our guys got some good experience, but we have to be able to function a lot better than we played last year."
Sitake saw noticeable improvement in spring ball and an even bigger step forward in preseason camp.
Whittingham is also pleased with the progress.
"They've had a good fall camp. The depth chart is pretty solidified there with Blechen being the wild card. If he's able to play then that obviously changes things up a little bit," he said. "But they've worked hard. They understand they underachieved last year and so nobody wants to perform any more than they do and I think they've got a real good attitude right now."
As the Aug. 29 season opener against Utah State approaches, Reilly and Blechen (who is practicing more now than he was earlier in camp while battling tendinitis) are listed as the co-starters at stud linebacker. Fehoko and Norris top the chart in the middle and at rover, respectively. Hale is a backup at stud and rover, while Filiaga (middle) and Masina (rover) are also in the mix as primary reserves.
"There are so many plays that are played now," Reilly said. "If you have two up-tempo teams you could easily be over 100 plays, so you've got to be one or two deep or maybe even three deep at some places."
* * * * *
Utah linebacker depth chart
(As of Aug. 19)
STUD
9 — Trevor Reilly (6-5, 255, Sr.) or
4 — Brian Blechen (6-2, 225)
40 — Jacoby Hale (6-0, 230, Jr.)
MIDDLE
52 — V.J. Fehoko (5-11, 225, Jr.)
42 — LT Filiaga (6-0, 250, Soph.)
ROVER
41 — Jared Norris (6-1, 230, Soph.)
40 — Jacoby Hale (6-0, 230, Jr.)
43 — Uaea Masina (6-2, 215, Fr.)
— Starters in bold