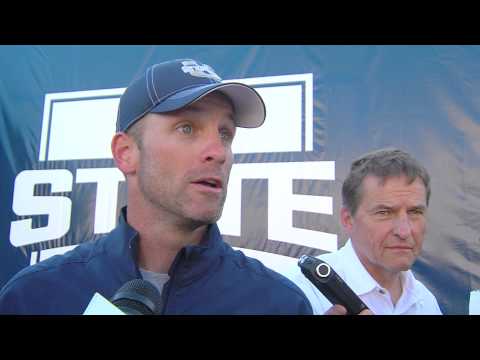 View 4 Items



I've never had a Heisman candidate. I've had a couple of really good quarterbacks who were conference MVPs but to have a Heisman candidate is a little bit of a grander scale. It's interesting looking for ways to challenge him.

—Utah State offensive coordinator Kevin McGiven
LOGAN — With a Heisman candidate at quarterback and an all-star starting five on the line, the Utah State football offense feels confident and ready for the season to officially start.
Under the new leadership of coordinator Kevin McGiven, who also spent the 2009 season as the Aggies quarterbacks coach, the USU offense is well into fall camp and preparation for opening day at the University of Utah. McGiven gave his thoughts about the progress and preparation being made.
How have the first few months on the job been for you?
"It's been pretty good. We're right in the middle of the grind of camp, and the team is working really, really hard. They come out with energy, they come out with focus and they come out ready to compete. That's usually the mark of a pretty good team. When you get tired in the middle of camp you start having some off-days, but these guys are self-motivated. They work hard and know what it takes to compete in the new conference and to be champions."
How are you feeling about coaching a Heisman candidate quarterback in Chuckie Keeton?
"I've never had a Heisman candidate. I've had a couple of really good quarterbacks who were conference MVPs but to have a Heisman candidate is a little bit of a grander scale. It's interesting looking for ways to challenge him. He's very self-motivated. He challenges himself, but we look for things each and every day to continue to improve his game. He by no means thinks he's arrived. He's a very selfless player and a hard worker who takes all this stuff in stride. He's a fun player to coach."
What are your impressions of the team, both offensively and defensively, at this point in fall camp?
"It's a pain playing against our defense every day. We've got a really good defense. There's a lot of movement going on, a lot of pressure and blitzes and things like that. It makes us better as an offense to have to play up to their standard and their level. It forces our execution to be better and cleaner. We try to play with a fast pace, but playing against them forces us to be focused on every single snap. They do a really good job. We have some veterans back on offense who have seen a lot of this stuff. They have a lot of logged reps with some starts and how much they've practiced. As a unit they're doing a good job."
What strengths are really showing at this point in the preseason among the offense? What aspects still need work?
"Obviously our offensive line is a tight, close-knit unit. They understand football and they understand what it takes to control the line of scrimmage. It all starts with that. Obviously, the quarterback position is a strength. We're pretty solid in a lot of areas with our starting unit. I like D.J. Tialavea at tight end and I like Joe Hill at running back. Joey DeMartino has really picked up where he left off at running back from last spring and has had a really good fall camp. The receiving corps has really stepped up this camp. We've still got to establish a lot of depth in a lot of areas; that's the biggest focus right now. We need to find some guys we can travel with and really have confidence with if needed."
One of the big questions fans have this year is the wide receiver position. At this point, how is that playing out?
"That was a question mark going into spring. There were some questions that were still unanswered at that time with some guys that were catching our eye. I don't see that as a weakness at all at this point. Those guys have had a really solid camp. They've been a lot more consistent with their assignments and day-to-day effort in making plays and catching the football. I'm excited about those guys as a group."
With all five starting offensive linemen returning, how does that benefit the offense and the team as a whole?
"Their experience is huge. They've got a lot of games under their belts, not just individually, but collectively as a unit. Playing together and the communication they have developed is huge. You know, you get a blitz off the right side and it's got to be passed all the way down. They have to be able to communicate everything back and forth. With Tyler (Larsen) being able to recognize defenses and making the right calls, getting those guys targeted where they need to be and helping the quarterback. It's huge to have those guys leading our ship right now."
Heading into the season and a new conference, what will it take for the Utah State offensive to be successful?
"Coach (Matt) Wells has made the comment that we need to win the conference in camp. Out here, day 16, there are a lot of teams across the country that are tired and sore. We're out here battling through these next two weeks and continuing to grow and get better, approaching each and every day of practice with a purpose. You get into games and everybody focuses on their job. You take it one play at a time, one series at a time. If everybody does their job, then things will take care of themselves. We're going to focus on us, and our execution, every single week. Hopefully we'll put a good plan together to attack each opponent's weaknesses and put our guys in good positions as a coaching staff."
Doug Hoffman is the assistant athletic director for Utah State University Athletic Media Relations.