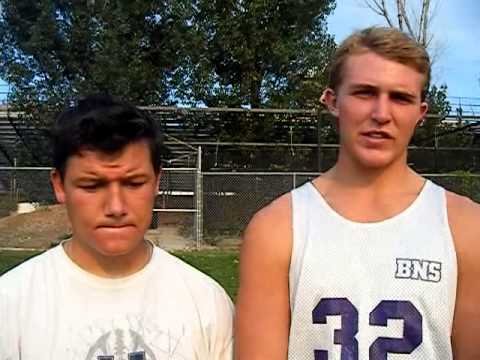 View 9 Items

We've done a lot more work in the offseason, and we're more prepared this season. People are going to be shocked at how much we've changed.

—Will Daines, Viewmont defensive tackle
BOUNTIFUL — Winning just two football games in a season is the kind of wake-up call that's hard to ignore.
So as soon as the Viewmont Vikings' football season ended last year, both players and coaches were determined to make significant changes.
"We didn't change our foundational things, how we treat the kids or what we expect of the kids," said Viewmont head coach Brad Lloyd.
But they did make changes to the coaching staff, mostly additions, and to their offseason strength and conditioning program. They even participated in the summer's 7-on-7 tournaments, something Lloyd had mixed feelings about.
"We tweaked some things," he said smiling. "I've never been a big 7-on-7 guy, but we had a good experience with that."
The one thing that might make the most significant difference on the field this fall, however, isn't anything the coaches did. It's the commitment and leadership of the players.
"We've been extremely, extremely consistent," Lloyd said. "We formed a leadership council, and they've really taken it and run with it."
The players said the difference will be evident in the way the team plays.
"We're a whole different team," said senior defensive tackle Will Daines. "We've done a lot more work in the offseason, and we're more prepared this season. People are going to be shocked at how much we've changed."
Riley Rohloff, a senior running back, said it isn't just the team's returning starters or seniors who are determined to make the program relevant this season.
"I expect great things from all of the guys, " said Rohloff. "Not just the guys who start, but everyone — sophomores, freshman, we expect competitive excellence from everyone."
Rohloff missed most of last year due to an injury and said that gives him an even greater appreciation of what it will take to be competitive this year.
"We've got a great coaching staff this year, and we're getting better every single day," he said.
Lloyd said the new coaches he brought in have already made an impact.
"I think overall this is the best coaching staff I've been on in the 31 years of coaching, with knowledge, with the expertise that these men have," said Lloyd. "And it's translating to these kids."
Lloyd's been impressed with the initiative and commitment his players have shown during offseason training and to each other. The Vikings have nine returning starters who will be seniors and seven returning starters who will be juniors. Injuries decimated the team last year, but this year, they will be more prepared for the inevitable injuries that come with football.
"That bodes well for us," Lloyd said. "We have more depth, and I like where we are right now. We're so much more together as a team."
Lloyd hasn't named many starters, and he really doesn't even want to talk about who might be standouts on the squad. Instead, they're borrowing a page from legendary Nebraska coach Tom Osborne.
"We'd like to have three starters in each position," he said. "That's the mentality we want. We want to be fresher in the fourth quarter, and many of our kids go both ways. … We have enough depth and talent that we can do that. In many spots we have three, some spots two, but we're still developing them."
The exception will likely be quarterback. Right now, three young men are competing for the job — two juniors and a sophomore — all of whom saw varsity playing time last year.
Hunter Anfinson and Max Hadlock are the juniors hoping to win the spot, and each of them threw two touchdowns last year. Sophomore Cole Huish is also hoping to break into the rotation.
"They're pushing each other and making it hard for us," said Lloyd. He said the team will need to be able to do it all to compete in Region 1.
"We're going to be physical, but we have to be able to be balanced," he said of having moderately sized linemen.
Senior center Dallin Tracy said the players will have a different season because they've had a different offseason.
"We're really preparing, getting close as a team and working hard," Tracy said. "And we're going to do good."
Adds Hayden Bryson, a senior defensive end and offensive tackle: "We're going to win. We're going to make teams afraid of us, and we're going to get things done."
Viewmont Vikings at a glance
Coach: Brad Lloyd enters his fifth season at Viewmont, where he owns a 19-25 record. He has more than three decades of coaching experience, mostly as an offensive coordinator. He graduated from West High and played at the University of Utah
Offense
(7 returning; spread)
The offensive leader will likely be senior center Dallin Tracy, as there is a three-way battle for quarterback. Juniors Max Hadlock and Hunter Anfinson, as well as sophomore Cole Huish, are fighting for that starting job. Senior Aaron Dalton will play tight end for the offense, but he's also the team's kicker and punter. He's committed to Utah State as a punter, but at 6 foot 5, he will be a great weapon for the Viking offense. Riley Rohloff, a senior, will play running back, while Ben Peterson and Russell Anderson will see time as wide receivers.
Defense
(7 returning)
Once again it's the linemen that will lead the team's defense. Hayden Bryson, Will Daines, Parker Handley, Nick Odysseus, Cody Dailey, Mason Oveolt, Nick Haws and Tracy give the team depth at the line. Peterson will also play safety for the Vikings.
Coaches preseason Region 2 straw poll: 6
Deseret News Region 2 prediction: 6
Bottom line: The Vikings are in a deeper region this year, but they return enough experience that they should be competitive. Only time will tell if the offseason changes made by the Vikings were enough to help the team play with some of the state's most consistent programs. The competition for starting spots has made for more depth and it doesn't seem to have hurt the team's chemistry. With new coaches, more offseason work and stronger leadership among the team's seniors, this could be the season the Vikings surprise some teams.
Viewmont coaching history
2009-current — Brad Lloyd (19-25)
2003-2008 — Robbie Gunter (36-29)
2000-2002 — Russ Jones (20-13)
1992 -1999 — Ross Harris (24-55)
Comment on this story
1987-1991 — Joe Yanowsky (9-37)
1983-1986 — Warren Hatch (18-21)
1981-1982 — Mark Pierce (12-9)
1980 — Wade Bender (6-7)
1976-1979 — Monte Jones (6-29)
1974-1975 — Chuck Banker (8-11)
1969-1973 — Steve Dangerfield (38-18)
1966-1968 — Bill Ostler (8-18-2)
1964-1965 — Dick Lewis (3-14)
.....
Deseret News First Team all-staters the past 10 years
2004 — Trevor Heiner, K
To view second team and honorable mention all-staters through the years, check out the Deseret News All-State Archives.
Twitter: adonsports
Email: adonaldson@deseretnews.com