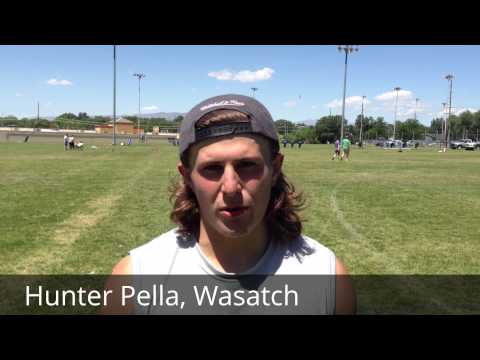 View 15 Items

Note: Wasatch finished with an 8-3 overall record in 2012 and was second in Region 10 with a 4-1 record. It lost to Bear River 36-6 in the 3A first round.
2012 Wasatch statistical recap
HEBER CITY — When Steve Coburn inherited a senior-laden Wasatch team that was very proficient at running the spread offense last summer, the veteran college and high school coach wisely didn't try and tinker with the offense.
He recognized that an offensive shift could wait a year, and let assistant coach Craig Davis continue to call the offense. It proved to be a smart move as the Wasps had an excellent 8-3 season thanks in large part to tremendous success offensively.
All along though, Coburn planned on installing his preferred pro-style offense the following year.
The former Snow College coach believes his new offense gives Wasatch the best chance at being successful as the school makes the jump to 4A.
"We're going to run what I ran at Snow, but we're going to run it out of a pistol formation. It's going to be inside and outside zone, and pro-style but out of a pistol instead of under center," said Coburn
With only two returning starters offensively — and none on the offensive line — there will be a huge learning curve to not only the new classification, but the new offense.
"We're excited about being 4A. We're not backing down from anybody," said Coburn. "I always wanted to coach at the highest level, and so when we got the chance to go 4A, personally and as a program and staff, we were excited about that. The whole school's excited."
Instead of trying to game plan for region foe Juan Diego — which it lost to 49-7 and 44-13 the past two years — Wasatch must now game plan for 4A champion Timpview.
Coburn said from an enrollment standpoint, Wasatch is getting big enough to compete with the Utah County teams in its new region, but the Wasps' depth is young depth.
"The depth is there for us, but it's going to have to grow up real fast," said Coburn.
It's a big reason why Wasatch organized a 20-plus team 7-on-7 tournament earlier this summer — to expose those new starters to the fast-paced football they'll see every Friday night. As Coburn said, there are no easy games anymore.
Not only will the offense be new, but the defense is getting an overhaul as well with Rick Wilson taking over as defensive coordinator.
Wasatch was a decent defensive team last season when it faced middle-of-the-pack 3A teams, but blowouts losses to Juan Diego and Bear River in October revealed major soft spots.
Coburn believes the new defensive coach and a year in the weight room will help close that gap.
"We've spent a year in the weight room, so we're a lot bigger and stronger. Last year I didn't get here until August, so we didn't have much time to get in the weight room," said Coburn.
The strength and conditioning will help offensively as well, because the Wasps expect to be a run-first team.
"I think we'll run the ball a little more than we did last year, so that will set up the pass a little bit better," said running back Hunter Pella.
The senior only had 77 carries last year for 246 yards and three TDs, but much greater production is expected in 2013.
A year ago the running game took a back seat to the passing game as Wasatch's top three receivers finished with 946 yards, 723 yards and 635 yards, respectively. Coburn believes collectively the Wasps' offense can be just as explosive, but with more balance.
Kayden Connor is back at receiver after finishing with 723 yards and 12 TDs last year, and he should be back to full strength by the Aug. 23 season opener after tearing his ACL in Wasatch's playoff loss to Bear River.
Wasatch Wasps at a glance
Coach: Steve Coburn is entering his second season as Wasatch's head coach. Coburn has five years of head coaching experience at Snow College (2006-2010) and 10 years head coaching experience at the high school level. He was 13-6 at Morgan (1988-89), 11-29 at Ogden (1994-1997), 2-17 at Cottonwood (1998-99) and 4-7 at North Sanpete (2011). He's a graduate of Bonneville High School.
Offense
(2 returning starters; Pro-style/pistol offense)
The quarterback is new; the offensive line is new; and all the skill positions are new except two, so don't be surprised if Wasatch struggles in its first two nonregion games against 4A competition. After that though, Coburn expects his team to compete. The quarterback position was up in the air all summer between senior Zach Reese and sophomore Garrett Davis. The starter will benefit from receiver Kayden Connor, who racked up 723 yards and 12 TDs last year, as well as newcomers Kyler Cook, Carson Law and Zach Purdy. Hunter Pella will start at running back, but Spencer Heywood and Matt Tate should see plenty of carries too.
Defense
(3 returning starters)
Wasatch couldn't hang with 3A's elite last season, and it's turning to new defensive coordinator Rick Wilson to change that. A former college lineman himself, Wilson doesn't have any returning starters on the line to work with, but coach Coburn believes the newcomers are ready to be groomed. The strength of Wasatch's defense is at linebacker, where Tag Baxter and Pella are both returning starters. Anderson Davis is a returning starter in the secondary as well.
Coaches preseason Region 8 straw poll: Third
Deseret News Region 8 prediction: Fourth
Bottom line: There are no Unions or Uintahs on the region slate for Wasatch anymore. The Wasps are playing with the big boys now, and very few of this year's projected starters have varsity experience. That may not be an issue at all if coach Coburn's new offense takes hold quickly and the Wasps can run the ball like he hopes. If that doesn't happen, and a young defense struggles too, making the playoffs in the first year in 4A will be very difficult.
Wasatch coaching history
2012-current — Steve Coburn (8-3)
2011 — Craig Davis (5-6)
2005-2010 — Steve North (43-28)
1999-2004 — Ron Tree (38-31)
1997-1998 — Tim Stanley (3-15)
1992-1996 — Monte Morgan (28-25)
1987-1991 — Ron Tree (21-28)
1959-1986 — Dan Wright (174-104-8)
1956-1958 — Eldon Wright (9-11-3)
1949-1955 — Marion Tree (38-20-1)
1945-1948 — Unknown (8-22-1)
1942-1944 — Floyd "Slick" Slater (20-6)
1940-1941 — Unknown (8-3-1)
1939 — Lou Neeley (3-2-1)
1932-1938 — Unknown (5-28)
1928-1931 — F. G. "Frosty" Richards (5-13-2)
1924-1927 — Unknown (10-8-1)
.....
Deseret News First Team all-staters the past 10 years
2010 — Keefer Babbitt WR
2009 — Payton Davis, QB
2009 — Kaleb Moritz, LB/OL
2009 — Cory Nielson, DB/WR
2009 — Mike Davis, WR/FS
2008 — Jake Hardcastle, OL
2007 — Jake Salazar, RB
2007 — Jeff Tukuafu, TE
2007 — Ethan Smith, LB
2007 — Matt Wheatley, K
2005 — David Hendricksen, OL
2003 — Dallin Norton, OL
2003— Colton Salazar, Specialist
2003 — Kacey Mahoney, K
2002 — Kurt McEuen, QB
2002 — Kent Robinson, WR
2002 — Clayton Williams, OL
2002 — Robbie Hatch, DL
2002 — Derek Kohler, DB
2002 — Chase Griffiths, Specialist
To view second team and honorable mention all-staters through the years, check out the Deseret News All-State Archives.
Follow Deseret News prep editor James Edward on Twitter @DNewsPreps