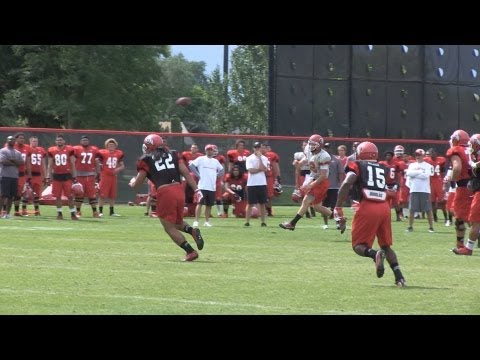 View 4 Items

You've got to come here every day trying to be the best person you can. You've got to train like it and you've got to prepare for it and that's kind of what I've been trying to do for the last two years.

—Adam Schulz, Utah quarterback
SALT LAKE CITY — Utah quarterback Adam Schulz isn't content with being No. 2 on the depth chart. The sophomore is determined to adhere to a mindset he has maintained since arriving on campus as a walk-on in 2011. He's going to keep working no matter how close he gets to the top.
Schulz insists he's never really going to be satisfied.
"You've got to come here every day trying to be the best person you can," Schulz said. "You've got to train like it and you've got to prepare for it and that's kind of what I've been trying to do for the last two years."
Schulz, a strong-armed 6-foot-1, 205-pound passer out of Muskego, Wis., does acknowledge, however, that it's been encouraging to move up the depth chart and have his reps in practice increase.
"It's nice to see improvement, but it's also not enough," he said.
Schulz wants to continue pushing starter Travis Wilson.
"You've got to be ready," Schulz said. "You never know what's going to happen."
Over the past couple of years, Schulz has improved his skills while learning the offense, as well as the tendencies of the defense.
"I feel ready. I know the offense," he said. "I know what I'm supposed to do and I know what others are supposed to be doing."
With a strong pool of quarterback talent in the program — including freshmen Brandon Cox, Conner Manning and Micah Thomas — Schulz is confident that everyone will continue to get better and there will be no slacking. Same goes for Wilson leading the pack.
"It's no fun if you're pushing somebody that you're equal to or you're better than," Schulz said. "So you might as well just keep pushing for trying to be better than the person who is ahead of you."
Wilson is appreciative of Utah's other quarterbacks as well, particularly Schulz.
"I'm definitely thankful to be the starter again this year and it's great to have Adam right behind me just in case something happens. I know he'll do a great job," Wilson said. "He's been pushing me the whole spring and whole summer. So I'm glad to have him on this team."
Utah co-offensive coordinator and quarterbacks coach Brian Johnson noted that Schulz moved ahead of the other contenders for the backup job because of his consistency in camp. He's completed approximately 70 percent of his passes thus far.
"We chart every throw during camp and stuff and he's been just consistent and steady throughout," said Johnson, who added that Schulz hasn't had any huge peaks or valleys. He also has NCAA game experience — going 2 for 2 passing for 52 yards in Utah's 49-6 win over Washington State last November.
"He had a nice camp," Johnson said. "He did exactly what he was supposed to do."
Johnson noted that everything is still a constant battle, however, and that all the quarterbacks are going to continue developing, working hard and grinding at it.
14
comments on this story
Utah coach Kyle Whittingham also noted that nothing's completely solidified. But, for now, Wilson and Schulz have earned the first two spots. There's a chance, he added, that all three of the young quarterbacks (Cox, Manning and Thomas) could redshirt — depending on how things like injuries may or may not develop with Wilson and Schulz. It's just a matter of seeing how things unfold.
Schulz, though, is making his mark on a couple of different fronts — with his arm, plus his tenure with the Utes and success on the field.
"That's his strength — accuracy in the throw game," Whittingham said. "Experience, he's got more time in the program and he's just had a very good fall overall."
Email: dirk@desnews.com
Twitter: @DirkFacer