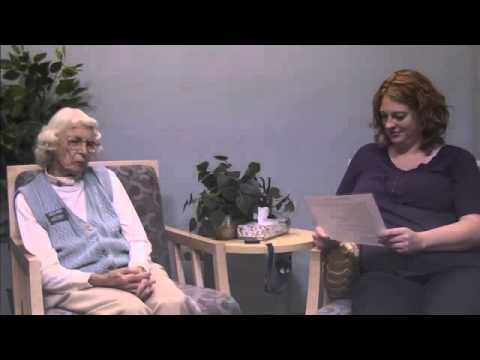 View 5 Items

RIVERTON — The 86-year-old woman with white hair and glasses rested her hands on her lap as her granddaughter, seated close by, pushed a button on a remote control.
As they watched themselves on a television screen a few feet away, a red light appeared, indicating the camera was recording. With everything ready, the granddaughter looked at her list of questions and read No. 1.
"What is your full name?" the granddaughter asked.
"My name is Pearl Koyle Labrum," her grandmother replied.
"And do you know why your parents selected this name for you?"
"Well, I have a theory," the grandmother said. "I think that they thought Pearl came from oysters and maybe I looked like an oyster."
The granddaughter laughed and her grandmother smiled.
For the next 20 minutes the granddaughter, Nicole White, interviewed Labrum, her grandmother, and listened with fascination as the older woman described events and related stories from her life. Every word, facial expression and tender exchange between the two was recorded by state-of-the-art video and audio equipment as they sat together in the new Oral History Room at the FamilySearch Library.
"I thought it was really wonderful to have her interview me," Labrum said. "I think this is something that brings families closer together. It's a wonderful tool."
White agreed with her grandmother.
"It was a really neat process and experience," White said. "I love to talk to my grandma and hear her stories."
The Oral History Room, with its video and audio equipment, comfortable furnishings and soundproof walls, was designed to be the ideal setting for recording personal histories.
In addition to the room at the Riverton library, oral history rooms have recently been added to FamilySearch libraries at the Joseph Smith Memorial Building on Temple Square and in St. George and San Diego.
Anyone can use the rooms, whether a member of The Church of Jesus Christ of Latter-day Saints or not. Appointments should be scheduled online at least one week in advance. Once an appointment is scheduled, a patron may consider three options for recording memories and histories: First, a person can record himself; second, two people can record a conversation; or three, one person can interview another individual.
An individual can schedule the room for up to an hour and 15 minutes at a time, with each session lasting one hour for the recording and 15 minutes to render the video recording and save it on a flash drive.
The only cost for the service is $8, which covers the price of the specially formatted 4GB flash drive. These flash drives are available at each location.
Typically, only two people may use the room at one time. The only restrictions are that no one under age 8 is allowed; those who are ages 8 to 17 must be accompanied by an adult; and no food or drink, except for bottled water, can be taken inside the room.
FamilySearch has compiled other tips, suggestions and a list of possible interview questions to enhance the oral history experience at FamilySearch.org.
Pat Jensen and her husband, Brad, are co-directors at the Riverton facility. Originally, Pat Jensen said, a staff member operated the camera for patrons. That changed when they realized people were reluctant to share deeply personal or spiritual experiences. That's when the remote was added.
The Oral History Room is already making a difference in patrons' lives, Jensen said. A few months ago, two women brought their father to the room. Because one of the women had traveled a great distance, the trio came in for 10 sessions in one week. That weekend, the father died unexpectedly.
"At least now they have 10 hours of video recordings of his life," Jensen said. "You can't put a price on what you take away. This is a valuable opportunity. Come see it. Once people sit down and see themselves, they love it and want to do it."
Labrum has given the Oral History Room her full endorsement. It's not just for old people either, she said.
"Younger people should do this too, while they can remember what has happened. When you get older some things aren't as vivid," Labrum said.
By recording your history, you can show your family "you weren't just a cranky old person all your life," she advised.
"I think everyone wants to know what their parents and grandparents went through, what things were like and what they felt. I think they want to hear the good things, the funny things, so they know you're human," she said. "This will give your family a feeling of unity … it will foster more love and caring. I think it's a marvelous thing."