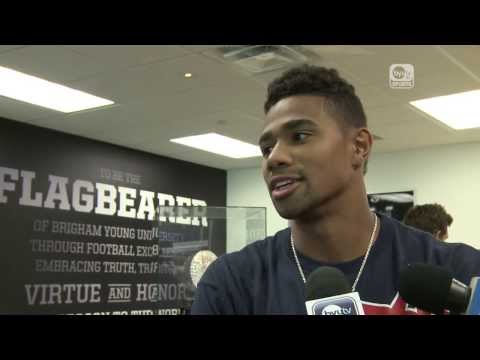 View 4 Items

I was disappointed in myself last year. This year, I just want to prove to myself that I am a good player and that I can make plays.

—Ross Apo
PROVO — Flanked by two other highly touted recruits, wide receiver Ross Apo was all smiles on that now infamous day in June 2009 at Iggy's Sports Bar, where the trio of high school stars announced their plans to attend BYU.
More than four years later, those other two players at Apo's side — quarterback Jake Heaps and linebacker Zac Stout — have left Provo. Apo remains at BYU, although he has yet to meet the high expectations placed upon him, and the high expectations he placed upon himself.
Injuries, a lack of confidence, the emergence of fellow wideout Cody Hoffman, as well as inconsistency at the Cougars' quarterback position in recent seasons, could be pointed to as reasons for Apo's unfulfilled potential.
But based on his performance in fall camp, the 6-foot-3, 207-pound junior is primed for a big season in 2013.
Apo is leaner, faster and stronger than ever. He's playing in a new offense, and for a new offensive coordinator, Robert Anae, and for a new receivers coach, Guy Holliday. And he's a married man now, having recently wed former BYU soccer standout Jessica Ringwood.
"I feel way different," said Apo, who caught 31 passes for 311 yards and just one touchdown a year ago. "I was disappointed in myself last year. This year, I just want to prove to myself that I am a good player and that I can make plays."
Quarterback Taysom Hill said Apo has something to prove this season.
"He's a great football player, and he knows that," Hill said. "He wants to be the best that he can. More than anything, it's him proving that to himself."
"This is by far his best summer that he's ever had," said Hoffman. "So far in fall camp, he's been making a lot of plays for us. He's headed in the right direction."
Early in fall camp, Apo made an impressive, diving catch on a 40-yard pass from backup quarterback Ammon Olsen in the end zone. As soon as the play ended, Apo's cheering teammates on the offensive side of the ball sprinted to the end zone to celebrate with him.
It's the kind of play the Cougars are hoping to see out of Apo on a regular basis this season.
Coach Bronco Mendenhall said Apo has been "absolutely committed" during the offseason. "He's just grown up and matured. To this point, he's played the way he's capable of. It's been really fun to see. He's laying out for catches; he's making tough catches; and he's in great condition. I think Coach Holliday has helped bring that out in him. Coach Anae has helped bring that out in him in terms of toughness. But the players can't survive unless they're fiercely conditioned. He's done that as well. He's thriving right now."
During the spring, Apo struggled with the new, fast-paced offense. By the end of spring practices, he found himself No. 2 on the depth chart at wide receiver, behind Skyler Ridley.
That apparently served as a motivator for Apo.
"In the spring, I'd run two plays and I'd be like, 'I'm gonna have a heart attack,'" Apo said. "I didn't like that feeling. The offense wasn't fun. So this summer, I put it on myself to get conditioned. … Last year, I couldn't even bench 135 pounds. I am way stronger and way faster and more confident now. I did 225 (pounds) 12 times."
Of the new offense, Apo said, "The pace of play is extremely fast. You've got to be in shape. That's one of the things that Coach Anae and Coach Holliday challenged me to do, to get in shape and to run, run, run. That's pretty much what the whole offense is doing right now. … I've just got to come out and play. There's been times when I wasn't confident and I wasn't ready to play. Now, I have guys that I trust. I'm investing in what they tell me to do. All I can do is play as hard as I can to help the offense and the team."
Holliday is pleased with what he's seen from Apo during fall camp.
"I like how Ross has worked and we'll see how he continues to work," Holliday said. "I like his ability, but he needs more confidence and needs to be more consistent. I think he'll be fine. I'm excited for him."
Anae was on BYU's staff in 2010 when Apo joined the program as a freshman. Apo was sidelined that season due to a finger injury.
"You get recruiting hype and it almost ruins (players)," Anae said. "To me, that hasn't been the case with Ross. Ross works hard; Ross tries hard. It's our job as coaches to put him in situations to be successful. I do believe he has the talent, and the makeup, and the hard work to be a very productive player. I look forward to a very good year from Ross, absolutely."
Apo wants nothing more than to put the past behind him and look to the future. He wants to be a major contributor on the BYU offense.
"It was tough," he said of last season. "There were times when I didn't have confidence in myself. This year is a whole different story."
During fall camp, Apo has been all smiles, poised to prove that he can make plays.