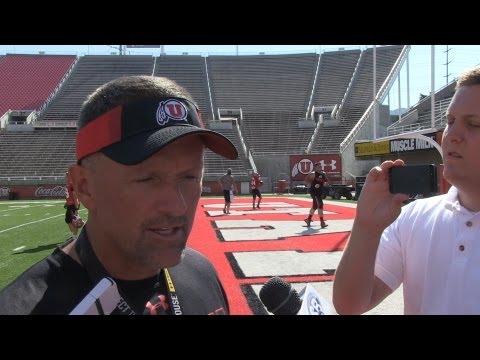 View 2 Items

It tells you what the team thinks about Travis, we expect him to be a great leader.

—Kyle Whittingham
SALT LAKE CITY — Utah coach Kyle Whittingham said his team did an excellent job selecting captains. The Utes elected quarterback Travis Wilson, left guard Jeremiah Tofaeono, defensive tackle Tenny Palepoi and defensive end/linebacker Trevor Reilly to represent them this season.
"Good representation," Whittingham said. "And like I said, a good job by our team selecting individuals that I think are going to be great leaders for us."
Tofaeono, Palepoi and Reilly are seniors, while Wilson is just a sophomore.
"It tells you what the team thinks about Travis," Whittingham said. "We expect him to be a great leader."
Although surprised to hear his name called, Wilson is excited to be a team captain.
"It's a really big deal. It's definitely a great honor to be called a captain on this team as a sophomore," he said. "I just want to make sure my game is always up and always at the top of its level because people are going to be looking up to me and I've got to make sure I'm doing the right things."
Wilson, who held on to the starting quarterback job throughout camp, said the call to be a captain has given him a lot of confidence.
"I think they have great faith in me to get the job done and lead this offense," he noted.
On the opposite end of the experience spectrum, Reilly is a skilled veteran on defense. Whittingham said the senior standout was a landslide choice to be elected a captain. He is also looking forward to his new leadership role.
"It's a big deal," Reilly said. "To be picked from your peers to represent them, that's a honor and I'll take it very serious and do the best I can."
NEW DAD: Defensive end Nate Orchard is juggling football and fatherhood after the birth of his daughter, Katherine, last Friday. The junior got up the next morning and participated in Utah's final scrimmage.
"It takes a little time to adjust to," said Orchard, who admits the baby kind of kept him up all night that evening. "At the end of the day, I'm happy to have her. It's a blessing to have her here."
Orchard added that it's fun and awesome to be a dad.
"I'm excited," he said.
SECRET STUFF: Defensive coordinator Kalani Sitake has said that Reilly, who is listed on the latest depth chart as a starter at both right end and stud linebacker, will major in one and minor in the other when it comes to where he'll line up. Reilly acknowledged that will likely be the case, but declined to reveal which spot will be his primary position.
"We'll keep that a secret," Reilly said. "We don't want to give out any game plans to anybody."
MULTIPLE MURPHYS: Former Major League Baseball star Dale Murphy was a proud father as he watched the end of Monday's practice at Rice-Eccles Stadium. He had good reason to smile, having two sons on the field for the Utes — junior tight end Jake and freshman defensive tackle McKay.
"We're just real excited," Dale said. "They're working hard."
3
comments on this story
EXTRA POINTS: Weber State transfer Darchon Taggart, a sophomore, is now listed as the backup to Eric Rowe at free safety. ... Sophomore Bubba Poole has moved into the No. 2 running back spot behind starter Kelvin York. ... An undisclosed injury has knocked Charles Henderson off the depth chart at safety. He's still listed as Utah's primary punt and kickoff returner, sharing the latter with Poole. ... Senior Michael Walker and junior Tyron Morris-Edwards are listed as the co-starters at strong safety. ... A three-way depth chart battle is brewing at the defensive tackle spot next to Palepoi. Senior LT Tuipulotu, junior Sese Ianu and sophomore Viliseni Fauonuku currently share the top spot. ... Freshman linebacker Sharrieff Shah Jr., the son of Utah cornerbacks coach Sharrieff Shah, is practicing with the Utes after transferring from Utah State.
Email: dirk@desnews.com
Twitter: @DirkFacer