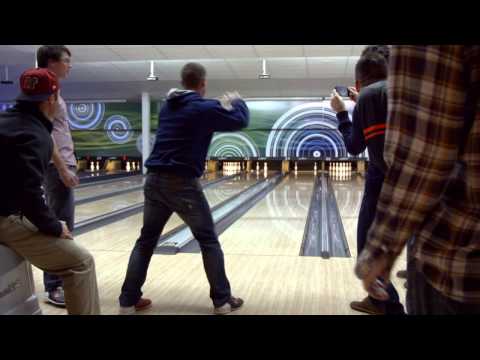 View 2 Items

Scott Wearne is a professional baseball player for the Melbourne Aces of the Australian Baseball League.
He is also a fantastic bowler.
The catch? Wearne bowls with baseballs, pitching the ball at the pins the same way a pitcher delivers strikes, and he's really good. Good enough, that is, to nail one of bowling's most difficult challenges: a 7-10 split.
In a video making the rounds on the Internet today, Wearne can be seen preparing and then delivering a baseball at a bowling alley in Australia.
The delivery on Wearne's first attempt is excellent yet disastrous. Wearne knocks down eight of the 10 pins, leaving a 7-10 split behind.
No big deal. Wearne grabs two baseballs (Hey! Isn't that cheating?) and delivers them both simultaneously at the remaining two pins.
The delivery is pitch perfect. (Please pardon the play on words.) Wearne bowls over the two pins, completing the spare.
Getting all 10 pins in two pitches is an amazing feat, but the best part is that Wearne isn't a pitcher. He's a catcher. Put any prospective base-stealers in the ABL on notice. Wearne is no catcher to toy with.
Cut4 on mlb.com is projecting Wearne's feat will land on Jimmy Kimmel's Whimsically Improbable Sports Feats Hall of Fame alongside Trick-shot Titus.
Landon Hemsley is the sports web producer for DeseretNews.com. Email: lhemsley@deseretnews.com. Twitter.com/EarlOfHemsley