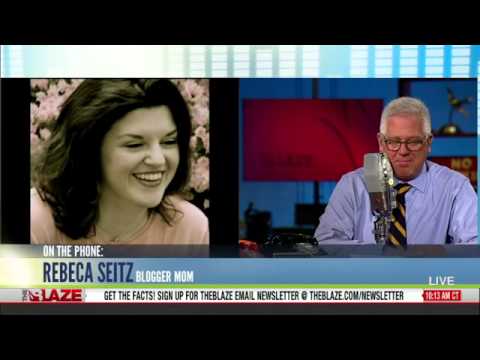 View 3 Items

My kid saw that. Not because I took him to a movie wholly inappropriate for his age. Not because I quit parenting and just told him to turn on the TV at 10 p.m. and watch whatever. Not because I turned on a show this morning that he had no business watching with me.

—Rebeca Seitz
Rebeca Seitz was enjoying a pastry and cereal with her 8-year-old son one morning last week while watching ABC's "Good Morning America" when she was suddenly shocked by what came across her TV screen.
After quickly distracting her son and removing him from the room, Seitz returned to her television to double check what she thought she had seen. Rewinding to find the commercial again, Seitz saw the same intimate image during the advertisement for the station's upcoming fall series "Betrayal."
"The GMA segment went to commercial. And then, wham. Confusion. Disbelief. Did that just flash on my TV screen? In front of 8-year-old Andy?! No way," Seitz wrote on her blog.
"I hit pause, grabbed my iPhone, snapped a picture, and then got the image off the screen before Andy could see again or Ella could find out why Mommy's face registered shock."
Seitz had just viewed ABC's 30-second trailer packed full of steamy images at 8:30 in the morning with text that had read:
"They're married. To other people. Nothing is more dangerous than betrayal."
"I rewound it because I thought there's simply no way that we saw what we saw, so I thought I'll rewind and see what we actually saw and be able to explain to (Andy) that he didn't see what he thought he saw," Seitz said during an interview with CNN. "Then I rewound and saw, no no, we saw exactly what we thought we saw."
Seitz took a picture in order to post it on Facebook and begin a discussion about what she had viewed that morning. But Seitz was forced to then bring the discussion to her blog after Facebook quickly removed her picture because it had been reported as "inappropriate due to nudity" and she was told that she had violated community standards.
"It's amazing to me that ABC has lower standards than Facebook does," Glenn Beck expressed during his interview with Seitz regarding the commercial.
Throughout many interviews and on her blog, this mother of two has made it clear that while she understands the station can choose which primetime shows it airs, there should be a difference between what airs at 8 in the morning compared to 8 at night.
"I understand we've ceded the idea of morality in primetime. A moronic move, but one we (and by 'we' I mean Jesus-following folk) have to own. But this wasn't primetime. This was a commercial about a primetime show airing while we all enjoy corn flakes and coffee and wish our kiddos a good morning," Seitz wrote on her blog.
"My kid saw that. Not because I took him to a movie wholly inappropriate for his age. Not because I quit parenting and just told him to turn on the TV at 10 p.m. and watch whatever. Not because I turned on a show this morning that he had no business watching with me."
Seitz has since filed a complaint with the FCC and spoken with the general manager of her local ABC affiliate as well as the PR representative for the series "Betrayal."
"I called the PR director for the show and what she said to me, very quickly, was, she said, 'I'm not responsible for it. I did see that you had done an interview about it and you had put it on your blog, and so I have let other people know and I'm going on vacation," Seitz recalled on CNN.
Since her post, Seitz's blog has received more than 40,000 views and has generated hundreds of comments. Discussing what action should be taken, Seitz has stated that she doesn't believe in simply giving up on media.
"That's been the real eye-opener to all of these responses on my blog and on the Blaze, is how many of these people are posting, 'Well, I just threw out the cable box,' 'I threw out the television years ago and we just don't have it.' And I keep asking these people, 'Well, if you do that, what will our children have in 10 years?' " Seitz said during an interview with Beck.
"If we just leave then we have no voice. We have no say in what's on that TV if we just leave. We have to stay and fix it."
Seitz has since posted an update on her blog discussing this problem, asking how society can make a difference and change the lack of values in the media.
"We can't let this go," Seitz wrote. "We can't relegate it to the bin of 'stuff we can't do anything about' and move on like it didn't happen, can we? How do we justify seeing evil and walking away?"
Email: [email protected]