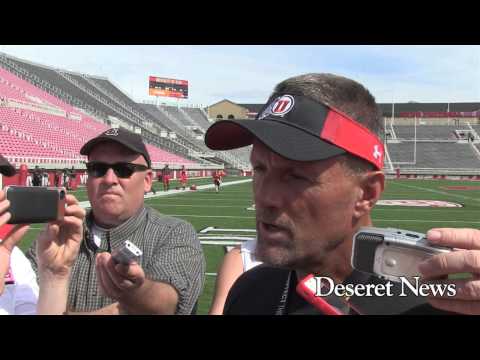 View 2 Items

SALT LAKE CITY — Utah's focus shifts to Utah State when the final week of preseason camp kicks off Monday. The Utes and Aggies open the season Thursday, Aug. 29 at Rice-Eccles Stadium.
Utah coach Kyle Whittingham said the remainder of camp will feature less crossover between the offense and defense and more scout teams. The Utes, he explained, will work against USU schemes. Game planning will include the fine-tuning of offensive and defensive packages.
Defensive coordinator Kalani Sitake noted that the change of pace will be welcomed by the players.
"I think it'll be refreshing for our guys to go against the scout guys and see the looks that Utah State is going to give us," Sitake said. "But we'll keep working."
WANTS TO PLAY: Senior linebacker Brian Blechen, who has been slowed by tendinitis in both knees, saw extensive action in Saturday's scrimmage.
"He needs the work," Whittingham said. "He hasn't had a lot of work for a long time, so he needs every snap he can get."
Whittingham added that it was "very encouraging" that Blechen intercepted a pass in the scrimmage.
The success was also uplifting to Blechen, who said, "Of course I do," when asked if he planned to play this season rather than redshirt.
"That's up to him," Whittingham said. "If he keeps progressing and spends more time on the practice field, then that will happen."
Blechen declined additional comment.
"Right now I'm just focusing on camp," he said. "I'm not worrying about that at all."
CORNERBACK COMPETITION: Siatke noted that there are still a lot of opportunities for Utah's cornerbacks — a relatively unsettled position in terms of the depth chart — to compete.
Daily practices provide a constant challenge.
"I love seeing them go against (Utah wide receivers) Kenneth Scott and Dres Anderson because it gives them good competition," Sitake said.
SAD GATHERING: Whittingham was among several coaches, staffers and players who attended the viewing of former assistant Aaron Alford Friday evening in Park City. Alford unexpectedly passed away earlier in the week of an apparent heart attack at the age of 39.
"Sad deal. Very emotional," Whittingham said. "It's tough. Our heart goes out to the family. It's tragedy. What can you say?"
BIG PLAY: Tight end Jake Murphy teamed with quarterback Travis Wilson on an 82-yard pass play Saturday. Murphy later told reporters, in jest, that if he didn't run a 6.0 in the 40, he would have gone a lot farther.
"Dres (Anderson) was giving me a hard time about that," Murphy said. "But it was a good play and it was a lot of fun."
PROUD PAPA: Freshman linebacker Alex Whittingham made a big play when the No. 3 offense and No. 3 defense rounded out the scrimmage. He picked off a pass and returned it 47 yards for a touchdown.
"He played that just right. I didn't think he had that speed in him but he really turned it on," said his father and head coach, Kyle. "I'm happy for him. He did a nice job on that play."
As for the speed, the elder Whittingham joked: "I guess he must have mom's wheels."
EXTRA POINTS: The Utes resume camp Monday with two practices. ... After Saturday's scrimmage, Coach Whittingham said the coaches had "a lot to dissect on the film" before releasing a new depth chart Monday. ... Whittingham wasn't surprised to learn that the Utes have five 2013 opponents in the preseason AP Top 25 — No. 3 Oregon, No. 4 Stanford, No. 21 UCLA, No. 24 USC and No. 25 Oregon State. "That's life in the Pac-12," he said.. ... Sitake said that senior Trevor Reilly, who is expected to see playing time at both defensive end and linebacker this season, will "major in one, minor in the other."
Email: dirk@desnews.com, Twitter: @DirkFacer