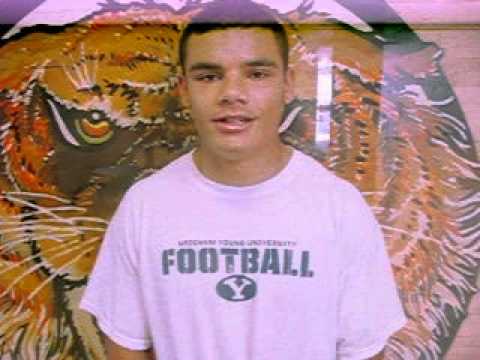 View 8 Items

OGDEN — Please forgive Ogden High School if it feels a little bit picked on, overwhelmed and outmanned by the UHSAA's latest alignment.
You see, the Tigers were having a tough enough time just being competitive in the 3A ranks. And then the UHSAA dealt them a bit of a cruel blow by bumping them up into the 4A classification beginning with this new school year.
So in a proverbial frying-pan-into-the-fire scenario, the Tigers have been tossed into Region 5, one of the roughest 4A football regions in the state. The league includes the tough and talented Cache Valley triumvirate of Logan, Mountain Crest and Sky View, tradition-rich Box Elder, a resurgent Roy High program and Bonneville, a great program for decades that, after falling on tough times in recent years, is determined to regain its proud heritage.
First-year Ogden High head coach Kent Taylor and his squad may be small in numbers, but they are large in desire and determination to prove people wrong.
"We have an us-against-the-world attitude right now," he said. "Nobody believes in us, so who cares what they believe? Those kids are here and they're willing to suit up and go against these odds, so my hat's off to 'em and I'm with 'em. Whoever doesn't believe or wants to knock us down, more power to 'em. Bring it.
"If you were to listen to the chatter, you might hear that we don't have the numbers or power to compete in this powerhouse region. Luckily, my wife tells me I'm a bad listener, and I have passed that (selective hearing) on to my team. I realize that, compared to Mountain Crest and Logan, our participation numbers don't compare. But football has always been 11 guys battling 11 guys, and I definitely have 11 quality guys who can't wait to line up against the competition in Region 5.
"I think we could surprise some people," he said. "We might give some people that 'Holy Crap! Did that just happen?' moment from what somebody called 'that rag-tag bunch of wannabes.' Hey, there's some athletes out there."
There are indeed, although strictly from a numbers standpoint, the Tigers will be at a severe disadvantage because they've only got 42 young men on their entire roster — many schools have more than twice that many athletes to choose from — so they won't even be able to field a sophomore team this season.
But Taylor likes the ones he's got in fall camp and is eager to go to battle on the gridiron with them.
"I have really terrible numbers," he admitted, "but I have some good athletes and we're gonna go to battle. I'll take what they give me and try to do the best I can. There's no use whining about it, because that doesn't change anything at all.
"I have some kids with a lot of heart and, let's be honest, if you're willing to suit up in Region 5 with 42 other guys, you're a stud in my book.
"We'll do our best to hide the weak spots," Taylor said. "Nobody thinks you can do it, and you have that chip on your shoulder because you want to prove 'em wrong."
Quarterback Michael Richardson is a senior and returning starter who's a good athlete, and he'll be backed up by promising sophomore Cameron Mortensen. Coach Taylor plans on using both of them at QB.
Josh Shackleford is a third-year returning starter at running back, and Taylor says "he's a great leader and the backbone of our team." He'll be backed up by junior Porter Smith, a "spunky little dude" who Taylor admires greatly, along with junior K.J. Wilson and senior Colton Harvey.
"A little bit of a committee there," Taylor said of his running backs. "They're all interchangeable."
One of those running backs will play slotback, as all of them are learning a variety of positions due to their depth issues. The competition for the starting wide receiver and tight end spots is still wide open.
At center, sophomore Jonathan Bolen and junior Wolfgang Brandt are vying for the starting job. If Bolen's not playing center, he'll play offensive guard along with junior Victor Villanueva. Ben Richards is a senior returning starter at offensive tackle, where he'll be joined by junior Josh Talbot.
On the defensive line, Richards, Talbot, Bolen, Brandt and Villanueva will man the tackle and end positions, with Harvey and juniors Connor Schiffman, James Hamilton and Thomas Martinez lined up for duty at linebacker. The defensive backfield will include Shackleford, Smith, Wilson, Harvey and Richardson.
Obviously, due to their lack of numbers, most of their players will be going both ways.
"You can't afford to be out of shape on this team," Taylor said. "By the fourth quarter, you will have played every down on both sides of the ball. If they're here, they're committed to each other because that's all they've got.
"I'm fighting alongside these kids. Our coaching staff the last few years, they built this foundation and I consider them my mentors — Jantz Afuvai and the other coaches who left here to take over Bonneville's program. I learned what I learned from them and I look up to those guys every day. And I don't begrudge them a bit for leaving to go there.
"I could have gone with them, but I chose to stay here and I'm glad to be here," Taylor said. "I won't let these kids down; if they want me, I'll stay with them. We'll do some good things here. These kids, more than any, need football; they need a family. We have a lot of kids where there isn't a father figure, and at times it's a daunting task."
Taylor knows full well that Region 5 football is filled with many dangerous landmines.
Mountain Crest and Logan are perennially powerful programs; Sky View has got great athletes and great numbers; and Box Elder's "got those big corn-fed farm boys and they always bring it." With Roy's program on the rise and Bonneville's program expected to improve, Ogden's prospects for success seem slim.
"It is definitely one of the strongest regions in 4A, so we know we have our work cut out for us," Taylor said.
Yes, they'll definitely be up against it. But Ogden's foray into 4A football should not be viewed as Custer's Last Stand or The Alamo, where the good guys never stood a fighting chance, but instead as a valiant effort to overachieve and prove people wrong.
Ogden Tigers at a glance
Coach: Kent Taylor takes over the OHS program after spending the past four years as an assistant coach at the school. This is his first head coaching assignment.
Offense
(7 returning starters; spread)
In senior running back Josh Shackleford and senior quarterback Michael Richardson, the Tigers have some experience and leadership in the backfield. Junior running back/slotback Porter Smith lends some feisty spunk to the program, and senior tackle Ben Richards is a returning starter on the offensive line. Now they've just got to make sure nobody gets injured.
Defense
(7 returning starters; 4-3-4)
All of the Tigers' starting offensive linemen — Ben Richards, Josh Talbot, Jonathan Bolen, Wolfgang Brandt and Victor Villanueva — will start or play major minutes on the D-line as well. Colton Harvey leads the linebacking corps, and their secondary is comprised of their top skill-position players — Josh Shackleford, Michael Richardson, Porter Smith and K.J. Wilson. Fatigue could wind up being the short-handed Tigers' fiercest foe.
Coaches preseason Region 5 straw poll: Seventh
Deseret News Region 5 prediction: Seventh
Bottom line: The deck is definitely stacked against the Tigers, but at least they know it and have embraced their decided underdog, against-all-odds role. A frustrating shortage of bodies leads to a severe lack of depth, which could cause injuries, physical breakdowns and mental lapses that may hamper their efforts to break through into the win column. But Ogden's players and coaches insist they are up to the task.
Ogden coaching history
2013 — Kent Taylor (0-0)
2010-2012 — Troy Kolan (8-23)
2008-2009 — Eric Eyre (11-10)
2006-2007 — Dennis Dalton (3-18)
2004-2005 — Ed Larson (2-17)
1998-2003 — John Filiaga (19-44)
1994-1997 — Steve Coburn (11-29)
1987-1993 — Ralph Parrish (22-44)
1979-1986 — Dave Brown (30-49)
1974-1978 — Eric Maughan (23-26)
1971-1973 — Virgil Savage (6-18-1)
1969-1970 — Ira Winger (5-10-1)
1965-1968 — Wilf Christensen (25-13)
1960-1964 — Norris Johansen (34-12-1)
1953-1959 — Chris Apostol (47-24-6)
1952 — Mel Wood (5-3-1)
1946-1951 — Cluff Snow (24-22-6)
1945 — Keith Waansgard (3-5-1)
1941-1944 — unknown (26-13-2)
1938-1940 — Gilbert Moesinger (19-6)
Comment on this story
1930-1937 — Ernest Simpkins (35-20-3)
1923-1929 — unknown (19-22-1
1922 — Dixon Kapple (5-2)
1920-1921 — Carl. W. Peterson (6-9-1)
1915-1919 — unknown (13-11-4)
1913-1914 — Lon Romney (2-10)
1912 — unknown (2-5)
1910-1911 — Mr. Brown (10-6-1)
1903-1909 — unknown (17-18-5)
1902 — Mr. Thompson (1-5-1)
1898-1901 — unknown (7-9-1)
.....
Deseret News First Team all-staters the past 10 years
(None)
To view second team and honorable mention all-staters through the years, check out the Deseret News All-State Archives.