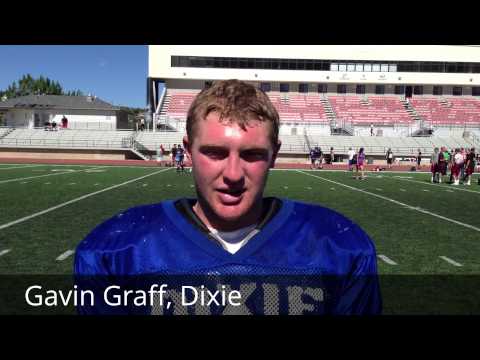 View 15 Items

Note: Dixie finished with an 11-2 overall record in 2012 and was third in Region 9 with a 4-2 record. It beat Spanish Fork 49-21 in the 3A championship game.
ST. GEORGE — Arguably the best story of the 2012 high school football season was Dixie's improbable 3A state championship.
Sure, the Flyers enjoyed a quality regular season, but nobody in their right mind really gave them a chance against Juan Diego in the 3A semifinals — and if they did they were bluffing.
First of all, Juan Diego had beat Region 9 co-champion Hurricane 38-0 in the quarterfinals the week before, and the previous season Juan Diego beat Dixie 41-0 in the first round of the 3A playoffs. There was little evidence to suggest Dixie could hang with Juan Diego in the semifinals.
The fact that Dixie prevailed 14-13 and then crushed Spanish Fork in the title game the following week reiterates just how special quarterback Blake Barney was for the Flyers last year.
Unfortunately for Dixie, its 3A MVP from a year ago is currently serving an LDS mission in the United Kingdom.
So it's back to the drawing board for Dixie coach Blaine Monkres, right?
Not necessarily.
"We've got a lot of kids back, and expectations are kind of high," said Monkres.
Sure, the QB position is still a big question mark, but Dixie returns all four wide receivers from a year ago along with five members of what turned out to be a very strong defense.
Monkres believes if his players forget about last season, there's no reason they can't compete for another region and state title in the revamped landscape of 3AA.
"You just have to get it out of these kids' heads, 'Hey, that was the other team. If you want to make a name for yourself you've got to come out and do it again, and the only way to do that is work as hard as that team,'" said Monkres.
No one worked as hard as Barney over his three years as a starting quarterback. By the time he was a senior, he had evolved into the master of 3A with more than 4,100 yards of total offense and 46 total touchdowns.
It's going to take a collective team effort to replace that kind of production.
"We're going to have a new quarterback that's coming in, and we're not going to be able to rely as heavily on him early in the year, so the rest of the guys are going to have to step up their game," said Monkres.
The defense in particular will need to be strong because without Barney, it's not realistic to expect the offense to average a 3A-best 36 points like last season.
With the season just a week away, Monkres is still unsure which QB to had the reigns of his offense to.
He's wavering between junior Ammon Takau and sophomore Jaden Harrison, and the fact that they're underclassmen makes the decision that much tougher.
"This is kind of important because they're both underclassmen. Whoever I pick we will end up having for a couple years, so it's a big decision. So you don't want to make a mistake," said Monkres. "You want to see which one can lead, which one the kids can follow, which one the kids are confident in and just kind of go from there."
Neither has separated himself yet, and Monkres is preparing to play both in the season opener at Springville.
Takau's strength is his understanding of the offense and his arm strength, while Harrison's strength is he's a really strong runner.
Whoever gets the nod, they'll have the luxury of throwing to an experienced quartet of wide receivers in Lukas Hildebrandt, Tanner Webster, Andy Appel and Drew Batchelor.
Dixie faces a tough preseason schedule this year, including facing two 5A teams (Riverton and Lehi) and one 4A team (Springville). Monkres hopes the difficult stretch shortens the learning curve for the newcomers and prepares them for the gauntlet that is Pine View, Hurricane and Desert Hills in Weeks 5, 6 and 7.
Dixie Flyers at a glance
Coach: Blaine Monkres is entering his sixth season as Dixie's head coach, having amassed a 34-20 record in the previous five years and a state title in 2012. In 23 years as a head coach around the state, Monkres owns a 167-88 overall record. He's a graduate of Clearfield High School.
Offense
(6 returning starters; Spread offense)
Gavin Graff is the only returning starter from an offensive line that blocked for MVP quarterback Blake Barney, and coach Monkres acknowledges it will take time for the new linemen to get things figured out. That will be the case at QB as well, whether Ammon Takau or Jaden Harrison gets the starting nod. The rest of the offense is composed of returning starters. Jordan Takau was a part-time starter last year at running back, while receivers Lukas Hildebrandt, Tanner Webster, Andy Appel and Drew Batchelor are all returning from a team that averaged 36 ppg.
Defense
(5 returning starters)
While Dixie's offense dominated the headlines last season, the defense ranked fourth in 3A in scoring defense at 18 ppg. With question marks on offense, the defense will need to pick up where it left off last season. Taylor Strehlow is back at middle linebacker after finishing third on the team in tackles, while Braxton Ipson is a quality returner at defensive end. The secondary will be anchored by Batchelor and Hildebrandt, who combined for seven interceptions last season.
Coaches preseason 3AA South straw poll: Second
Deseret News 3AA South prediction: First
Bottom line: The defending champs are in a pretty good spot entering the season with roughly half their starters back from last year. The rest of the 3AA South front-runners are in a similar spot, including Hurricane and Desert Hills also breaking in new QBs. At the end of the day, no matter how good Dixie's defense is, few offenses in 3AA rely as heavily on the quarterback quite like Dixie. If the newcomer fills in nicely, the Flyers will be in the hunt again. If not, it might be a bit of a rebuilding year.
Dixie coaching history
2008-current — Blaine Monkres (35-20)
2002-2007 — Jake Nelson (35-31)
2000-2001 — Ray Odette (3-14)
1997-1999 — Mike Smith (16-18)
1993-1996 — Jerry Dyer (21-17)
1975-1992 — Ray Odette (104-69)
1949-1974 — Walter Brooks (168-56)
1935 — Lloyd "Gus" Shields (1-2)
.....
Deseret News MVPs the past 10 years
2012 — Blake Barney, QB
Deseret News First Team all-staters the past 10 years
2012 — Drew Batchelor, WR
2012 — David Teaupa, OL
2012 — Jesse Lambert, DL
2012 — Tyson Graff, DB
2011 — Austin Barker, K
2009 — Dallen Reber, LB
2009 — Dalton Smith, DB
2009 — Mike Sharp, SPEC
2007 — Nate Carter, RB
2006 — Nate Carter, RB
2006 — Derek Owen, DL
2006 — Kacen Smith, DB
2004 — Dallas Irvin, RB
2004 — T.J. Hardy, OL
To view second team and honorable mention all-staters through the years, check out the Deseret News All-State Archives.
Follow Deseret News prep editor James Edward on Twitter @DNewsPreps