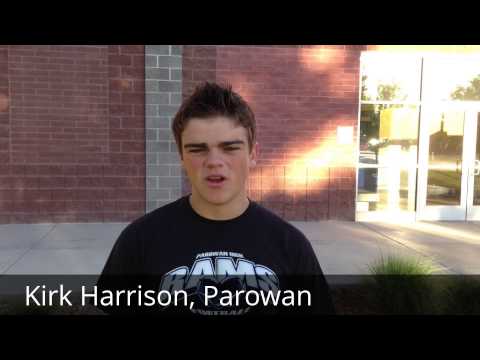 View 14 Items

There's a lot of juniors and good sophomores that got significant time and learned a lot and progressed a lot. It's really going to help us for this year.

—Parowan coach Brigham Nielsen
Note: Parowan finished with a 1-8 overall record in 2012 and was eighth in 2A North with an 0-7 record. It did not qualify for the playoffs.
2012 Parowan Rams statistical recap
PAROWAN — It's been tough sledding for Parowan's football team the past two seasons.
In 2011 the Rams didn't win a game, and then last season in Brigham Nielsen's first year as head coach they went 1-8, with that lone win coming against Cedar JV.
The lumps taken last year in particular — no surprise as the young team learned the nuances of the triple-option offense — could pay dividends this season.
"There's a lot of juniors and good sophomores that got significant time and learned a lot and progressed a lot. It's really going to help us for this year," said Nielsen.
In fact, just about every major contributor is back for Parowan.
A year ago at this time there was a tremendous uncertainty surrounding the offensive switch, something that was realistically a work in progress all season. A year later, the comfort level for the players and coaching staff is so much, much better.
"It's a lot easier this year knowing what's going on and knowing what I have player-wise and being able to plan for that," said Nielsen.
Parowan's coach said he plans on tweaking a few things offensively to work around the strengths and weaknesses of his personnel, but the base offense will still be the same.
Anything is an improvement upon last year.
The youthful Rams were the lowest-scoring team in 2A last season at only eight points per game, as they broke double digits only three times.
With the departure of only one senior from the offensive line, Nielsen believes an O-line anchored by Cannon Brunzvick should help the Rams move the ball much more effectively.
A quarterback with a year of experience running the triple-option will help too. Caleb Murphy began last season as an offensive lineman, but after injuries to the starting quarterback and backup, Murphy was thrust into that role over the final month. He did an admirable job.
"He's one of the leaders of the team, so it's good to have someone there. He's kind of like a point guard," said Nielsen.
Nielsen believes the 2013 schedule is much more favorable, even though a week five visit from San Juan is obviously a very difficult matchup.
"I'm excited about the region. I think we should be able to be competitive every game, and beat some of those teams. I don't say that cocky, but I believe we have the talent and the kids have been working hard enough if they keep it up we'll be in a position to do that," said Nielsen.
To reach that level, Parowan's offense isn't the only thing that needs improving. The Rams ranked second to last defensively in 2A last season, allowing more than 36 points per game — surrendering 40-plus points each game the final five weeks.
The team has worked a lot in the offseason in the weight room on improving hip explosion, something Nielsen believes translates 100 percent to success on the football field.
Tackling is the area Parowan needs the most help defensively, and Nielsen's going to put the 11 best players on the field regardless of position. If a lineman can tackle better than his safety, "I'm going to put a lineman at safety.
"I don't care who it is. We need 11 guys out there on the field who are going to tackle," he said.
Jake Topham was Parowan's leading tackler at linebacker last year, and he's someone who big things are expected from again this year.
Parowan Rams at a glance
Coach: Brigham Nielsen is entering his second season as Parowan head coach following a 1-8 rookie season. He's a graduate of Highland High.
Offense
(9 returning starters; Triple Option offense)
Parowan returns the bulk of its starters, including a bunch of linemen who the coaching staff expects big things from. Cannon Brunzvick, Marty Stubbs and Anthony Shaw are all expected to make solid contributions. Caleb Murphy would be right in the heart of the offensive line, but he made a move to quarterback late in the season last year and that's where he'll start this season. Jake Topham could be the key offensively, a fullback that coach Nielsen said needs to involved much more this season. Kick Harrison is a solid receiver who will be expected to make plays when Parowan throws, while Cody Hartlmaier should be a solid running back.
Defense
(9 returning starters)
Parowan will likely be a slight favorite in its first two games this season, but the first true defensive test of the season comes in week three at Beaver. A potentially strong linebacking corps will need to step up in that game and every game for that matter if the Rams hope to make the playoffs. That linebacking corps includes Topham, Orlando Quezada, Kade Lister and Justice Walker. Murphy and Waylon Skeem will be expected to make plays from defensive end again this year, while Harrison and Braden Mineer will be key contributors in the secondary.
Coaches preseason 2A South straw poll: Sixth
Deseret News 2A South prediction: Sixth
Bottom line: Last season against fellow 2A varsity teams, the only school Parowan was even competitive against was Enterprise, eventually losing 17-10. With the majority of the starters back in 2013 and an easier schedule, it's not unrealistic to expect the Rams to be competitive in five or six games. Winning those games is an entirely different matter. This group of players doesn't know what it takes to win games at the varsity level, and if Parowan struggles early, it could quickly become a negative situation.
Parowan coaching history
2012-current — Brigham Nielsen (1-8)
2007-2011 — Matt Labrum (17-35)
1999-2006 — Rod Murphy (21-50)
1997-1998 — Joe Hays (7-12)
1994-1996 — Danny Lewis (5-22)
1987-1993 — Scott Henderson (24-44)
1986 — Bob August (1-8)
1985 — Unknown (3-6)
1984 — Kevin Singleton (2-6)
1978-1983 — Scott Doubek (7-44)
1977 — Jery Dyer (1-8)
1976 — Tom Baltzer (1-7)
1972-1975 — Dave Jenson (17-23)
1970-1971 — Don Olson (5-13)
1967-1969 – Unknown (7-16-1)
1962-1966 — Lowell Caldwell (10-30)
1959-1961 — Unknown (2-18-1)
1958 — John Wood (0-7)
1956-1957 — Richard Jones (3-11)
1954-1955 — Bruce Decker (4-8-2)
1952-1953 — William "Twist" Jones (1-10-2)
1950-1951 — Unknown (1-10-1)
1949 — Ray Watters (2-4)
.....
Deseret News First Team all-staters the past 10 years
2010 — Zach Wood QB/SS
2009 — Corie Blackham, RB, DB
2008 — Cody Bradley, K
2008 — Nick Wood, QB/DB
2007 — Taggert Smith, OL/DL
2006 — Cole Stanton, WR/DB
2005 — Travis Jones, QB/DB
2004 — Travis Jones, QB
To view second team and honorable mention all-staters through the years, check out the Deseret News All-State Archives.
Follow Deseret News prep editor James Edward on Twitter @DNewsPreps