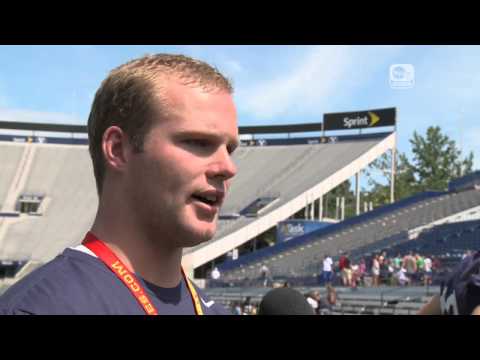 View 3 Items

Justin Sorensen is separating himself over the last couple of days, so that gap is widening, not narrowing. He's doing a really nice job, but I'd like to see him more under pressure in the stadium with live rushes.

—BYU coach Bronco Mendenhall
PROVO — Because of how poorly BYU's kickers performed last fall, the kicker position has received an usually high amount of scrutiny and competition leading up to the Cougars' 2013 season.
During the early stages of fall camp, there appeared to be no separation between last year's starter, Justin Sorensen, and JC transfer Trevor Samson and walk-on Vance Bingham.
However, Sorensen appears to have built a slight lead heading into the final week of camp.
"Justin Sorensen is separating himself over the last couple of days, so that gap is widening, not narrowing," Mendenhall said. "He's doing a really nice job, but I'd like to see him more under pressure in the stadium with live rushes."
Sorensen made 2 of 3 attempts from 43 yards during Friday's practice.
Sorensen and the other kickers will get a chance to prove how they do under pressure during Saturday's scrimmage.
ANOTHER CORNER GOES DOWN: Toward the end of Friday's practice, cornerback Adam Hogan was carted off with an apparent injury to his quad. He'll be evaluated further, but Mendenhall indicated it may be a quad contusion.
Due to the quick attrition rate at the position, Mendenhall quipped that he'd hold open tryouts for any media members willing to give it a go.
"3 o-clock today, report with your cleats out on the field, and we'll see what you look like out there." Mendenhall said.
Because of the rash of injuries to cornerbacks, Mendenhall has altered his practice format to include more warmup time, more treatment time as well as adding different moving patterns and instituting less contact.
"We're working hard in practice just to protect it now," Mendenhall said. "We've modified formats in just about every way possible."
TINKERING AT LINEBACKER: On the heels of Brandon Ogletree's graduation, Mendenhall is comfortable with the buck linebacker position but is exploring options.
"Tyler Beck and Manoa (Pikula are) almost dead-even," Mendenhall said. "Spencer Hadley may possibly play buck because Alani Fua is playing so well at the outside. We still have a lot of time to determine which is the best combination."
MUNNS TO TRAVEL: Jason Munns has seen most of the work with the third-team offense, but is still locked in a battle with Christian Stewart for the third quarterback spot. However, regardless of whether Munns ends up third string, he'll have a seat saved for him when the team travels.
"If Jason Munns isn't the third quarterback I would take him just for his commitment to the program," Mendenhall said. "He's tried so hard, and he's really had a unique set of circumstances."
Email: [email protected]
Twitter: @BrandonCGurney