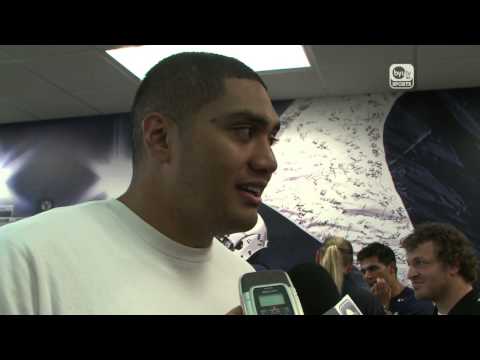 View 3 Items

The process was quite long. Longer than I expected. I was very nervous. I was confident that I would get (the year) back, but there was still that little chance that I might not get it back.

—Eathyn Manumaleuna, on being granted a medical redshirt year
PROVO — A rash of injuries has plagued the BYU football program during fall camp in recent days, and defensive lineman Eathyn Manumaleuna can relate.
The 6-foot-2, 288-pound senior is coming off a season-ending patella injury last September during a loss to Boise State at Bronco Stadium.
Manumaleuna knows all about that devastating feeling that comes with being sidelined for months at a time.
"When I got hurt, I got X-rays in the locker room," Manumaleuna recalled. "I thought I'd be out for a week or two. At that point, I didn't know it was going to end my season. It wasn't until the next morning when I got my MRI. When I did find out, it was way tough. I was glad that my wife and my teammates and coaches were there for me."
Right after coach Bronco Mendenhall learned the severity of the injury, he was confident that Manumaleuna would get his senior season back with a medical redshirt.
"That comforted me," Manumaleuna said. "It's been a great blessing because I was able to come back this year and finish school. I will graduate on time. Everything worked out."
While Manumaleuna was counting on the NCAA granting him a medical redshirt, he didn't actually find out he would be able to play in 2013 until mid-June. In the meantime, his college football career hung in the balance.
"The process was quite long. Longer than I expected," he said. "I was very nervous. I was confident that I would get (the year) back, but there was still that little chance that I might not get it back. I was a little worried because of that. But once it came in, it was 100 pounds lifted off my shoulders. The process was long, and I'm glad it's over. I'm grateful for another opportunity to play. Coming back, it felt really good to be back on the field, getting back to the things that I'm used to and love to do and have a passion for. It's been a really good comeback."
Manumaleuna credited BYU compliance coordinator Adam Sanft's work with the NCAA in dealing with medical redshirt issues.
"He's been really helpful throughout the whole process," he said of Sanft. "He did a really good job of presenting my case to whoever makes those decisions (with the NCAA). He called me and let me know I could play this season. I was very relieved."
In the three games he played in last season prior to his injury, Manumaleuna recorded 11 tackles, including four tackles-for-loss, and a pair of sacks.
While the loss of Manumaleuna was a blow to the Cougar defense, it did open up an opportunity for Ezekiel "Ziggy" Ansah to receive more playing time. Ansah made the most of that chance. Eventually, he became the No. 5 overall pick of the National Football League draft.
"He had to do a lot of hard work to get to where the team needed him to be. He made it," Manumaleuna said of Ansah. "Me going down was a blessing for him too, to step up and be where he's at right now. We're very proud of him and happy for him. He's come a long way to be where he is. I'm excited for him."
Of course Mendenhall is happy to have Manumaleuna back for one more year.
"He was starting in front of Ziggy a year ago," Mendenhall said. "Now he's back and playing really, really well. He's helping (defensive lineman) Bronson Kaufusi come along, he's helping (defensive lineman) Remington Peck come along. He's helping all of the defensive linemen. He's a really good player and very experienced."
6
comments on this story
Manumaleuna has set several goals as he enters his senior season.
"I just want to dominate my position and be sound in my techniques and fundamentals, especially to be stout and lessen my mistakes," he said. "I want to work hard and not have any mistakes. That's what I expect for my senior season. And, of course, to be here for the young guys. We have a lot of young guys here and I'm here to help them. … Being an older guy, I've been here for five years, I've taken on a leadership role for these young guys. I'm willing to help them."