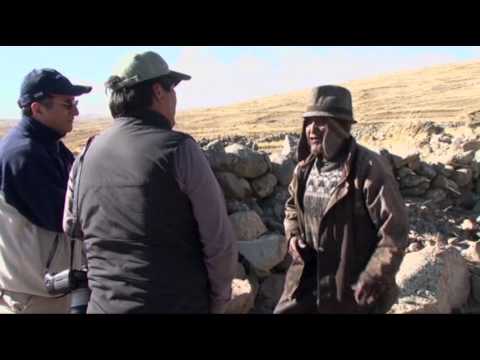 View 13 Items

I've never been lazy. I always shared the cooking with my wife. We would only eat what we could find growing wild. We ate mostly skunk meat. I still go on long walks every day.

—Carmelo Flores Laura
Taking long walks, eating skunk, and avoiding sugar and pasta.
That is the key to longevity, according to Carmelo Flores Laura, the world's oldest person ever documented at age 123.
Living in a straw-roofed, dirt-floor hut in Bolivia near Lake Titicaca, the native Amara has no teeth, speaks only Aymara language, walks without a stick and doesn't wear glasses, according to reports.
"I see a bit dimly. I had good vision before. But I saw you coming," Laura told Associated Press reporters who visited him from the Bolivian capital, La Paz.
According to Bolivia's civil registry, Laura was born on July 16, 1890. An official birth certificate for Laura does not exist; the information came from Laura's baptismal record. Before 1940, births were documented with baptismal certificates from Roman Catholic churches, which were authenticated by two witnesses. The baptismal documents are considered authentic records of birth by Bolivia.
Laura, who lost his wife 10 years ago, told Bolivia's Rede Uno TV that he attributed his longevity to his diet and active lifestyle.
"I've never been lazy. I always shared the cooking with my wife. We would only eat what we could find growing wild. We ate mostly skunk meat. I still go on long walks every day."
Laura's age easily overtakes the current oldest living person verified by original proof of birth, 115-year-old Misao Okawa from Japan.
His age would also make him the oldest verified age on record. The current record holder is Jeanne Calment from Arles, France, who died in 1997 at age 122.
The oldest-ever man, Jireomon Kimura from Japan, died June 12, 2013, at age 116.
To take the Guinness Book of Records title, Laura's age needs to be verified by an official from the organization. Guinness spokeswoman Jamie Panas told the Daily Mail it wasn't aware of a claim being filed for the Bolivian.
This year, a 105-year-old woman from Richland Springs, Texas, gained attention as she attributed her longevity to her love of bacon. Pearl Cantrell celebrated her 105th birthday with more than 200 people. The event lasted three days and included a ride in the iconic Oscar Mayer Wienermobile through her hometown.
Email: [email protected]