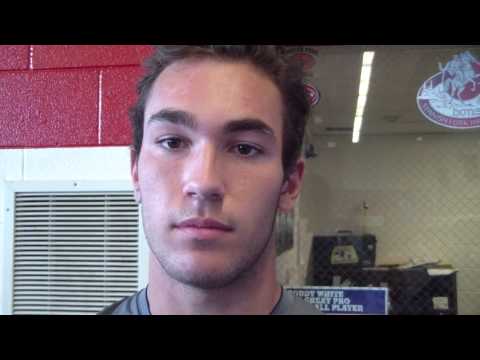 View 6 Items

I'm glad we're known to have a solid program — that's what you want. We got to the championship game last year, and I think that was a good measuring stick for our program, but none of that matters this year. It's a new year.

—Kirk Chambers, Spanish Fork head football coach
SPANISH FORK — Spanish Fork is making the leap from 3A to 4A this season, but don't let that fool you.
By most estimations, the Dons belong.
Just ask coaches around the region — the same coaches who voted Spanish Fork to finish second in region in this, its inaugural season.
"I think we've done some good things here and I'm glad we're known to have a solid program — that's what you want," said Spanish Fork coach Kirk Chambers. "We got to the championship game last year, and I think that was a good measuring stick for our program, but none of that matters this year. It's a new year."
It's a new year in a brand new region, but Chambers feels it's a region Spanish Fork is well-suited for.
"We're smaller than just about every school here, but it feels like we're where we should be," Chambers said. "There are so many natural rivalries here with teams like Springville, Maple Mountain — Salem Hills is just down the street. We certainly won't have to travel as much in this region, so that's nice."
The Dons, who lost to Dixie in the 3A championship, lost a lot of starting talent off last year's squad but return quarterback Jason Money.
Money, a junior, provided 2,768 yards and 26 touchdowns through the air and 491 yards and four touchdowns on the ground.
"It's always good to have your quarterback, but especially when that quarterback is someone as good as Jason," Chambers said. "He worked really hard in the offseason, and I don't know how you improve on over 3,000 yards, but he's doing everything he can to improve."
Money will be joined by a promising group of receivers led by junior Joey Anderson and senior Bennett Bradford.
"We lost Cameron Money, obviously, and a lot of other guys, so we're definitely going to need guys to step up," Chambers said. "I like our group, they have a good quarterback — a great quarterback, so we'll see soon exactly what we have."
The defense will be led by senior defensive back Trevor Perkins and defensive lineman Charles Si'itata.
"We lost a lot defensively after last season, but I like some of the incoming guys and I think we'll be okay there if our secondary comes together and if we get good line play," Chambers said. "We have a lot of respect for every team in our new region and we expect a high level of play from week to week, so you're going to have to be solid in all areas."
As for Chambers, who played seven years in the NFL, he's settled in and happy to be coaching at Spanish Fork.
"I never had more fun playing football than I did when I was in high school," Chambers said. "I love the game at this level, and to just be a part of it — it's just an honor and a privilege for me and I plan on doing it as long as they'll have me. At least that's how I'm looking at it now."
Spanish Fork Dons at a glance
Coach: Kirk Chambers is entering his second season coaching the Dons. The Provo High graduate spent the past seven years playing in the NFL.
Offense
(Spread; 4 returning starters)
The key for Spanish Fork will be along the offensive front — a position Chambers has quite a bit of knowledge about having played the position at the highest level. At running back, the Dons will likely feature junior Taylor Noles.
"Taylor is a very good player but had a very good player in front of him last year," Chambers said. "I think he's going to be someone we can count on, but the key is getting that offensive line going."
Defense
(3 returning starters)
Chambers is aware of how much Region 8 teams like to throw the football and hopes his secondary can prove equal to the task.
"It's a bit different than what we were used to last year, but you just adjust," he said. "Every year is a new year with new challenges. Our challenge this year is to produce a good defense and a good secondary, and hopefully it happens."
Coaches' preseason Region 8 straw poll: Second
Deseret News Region 18 prediction: Second
Bottom line: Met with somewhat surprising expectations, for a team moving up in classification, Spanish Fork will be hard-pressed to finish second in region. The team is rebuilding and will endure some lumps, but expect the Dons to adjust and make a playoff run.
Spanish Fork coaching history
2012-current — Kirk Chambers (12-2)
2006-11 — Matt Christensen (41-28)
2000-05 — Scott Brumfield (29-34)
1995-99 — Everett Kelepolo (25-26)
1987-94 — Doug Snell (26-49)
1981-86 — Dave Clark (21-36)
1965-80 — DelRay "Andy" Anderson (79-74-3)
1956-64 — Don Fuller (42-38-3)
1953-55 — Thayne Stone (3-17-1)
1952 — Gus Black (1-6)
1949-51 — Thayne Stone (6-14-1)
1948 — Gus Black (2-3-1)
1940-47 — Unknown (16-39-1)
1939 — Lloyd Jacobsen (4-2)
1932-38 — Unknown (20-20-4)
1928-31 — Fenton Reeves (12-6-3)
1919-27 — Unknown (2-15-2)
1918 — Mr. Simmons (0-2)
1916-17 — Unknown (6-7-1)
.....
Deseret News First Team All-Staters the past 10 years
2012 — Braxton Argyle, RB
2012 — Colton Olsen, Spanish Fork, WR
2012 — Wyatt Groves, Spanish Fork, DL
2012 — Gunnar Beus, Spanish Fork, LB
2011 — Hayden Nielsen, QB
2011 — Christian Taele. RB
2011 — Sosiua Vaitohi, OL
2011 — Colin Argyle, LB
2010 — Isaac Asiata OL
2009 — Chase Loftin, WR
2009 — Isaac Asiata, OL
2008 — Breck Lewis, QB
2008 — Richard Wilson, TE
2006 — Jordan Smith, WR
2005 — Taft Morley, DB
2003 — Craig Johnson, OL
2002 — John Welsh, DB
To view second team and honorable mention All-Staters through the years, check out the Deseret News All-State Archives.