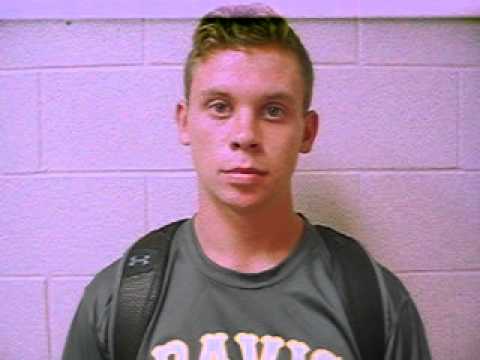 View 16 Items

I love it here. This is a great place, and I've enjoyed every second of it since I've been here.

—Ryan Bishop, Davis High School head football coach
KAYSVILLE — The Darts are to high school football what Chevrolet, Ford and Toyota are to the automobile industry and what the nearby Tasty's shop is to delicious donuts: They just keep cranking out a high-quality product, day after day, year after year.
Ryan Bishop begins his 13th year at the tradition-rich Kaysville school with another in a long line of hard-hitting teams filled with promising players who want to write their own chapter to the program's winning legacy.
"I love it here," Bishop said. "This is a great place, and I've enjoyed every second of it since I've been here.
"I know everybody's excited, everybody's obviously optimistic throughout the state. The time of year is such that all the coaches, everybody's working hard, as is our team.
"We're like anybody else, we're trying to fight and bite and scratch right now and just figure it out," he said. "We're having some real high-tempo, intense practices, and we're competing in a lot of spots. We hope some guys have got some spots solidified now."
Speaking of which, senior Colton Chronister has solidified the starting quarterback job, and he'll be backed up by junior Parker Christiansen.
At running back, senior Parker Rose and junior Mason White lead the way, joined by juniors Conner Simonsen and Hayden Chisholm.
At the receiver positions, senior Jaden Richins, juniors Christian Smith and Mitch Rogers, and seniors Trevor Leavitt and Abel Porter are being counted on to produce yards in the passing game.
On the offensive line, senior Ammon Wall and junior Taylor Gardner are battling for the starting center job, with senior Sam Christiansen and junior Maurice "Mo" Cannon at guard, with seniors Zach Wright and Jonah Harmon at the tackle spots and senior Matt Jessop providing depth on the O-line.
Over on defense, seniors Kawika Tupuola and Christian Hassan will man the tackle positions and seniors Chandler Rudolph and Trevor Wilkey will start at D-end, with senior Canyon Duncan in a reserve role.
At linebacker, seniors Aaron Becker and Jaxon Foreman are ticketed to start, with senior Davis Hanson in the middle spot and senior Jayden Bott serving as a backup.
The team's top cornerbacks are junior Tyler Hinds and senior Nate Ferguson, with senior Chase McKay backing them up, while the starting safeties will be seniors Matt Morrell and Bohdi Barlow, with junior K.J. Bishop providing depth.
Senior Davis Owen and junior Chase Clampett are battling it out for the varsity place-kicking role, while Ferguson will handle the punting chores.
Coach Bishop doesn't have a huge number of returning starters back from last year's 7-5 ball club that reached the 5A quarterfinals, so he realizes there's a bit of a learning curve for this year's club.
"As we get through this week and get all of our stuff installed, we're gonna be ready for a game to see where we're at," he said. "I don't know that we're going to be ready, but we're going to be ready to just go play and evaluate. We're not at that point yet, but we're getting to that point.
"We've really talked about and tried to develop some leadership in the offseason. We don't have tons of returning starters on both sides of the ball, but I think we have a few key leaders in a few key positions, and I think those guys are working hard right now to try to get everybody else to see what a high level it is to play varsity football on Friday nights.
"To me, that's a potential strength, that's something that I hope that some of those key guys can get the other guys on the bandwagon real quick and say, 'Oh yeah, wait a minute, it is a big deal to be under the lights on Friday night, it is a high level, it is fast-paced and intense' and all those things," Bishop said. "If a few of those guys that I see that are coming can really get everybody else on board, I hope that really helps us in our preseason to get ready."
And once league play begins, Bishop feels that, from top to bottom, Region 1 may very well be the toughest, most balanced 5A football region in the entire state.
"I'm really stressing to our guys about getting ready to play at a high level," he said. "I feel so strongly about the competitive balance in Region 1 and being ready for those region battles here in a month or so. There's kind of a fine line of really getting prepared to play and really attacking our first set of games with all wheels on the ground rolling.
"But on the same hand, we want to make sure that when we really need to be hitting full stride is when our region season rolls around. And my thing is, and what I've tried to relay to our kids, is there's no room for mediocrity in Region 1. Nothing against any of the Salt Lake schools or regions, and I know those regions are good right now — you've got the Binghams and all those teams, and you've got the Altas and on down into Lone Peak, we played those guys in the playoffs last year. Every one of those regions has got good teams in it, but from top to bottom, I just feel extremely strong that Region 1 is the most competitive, balanced region in the state.
"Now we have seven teams with Viewmont back in, and whoever is the seventh team and whoever is the first team, there's just not a lot of wiggle room there," Bishop said. "We always have upsets, we're always going down to the last couple weeks of the season for playoff spots and seeding. And so the bigger issue to me right now is, obviously we've got to be ready to play and we've got to be ready to play at full-speed here in a week. But the bigger picture is we need to prepare ourselves for the Region 1 season.
"And in our region, teams are so well-coached and there's so much familiarity up here and I keep talking about the competitive balance. It's fun, it's what makes it fun is having those natural rivalries and all those things. We've got some great ones here, every week."
He knows that defending region champ Syracuse, which reached the 5A finals last November, has another strong squad returning this season. But he also said that, on a given day — or any Friday night — virtually any team in the league is capable of knocking off anyone else.
"Syracuse had a great team last year and they made a nice run," Bishop said. "They're extremely well-coached. They've got all the pieces, obviously, and I have a lot of respect for those guys. In Region 1, there's never a clear-cut favorite but, obviously from what I've observed, they're one of the premier teams in the state right now.
"The thing about Region 1 is, I don't know, it's easy to see that Syracuse is kinda that premier team right now, but it's just so hard, there's not a clear-cut favorite in Region 1. You've always got somebody beating somebody they're not supposed to beat. That's always the way it is. We've been really good sometimes and had one of those games where we lost when we didn't think we should have, and vice-versa, sometimes we haven't been very good and been able to beat somebody else.
"However, having said that, Syracuse is good, they're rolling right now, and they're the team to beat," he said.
And while the road to the Region 1 title might run through Syracuse these days, that stopover in Kaysville isn't ever gonna be much fun for opposing teams, either.
Davis Darts at a glance
Coach: Ryan Bishop begins his 13th season at the Davis High helm. He guided the Darts to a state championship in 2004 and a 5A runner-up finish in 2009. He is 78-57 overall in 12 years at Davis High and 103-66 overall in 15 seasons as a high school head coach.
Offense
(5 returning starters; multiple formations)
Senior Colton Chronister takes control of the offense at quarterback, and his supporting cast includes senior Parker Rose and junior Mason White at running back; a receiving corps featuring senior Jaden Richins, juniors Christian Smith and Mitch Rogers, and seniors Trevor Leavitt and Abel Porter, and an offensive line led by senior guards Sam Christensen and Maurice Cannon, and senior tackles Zach Wright and Jonah Harmon.
Defense
(3 returning starters; 4-3-4 formation)
The D-line looks solid with seniors Kawika Tupuola and Christian Hassan at the tackle positions, seniors Chandler Rudolph and Trevor Wilkey at end, and senior linebackers Aaron Becker, Jaxon Foreman and Davis Hanson. The secondary will feature junior Tyler Hinds and senior Nate Ferguson at cornerback, with seniors Matt Morrell and Bohdi Barlow at the safety spots.
Coaches' preseason Region 2 straw poll: Second
Deseret News Region 2 prediction: Second
Bottom line: The Darts are picked second in the region preseason poll behind Syracuse, and they'll find out early just how they stack up when the two teams tangle in their league-opener on Sept. 12 at Syracuse. Davis also faces region road games at Fremont and Northridge, but they'll finish up league play with a pair of home games against Layton and Weber, which will go a long way to determining the Darts' final standing and virtually assured state playoff seeding. And if they can knock off Syracuse on the Titans' field in that early season show, it could certainly open the door toward a march to the region championship.
Davis coaching history
2001-current — Ryan Bishop (71-52-1)
1984-2000 — Jim Dickson (108-77)
1979-83 — Ward Sawley (43-12)
1969-78 — Jay Cullimore (74-36-1)
1959-68 — Gerald Purdy (67-33-4)
1947-58 — Lee Liston (64-36-6)
1941-46 — Howard "Tuff" Linford (34-17-7)
1937-40 — "Deb" Young (21-10-2)
1934-36 — Floyd Millet (12-6)
1931-33 — Ray Forsburg (11-8-1)
1926-30 — Jack Croft (18-15-2)
1923-25 — James Anderson (2-19)
1921-22 — Floyd Anderson (5-8-1)
1920 — Wilf Romney (6-2)
1919 — Homer Warner (1-6)
1915-1917 — Lorin Briggs (6-10)
.....
Deseret News MVPs the past 10 years
2009 — Tanner Hinds, RB
2004 — Bryan Kariya, RB
Comment on this story
Deseret News First Team All-Staters the past 10 years
2012 — Chance Parker, DB
2012 — Jackson Peacock, LB
2011 — Troy Hinds, DL
2008 — Tanner Hinds, RB
2008 — James Cowser, DL
2006 — Austin Taylor, DL
2006 — Nick Martineau, DB
2006 — Chaz Walker, DB
2004 — Braden Gates, OL
2004 — Steve Boyer, OL
2004 — Josh Hoskins, DL
2004 — Kohl Perkins, LB
2003 — Keaton Hoskins, OL
To view second team and honorable mention All-Staters through the years, check out the Deseret News All-State Archives.