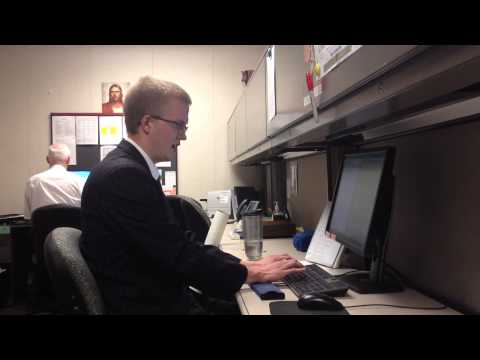 View 4 Items

(Typing) makes my brain feel alive. Anything can be typed, and any given topic connects to it

—Elder Olsen
For most people, typing 100 words per minute is fast. But for Elder Russell David Olsen, that rate is just him getting started. He can type an average of 120 wpm, with a record high of 181 wpm with no errors. (According to Wiki.Answers.com, the average typing speed for adults in a professional work environment is 38-40 wpm.)
"(Typing) makes my brain feel alive," Elder Olsen said in an interview with the Deseret News. "Anything can be typed, and any given topic connects to it."
Elder Olsen's speed-typing skills have proved valuable while serving in the Family and Church History Headquarters Mission and transcribing books for the FamilySearch Wiki, among his other assignments.
Not only does Elder Olsen type with impressive speed, but his work is strikingly accurate.
"(I was told that) one of the proofreaders who takes the stuff that he does and checked it found an error," said Elder Don Vickers. "(But the proofreader) went back to the book, and the book was in error."
In reflecting on his two years of service, Elder Olsen said he has learned to better cope with everyday difficulties.
"(My mission's taught me) to deal with frustrations better. Not every moment's going to be 100 percent," Elder Olsen said. "There are some days where I'm like, 'I'm too tired, I don't think I can do this.' Maybe I lost something, or maybe I was hungry, but (I've) toughened up because not every day is easy."
On his mission, Elder Olsen picked up the nickname "Elder Awesome," which inspired him to work at an even greater capacity.
4
comments on this story
"I think the 'Awesome' name really helped me work harder; just being called that kind of flattered me and I thought, 'Well, if someone thinks they're awesome, then it'll help them serve better,'" he said.
Elder Olsen grew up in Logan and will return from serving in the Access Services zone of the Family History Library later this week. Aside from his typing assignments, Elder Olsen spent time locating books or films for library patrons, aiding in the document center by scanning and preserving documents, and reviewing bookshelves to ensure numerical accuracy. He will pursue his education at Utah State University.
Abby Stevens is a writer for the DeseretNews.com Faith and Family sections. She is a recent graduate of Brigham Young University–Idaho. Contact Abby at astevens@deseretdigital.com.