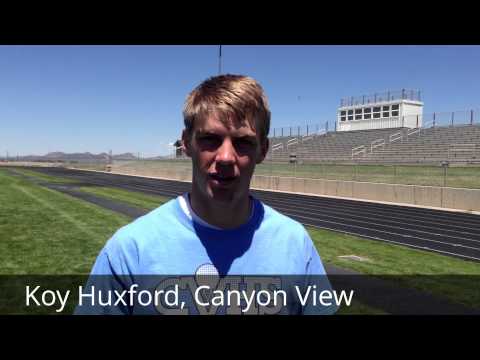 View 6 Items

I'm looking forward to playing some new schools. But we played a couple of them last year, and they're tough teams so we've got to get ready for the competition. Should be a fun year.

—Canyon View quarterback Koy Huxford
Note: Canyon View finished with a 1-9 overall record in 2012 and was last in Region 9 with an 0-6 record. It did not qualify for the playoffs.
2012 Canyon View statistical recap
CEDAR CITY — Through the years, no matter how optimistic Canyon View's football team has been, the black cloud that is the St. George schools always hung over the program.
Regardless of how hard the kids worked throughout the offseason, there was always a defeatist attitude within the team that it couldn't beat the bigger St. George schools — or even crosstown rival Cedar for that matter.
In fact, Canyon View has lost 42 straight games against Region 9 foes dating back to a 14-6 win over Cedar in 2005.
Just like every other year, the start of the new high school football season brings newfound optimism, but in 2013 the optimism doesn't come with an asterisk.
A new region, a new coach and a new offense have everyone inside Canyon View's program believing this year could be different.
For those who've endured years of suffering, including three-year starting QB Koy Huxford, the new 3A South region is at the heart of the excitement.
"I'm looking forward to playing some new schools. But we played a couple of them last year, and they're tough teams so we've got to get ready for the competition. Should be a fun year," said Huxford.
Even though Canyon View still plays Cedar and Dixie in the preseason, its region slate now features Delta, Juab, North Sanpete, Richfield and Manti — teams the program is much more in line with skill-wise.
The Falcons actually faced three of those team last season, beating Richfield 23-13 and losing to Juab 40-25 and North Sanpete 13-7.
First-year coach Robby Robinson, 61, brings an impressive coaching resume with him to Canyon View, which includes turning struggling programs around in the past.
He attributes the success to making football fun and playing a lot of kids, as well as his unique unbalanced dive attack on offense.
"The philosophy behind it is to play basketball out on the football field," said Robinson. "You either have to have better athletes or you have to do something unique."
Robinson likens the offense to what North Dakota State runs. Basically, "we're going to run it down your throat all night long."
At his previous coaching stops, Robinson said his teams have averaged 8 to 12 yards per carry, but he's the first to acknowledge it takes time for the kids to pick it up. In fact, it might take a whole season. Canyon View had been running the spread offense the past four years, and Robinson's offense couldn't be more different in philosophy.
It's also different because Robinson said he runs a crazy up-tempo offense like the Oregon Ducks.
"We have to run two units if your intent is to wear the other team out," said Robinson. "That's the neat thing about it: You play a lot of kids, and that helps build a program."
Leading those two units at quarterback will be senior Huxford and sophomore Mike Musto.
Robinson has been very impressed with how Huxford has picked up the new offense and handled the coaching change after the departure of his father Alex Huxford as the previous head coach.
"He looks like he's been running this option stuff for years. It's a credit to him and his dad. His dad has raised him the right way. He sees leadership in the proper perspective. He's been an overachiever in the offense. He's been studying it and watching film," said Robinson.
Huxford threw for 1,580 yards, nine TDs and 16 interceptions out of the spread offense last year. This season, however, most of his throwing will be on play-action, boots and fades, which Robinson believes should increase his efficiency.
Musto is a fantastic QB in his own right. He went to Stanford's camp as a renegade this summer and definitely turned some heads.
The one-two punch has the potential to be a great thing for Canyon View. Potential is a word that's been thrown around lightly through the years, but only time will tell if this year's team is capable of actually reaching its potential.
"You get your head beat in time after time and it gets real discouraging and then kids leave the program, kids who could help you," said Robinson.
Some of those kids are coming back, and the wins may soon follow.
Canyon View Falcons at a glance
Coach: Robinson, 61, has 37 years of head coaching experience in football outside of Utah, and he's also been a head coach in basketball, softball and track through the years. He won football state titles at three different schools — Casper, Wyo.; Mountain View, Wyo.; and Silverton, Ore.
Offense
(3 returning starters; Unbalanced dive attack)
Coach Robinson's offense is all about creating mismatches across the line of scrimmage, but they don't mean anything if the Falcons can't block. With only one returning starter on the offensive line, center Brooks Rigtrup, it remains to be seen if this new group of linemen have what it takes to be good run blockers. If they are, Braxton Higgins has the potential to have a great season. The coaching staff hopes to give Higgins the ball 25 times per game and let him run downhill. Junior fullback Tevan Vasi is another kid who could get a lot of carries. The Falcons only averaged 13 ppg last season, and coach Robinson hopes the change in offensive philosophy improves that production.
Defense
(3 returning starters)
Canyon View allowed more than 40 ppg last season, and that stat wasn't just inflated by Region 9 games either. It gave up 40 points in a preseason game to Juab, a team that's now in Canyon View's region and one of the region favorites. If the Falcons have any hope of competing in the new league, they need to find a way to get some stops. Robinson likes to use an attacking 4-6 defense, kind of like the Chicago Bears back in their heyday, and he believes he has the personnel to be successful. Brycen Bybee will be a key returning starter at defensive end, while Ty Hollerman has the potential to be a great free safety.
Coaches preseason 3A South straw poll: Sixth
Deseret News 3A South prediction: Sixth
Bottom line: Years of futility took their toll on the program, as Canyon View might only have five seniors on the team this year. Regardless of how established a program is, it's tough to win without senior leadership. With that said, the new classification certainly opens the door for Canyon View to be more successful. Realistically, it's going to take time for players to become comfortable with the new offense and figure out how to win football games. Full-blown success might be a year away if the players and coaching staff stick with it.
Canyon View coaching history
2013 — Robby Robinson
2008-2012 — Alex Huxford (7-40)
2004-2007 — Randy Hunter (10-28)
1997-2003 — Danny Lewis (23-49)
Deseret News First Team all-staters the past 10 years
2006 — Austin Minefee, RB
To view second team and honorable mention all-staters through the years, check out the Deseret News All-State Archives.
Follow Deseret News prep editor James Edward on Twitter @DNewsPreps