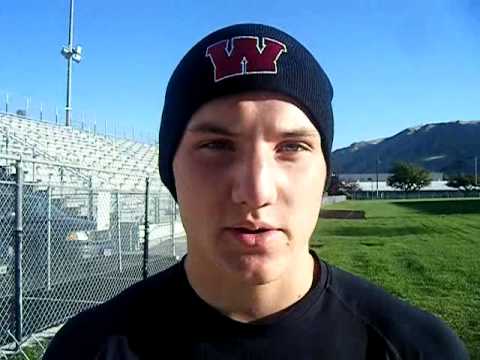 View 17 Items



What I'm expecting from them is just effort. We have talent. We've got speed, we've got length, we've got girth up front. It's just a matter of putting the pieces together and getting the kids to trust each other.

—West head football coach Keith Lopati
SALT LAKE CITY — West head football coach Keith Lopati took his seniors to Camp Kostopulos, hoping it would help them be better teammates.
There aren't any weight-lifting facilities, there are no sleds, and there is definitely no tackling involved in any of the activities at Camp K, an organization that offers recreation programs and camps for people with disabilities.
"I wanted to be able to mentor our kids, to teach them leadership skills," said Lopati, "so they're able to mentor our younger kids. I want to teach our kids perceptions and how things change from one person to another." With only five returning varsity starters, the West High football team will have a lot of student-athletes in key roles this season.
"A lot of them don't have a lot of experience," said Lopati. "There is going to be a fear factor. They need to be able to face their fears." Lopati's been impressed with the commitment level of this year's team, and he hopes that allows them to do something special this season.
"What I'm expecting from them is just effort," he said. "We have talent. We've got speed, we've got length, we've got girth up front. It's just a matter of putting the pieces together and getting the kids to trust each other."
How does a coach manage that? "A lot of patience," Lopati said with a laugh. "I've got to learn a lot of patience and continually work with the kids and put them in situations to be successful, not only as individuals but as a group." His players said they feel more connected with each other and more confident in their own skills.
"The atmosphere is different," said junior Chandler Wiley, one of the team's quarterbacks. "People want to compete instead of just being given a position to play. There isn't that sense of entitlement."
He said West has always had solid Little League programs, but for the last few years, the real challenge has been convincing players to stay and play for their neighborhood high school.
"We definitely have enough talent," said Wiley. "We have a good core of kids that can compete for a region title. If we come together, I think we'll go quite far in the playoffs."
Senior linebacker Chase Moray said Lopati and his assistants have changed a lot since they took over after his sophomore season.
"There is a lot more discipline than there was my sophomore year," he said.
This year, the team has even higher expectations in Lopati's second year as head coach.
"I feel like we've buckled down and gotten ready more this season," Moray said. "We've prepared a lot harder." Adds offensive lineman Polo Langi, "If we want (a region title) we can get it. We just need to work hard and be motivated."
Lopati said West will run the triple option this season and he believes senior A.J. Lolohea will play quarterback much of the time.
"He's played D-lineman the whole three years of football," said Lopati. "We're turning him into a varsity quarterback. We need him to carry the torch to what we want to do offensively."
While Lolohea wanted to give quarterback a try, Lopati said they made the move out of necessity.
"It gives us that dynamic of being able to run and pass, and that's a double threat that a lot of teams don't have the luxury of having. The only thing he lacks is game-time experience."
He said this season's team is deeper with at least two players at each position.
"And there isn't much drop off between first and second teamers," he said. "That's a luxury West hasn't had for a long time. That will be our strong point, especially in regards to our linemen up front."
Both coach and players are excited about the changes to the region, and they're looking forward to what they see as tougher challenges and better opportunities.
"What I see is a lot of parity within our region," said Lopati. "It's going to be pretty good."
Panthers at a glance
Coach: Keith Lopati enters his second year as head coach of West. The team went 2-8 in his first season. Lopati is a graduate of Highland and Hawaii.
Offense (3 returning; triple option)
The Panthers' success will depend on the big men up front. Seniors like Polo Langi, Newt Maua'I and Chase Moray need to play well in order for the team to win games.
"If they have an off day, we're in for a long night," said Lopati.
The team also needs A.J. Lolohea to step up to the challenge of learning how to quarterback in his senior season. If he does, the Panthers could be tough to stop. The challenge will be finding a way to live without him on the defensive line, although Lopati admits he may not be able to do so. Senior running back Isi Pupua, sophomore tight end Viliamu Solovi and wide receivers Ammon Seei and R.J. Roberts will give the offense a lot of options.
Defense (2 returning)
Many of the same athletes who need to deliver offensively will also be asked to contribute on the defensive side of the ball. Because the Panthers have some depth this season, there should be a lot more rotating, which means fresh legs throughout the game. The defensive line will be anchored by Maua'I and Langi, who will have some help from underclassmen. Pupua will also play linebacker, while Roberts is expected to be the team's safety.
Coaches preseason Region 2 straw poll: 5
Deseret News Region 2 prediction: 5
Bottom line
With so many new players in new positions, it's not easy to predict how well the Panthers might do. Their success depends, first and foremost, on Lopati's ability to create cohesion among players who don't have a lot of experience with each other or varsity football. The program has talent, and it's beginning to build depth. This season could see the West program turn a corner.
West coaching history
2012-current — Keith Lopati (2-8)
2009-11 — Justin Spencer (18-16)
2005-08 — Randy Schreiter (15-28)
2002-04 — Don Holtry (4-25)
1998-2001 — Sam Aloia (13-26)
1985-97 — Don Holtry (90-46)
1967-84 — Gean Plaga (147-47-3)
1959-66 — Don Jesperson (28-40-1)
1956-58 — Glen Tuckett (14-11)
1946-55 — Jimmy Vranes (44-36-8)
1943-45 — Paul Packard (0-20)
1942 — Parley "Paddy" Davis (1-3-2)
1938-41 — Pat Ryan (10-12-3)
1920-37 — Roy E. McIntyre (63-40-7)
1919 — Homer P. Christensen (5-2-1)
1911-18 — Henry G. "Heinie" Richardson (31-15)
1910 — Joe Busse (4-2)
1903-09 — David H. Callahan (28-12-3)
1902 — Mr. Boyle (6-1-2)
1898-1901 — David H. Callahan (15-2-1)
1893-97 — team captain (15-7-1)
.....
Deseret News First Team All-Staters the past 10 years
(None)
To view second team and honorable mention All-Staters through the years, check out the Deseret News All-State Archives.
Twitter: adonsports
Email: adonaldson@deseretnews.com