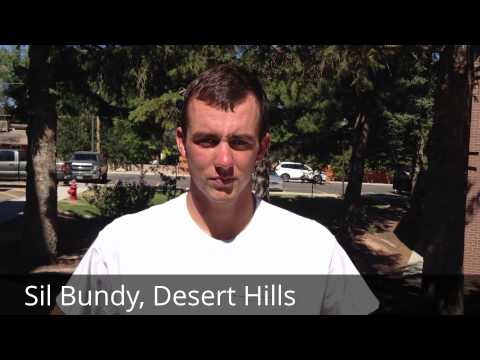 View 8 Items

My goal is to make Desert Hills High School football program one of the top-class programs in the state.

—Desert Hills head coach Carl Franke
Note: Desert Hills finished with an 8-4 overall record in 2012 and tied for first in Region 9 with a 5-1 record. It lost to Spanish Fork 35-28 in the 3A semifinals.
2012 Desert Hills statistical recap
ST. GEORGE — Carl Franke has a grand vision for Desert Hills football.
"My goal is to make Desert Hills High School football program one of the top-class programs in the state," said Franke, a New York native in his second year as head coach.
He'd like the program to be mentioned alongside elite programs across the state like Bingham, Mountain Crest and Alta, among others. Franke acknowledges it's tough to do as a 3A program, but said Juan Diego is a prime example that it can be done.
After last season, Desert Hills is certainly trending in the right direction.
In a year when many figured Desert Hills faced a difficult rebuilding season, the Thunder earned a share of the Region 9 title and advanced to the 3A semifinals for the second-straight season. That success came on the heels of finishing as a 3A runner-up in 2011.
The next step for Desert Hills to be mentioned among 3A elite is to win a state championship. That's never easy, as evidenced by the fact that it took Hurricane four tries to finally break its championship hex in 2011.
After two straight trips to Rice-Eccles Stadium, Desert Hills is a program that's tasted success and is hopeful about taking the next step.
"The thing I want to see this team is grow and mature and keep building on the foundation we've built," said Franke.
Desert Hills begins the season as the Region 9 favorite based on the Deseret News preseason coaches poll, expectations the Thunder are certainly capable of living up to with a great offensive line and a very stout defense.
The offensive line is without question the best in 3AA or 3A with five talented returning starters — Brock Doman (left tackle), Gabriel Sewell (left guard), Chipper Whatcott (center), Lausii Sewell (right guard) and Justice Alo (right tackle). Doman and Whatcott are the lone seniors, so the Thunder will be formidable in 2014 too.
"Our nucleus up front this year (is) nice," said Franke. "We have guys who've played there and they're still young."
That O-line corps will be blocking for arguably the best back in Southern Utah too. Bridger Cowdin is coming off a strong sophomore season in which he carried the ball 160 times for 954 yards and eight TDs. He was also a threat out of the backfield as he finished with 245 receiving yards.
"He's the best back in Region 9 and he could be one of the best backs in the state. Very talented, very good out of the backfield, great pass blocker. Does all the little things right, doesn't turn the ball over, and he's difficult to chase in the open field. Bridger's going to have to carry quite a big load this year as a junior," said Franke.
That will particularly be the case in Week 1 against visiting Stansbury. Last season Stansbury had few problems holding Cowdin in check during a 12-7 victory in Week 6, with the sophomore carrying the ball nine times for just 9 yards.
Stansbury could be even better defensively this season, which will be a great early test for Desert Hills' offensive line.
That opener will be a tough test defensively as well. Stansbury was among the highest-scoring teams in 3A last season and could be stronger this year as Utah State commit Chase Christiansen gears up for his senior season.
"They're very smart kids. What we don't have in talent we make up with smarts," said Franke of his players. "The kids have done a great job of understanding the defense coach (Nick) Hansen has implemented. We do a lot of different things. It's pretty complicated for a high school defense, but these kids pick it up so fast."
The defense also hits hard, a physical brand of football the coaching staff preaches every day. Against some of the more finesse teams in 3A, Franke believes being physical gives his team the necessary edge.
Desert Hills Thunder at a glance
Coach: Carl Franke is in his second year as head coach at Desert Hills. He's a graduate of Minisink Valley High in New York.
Offense
(7 returning starters; Spread offense)
After the graduation of QB Ty Rutledge, Desert Hills is turning to a sophomore Nick Warmsley this season. Warmsley played tailback on the freshman team last year, but he was given a look at QB this summer and coach Franke said he looked more poised and comfortable in the pocket than anyone else. With an experienced offensive line in front of him, talented junior Bridger Cowdin in the backfield, and 2012 leading receiver Jordan Hokanson to throw to, Warmsley realistically just needs to manage the game this season for Desert Hills to be successful.
Defense
(6 returning starters)
Desert Hills had a strong defense last year, but in big games against teams like Syracuse, Dixie and then in the 3A semifinals against Spanish Fork, it struggled to get off the field. With six returning starters, it hopes to improve. The Thunder will be particularly strong on the defensive line as coach Franke hopes to have a rotation of three or four defensive tackles. Wil Bundy is back at middle linebacker after leading the team in tackles last year, while Tucker Cowdin and Gabriel Sewell will start alongside him. Landen Broadhead, Braden Reber, Jacob Gabriel and Mason Palmer make a potentially formidable secondary.
Coaches preseason 3AA South straw poll: First
Deseret News 3AA South prediction: Second
Comment on this story
Bottom line: With the caliber of returning starters on the roster this year, anything less than a region title would be disappointing. The schedule is set up nicely for Desert Hills to take care of business as it hosts Dixie, Hurricane and Payson in region play this season. Fulfilling expectations could be the biggest challenge this team faces. It wasn't the team to beat in Region 9 either of the past two seasons, but this year the target is squarely on the Thunder.
Desert Hills coaching history
2012-current — Carl Franke (8-4)
2009-2011 — Jake Nelson (22-12)
2008 — Kevin Cuthbertson (3-7)
.....
Deseret News First Team all-staters the past 10 years
2012 — Ty Rutledge, QB
2012 — Josh Anderson, TE
2011 — Mike Needham, RB
2011 — Peter Brown, LB
2011 — Bud Pope, DB
2010 — Peter Brown, LB
2010 — Bud Pope, DB
To view second team and honorable mention all-staters through the years, check out the Deseret News All-State Archives.
Follow Deseret News prep editor James Edward on Twitter @DNewsPreps