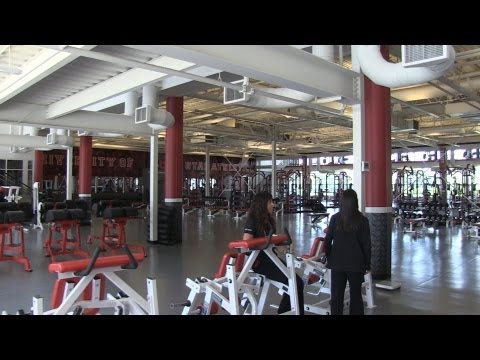 View 16 Items

SALT LAKE CITY — Just beyond the leather-cushioned locker cubicles and beneath the rotunda, and down the hall from the barber shop and players' lounge, and within smelling distance of the flatiron steaks, trout almondine, wild rice, clam chowder, pasta and salads, stood Jeremiah Poutasi, the Ute lineman everyone recruited.
So I asked: Is Utah's $32 million Spence and Cleone Eccles Football Center enough — by itself — to get an 18-year-old to commit?
"I just turned 19," he said, pausing to think it through.
He made an anything-can-happen shrug.
"It might."
The Utes unveiled their facility to the media and public on Thursday, and it didn't disappoint: A carpeted and paneled locker room, as hushed and cool as a country club. A cafeteria that for the grand opening served shrimp scampi, prime rib, buffalo beef sliders, chicken pasta, fruits, pizza, vegetables and desserts to the public. The other food was for players.
It was an introduction fit for a king — or even a teenage football recruit still weighing his options. There's a place for everyone at the new EFC. For instance, there is a TV studio, coaching offices, a full team auditorium, as well as offensive and defensive meeting rooms. There are position rooms, too, for every group: running backs, tight ends, wide receivers, etc., all with high-back leather seats.
Want to kick back and watch a game on TV? There are more HD screens than NORAD and the Pentagon combined. There are places for video games, table tennis and billiards. On the business end, there are physical therapy pools and examination tables galore. Players can charge their iPads and cell phones while someone is checking out their turf toe.
Reality is, injuries will come.
In this case, they just happen to come with a side order of chicken Kiev or baked salmon.
Remember when college football was all about the sacrifice? That's still there, but the rewards are much bigger. Jason Jones, a player at Utah in the early 1990s, drifted about the building on Thursday, marveling. He and the other walk-ons dressed in an overflow locker room of the HPER complex. Players cooled after practices in a cattle trough filled with ice and water.
Now they can set the speed and temperature of the water in a climate controlled sports medicine area.
There is a hall of fame, as well as one featuring the helmets of every NFL team. A touchscreen pulls up background on every Ute that ever played in the league. When a name is accessed, the corresponding helmet becomes backlit.
If this seems ostentatious, it is. The poli-sci department never had it so good. At the same time, officials are calling it an investment. President David W. Pershing said at the ribbon cutting that admission into the Pac-12 changed the entire university. He said it is attracting professors that wouldn't have accepted jobs at Utah, were it not for the conference affiliation.
As athletics director Chris Hill pointed out, "We're competing with the biggest of the big, and we're going to get there."
Academic purists bristle, but reality is that sports can grow academics. Students often learn of great universities via their sports programs.
But there is also the keeping-up-with-the-Joneses factor. Hill noted that a booster told him that wasn't the case because, at the moment, "you are the Joneses."
Truth is, the Utes aren't swimming in money, as are Oregon and USC. The football center gives them a nice jump, but in the wealthy Pac-12, simply treading water is expensive. Ten of the 12 teams are either building or have recently completed facilities similar to the EFC.
Arizona's Lowell-Stevens football facility cost $72 million. It includes ventilated locker room seats.
Same stuff as Utah, except maybe more of it.
Yet both were relatively modest compared to Oregon's, which includes a 500-pound rug, hand woven in Nepal, Brazilian hardwood floors, magnetic walls that can be written on and locker rooms accessible by biometric thumbprint.
If you must know, there's also a duck pond.
Total cost: The Ducks aren't saying. Media reports say the guesstimated cost of $68 million is far too low.
"People will complain," Oregon athletics director Rob Mullens told the New York Times, "but this is not excessive."
It's certainly not — if you're in the luxury hotel or space travel business.
Otherwise, it's crazy money.
Still, that's college football in 2013. The sobering part for Utah is that its facility is spectacular, brilliant and superb, yet will end up about average for the conference. Utah officials insist they aren't getting into an arms race with anyone.
After one bite of prime rib with horseradish sauce, I have only one thing to say: You could have fooled me.
Email: [email protected]; Twitter: @therockmonster; Blog: Rockmonster Unplugged