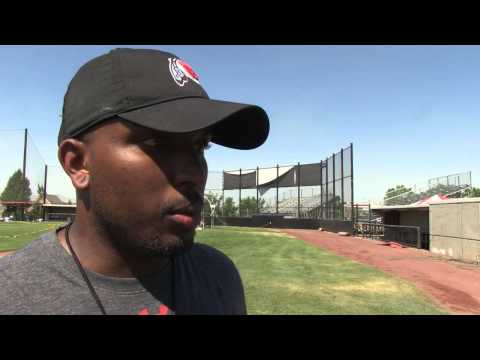 View 6 Items

It's different for me. But the communication that Brian (Johnson) and I have with me giving him information and occasionally calling plays and him calling plays, it's really a good combination.

—Utah co-offensive coordinator Dennis Erickson, on coaching from the press box
SALT LAKE CITY — It's been 32 years since Dennis Erickson has coached a college football game from a booth in the press box. The last time he did so was during his days as the offensive coordinator at San Jose State.
In Tuesday's scrimmage at Rice-Eccles Stadium, Erickson got his first taste of what he plans to do in his first season as Utah's co-offensive coordinator with Brian Johnson. Although he noted it was a long way away from the field, Erickson liked that he could see everything on the field from the box.
"It's different for me," Erickson acknowledged. "But the communication that Brian (Johnson) and I have with me giving him information and occasionally calling plays and him calling plays, it's really a good combination."
When Erickson, who has spent the past three decades as a college and NFL head coach, was hired in February, Whittingham told him to structure the offense exactly how he wanted to.
"It's his call to be up there. That's his preference," Whittingham said of Erickson's decision to be in the box during games and have Johnson on the sidelines. "… He feels that's our best configuration so that's what we're going with."
Johnson likes the arrangement. He prefers being on the field. Besides being a co-offensive coordinator, Johnson is Utah's quarterbacks coach and likes being able to speak with the signal callers face-to-face.
"I think it's a very, very important dynamic that you need to have," said Johnson, who remembers that former Utah quarterbacks coach Dan Mullen was always on the sidelines when he was a freshman in 2004. Johnson thinks a coach gets a better feel for the flow and emotion of the game down on the field.
"I think it's a good deal and it will work out," Johnson said of the arrangement with Erickson. "I think it'll work really well, and it is definitely a good fit."
QB UPDATE: While Travis Wilson has maintained the starting job at quarterback, the battle for the No. 2 and No. 3 spots continues to rage as Adam Schulz, Brandon Cox, Conner Manning and Micah Thomas continue to position themselves.
"It's good solid competition every single day," said Johnson, who added that the quarterbacks are getting a lot of reps in practice. "Those guys are making the most of their opportunities."
The competition, though, is reaching a critical point.
"We'll get another good look at those guys on Saturday and make a decision from there," said Johnson.
JUST AS TOUGH: Whittingham downplayed the notion that single practices are easier than double days. He said that one-practice days, like Thursday, are tougher because the players have weightlifting, walk-throughs and other things to do.
"I don't think there really is a great deal of difference between a double day and a single day when you look at the day as a whole," said Whittingham. "Camp is camp."
NO. 2 RUNNING BACK: There's a leader in the race to be Kelvin York's backup at running back. Whittingham said that sophomore Bubba Poole has moved into the No. 2 slot ahead of junior Lucky Radley and junior Karl Williams.
"He's somewhat separated himself from the rest of the pack," Whittingham explained. "But it's still a competition that's going on. We're still going to get a look at all of them in the scrimmage on Saturday."
Email: dirk@desnews.com
Twitter: @DirkFacer