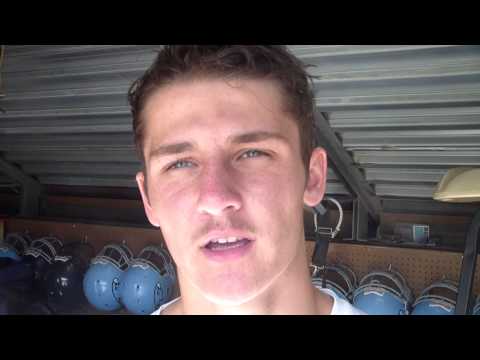 View 7 Items

Last year wasn't easy, but I think we did some good things and really set forth a foundation that the kids bought into. When it's time to get down to business, you do that. But we're all coaching football, playing football because it's the sport we love and it needs to be fun.

—Joel Higginson, Salem Hills High School head coach
SALEM — Winning hasn't come easy for Salem Hills in recent years, but you wouldn't know it being around team practices.
Second-year coach Joel Higginson's enthusiasm is contagious, and he has his players feeling confident heading into the season.
"I want to make sure each kid has a great experience playing here, so yeah, I like to keep it loose and fun," Higginson says. "When it's time to get down to business, you do that. But we're all coaching football, playing football because it's the sport we love and it needs to be fun."
On paper, Salem Hill's 3-7 record last season certainly wouldn't indicate a lot of fun going on within the program. But players showed up again for 2013 enthused about the program's future.
"Last year wasn't easy, but I think we did some good things and really set forth a foundation that the kids bought into," Higginson said. "I think I probably learned more than anyone after my first year, though. It doesn't matter how much you've been around the game — and I've been around the game for just about my entire life — nothing fully prepares you for your first season as a head coach."
Higginson instituted entirely new systems on both sides of the ball, and the team took its lumps as a result. The Skyhawks went to work in the offseason, however, and showed up ready to get after it.
"I was really impressed with how the players bought into what we do and how they worked," Higginson said. "Our players are coming back this year stronger, and in better shape, and I think that's definitely going to pay off."
The Skyhawks fielded a lot of underclassmen last season and hope to see much improvement this season as a result.
"I think we'll see a lot of growth on our offensive line," Higginson said. "We started three sophomores there last year and they all improved a lot and should be that much better this year."
At quarterback Higginson will go with Porter Gustin, a 6-foot-5 junior who is a multi-sport athlete. Gustin will have two very promising receivers to throw it to — including Zack Zobell, who will be a three-year starter.
"Zack runs great routes, has great hands, and I truly believe he's one of the most talented receivers in the state," Higginson said. "We then have Gunner Gustin, who is a tall guy, who can get up real high and make some plays for you. So we're really confident about our receivers."
On defense the team will be led by middle linebacker Walker Van Tassell and defensive lineman Kyle Mangelson.
"Walker is exactly what you want at middle linebacker," Higginson said. "He's physical; he's a leader; and he'll do great with Zack (Zobell), who will also play cornerback. Kyle Mangelson is a very solid defensive lineman, so we have some really good leaders on defense."
The goal for Salem Hills is simply to compete better than it has. With some good returning talent, and more than a year in Higginson's system, the team feels confident.
"It's coming around here, but boy, it's going to be tough in this region," Higginson said. "You obviously have Timpview, who are always the favorites, but every team is tough. We'll have to work hard to win anything in region, but I think we have the right kids and the right attitude to make a run at the playoffs, which would be great for this program."
Salem Hills Skyhawks at a glance
Coach: Joel Higginson starred at receiver for Spanish Fork and then for Utah State at the collegiate level. He was an assistant coach at both Spanish Fork and Salem Hills before taking his current post.
Offense
(7 returning starters; spread offense)
Higginson loves to spread the field and throw the ball, which should match his personnel well. As mentioned, Higginson has a lot of confidence in his receivers, but particularly likes an offensive line that took some lumps last season.
"Having more security at offensive line should be huge for us," Higginson said. "Last year we didn't know what we'd get, but this year I think they're going to be a strength for us and, as you know, an offensive line can really help you — everything starts there."
Defense
(6 returning starters; 4-3)
It's important to have a quality secondary in pass-happy Region 8, and Higginson has the players and the coach.
Former BYU cornerback Corby Eason joined his staff to coach the secondary.
"Corby is awesome and he's a great addition to our staff," Higginson said. "We were missing a great defensive backs coach and Corby is exactly that. He has a real desire to be a coach and we're just incredibly blessed to have him here and we'll be better because of what he's doing. Defensive back will be a strong position for us this year."
Coach's preseason Region 8 straw poll: Seventh
Deseret News Region 8 prediction: Seventh
Bottom line: Don't be surprised if the Skyhawks surpass expectations and make a run at the state playoffs. Key returners at key positions should bring better success in Higginson's second year, not to mention a better offensive line.
Salem Hills coaching history
2012-current — Joel Higginson (3-7)
2008-2011 — Monte Morgan (11-30)
Deseret News First Team all-staters the past 10 years
(None)
To view second team and honorable mention all-staters through the years, check out the Deseret News All-State Archives.