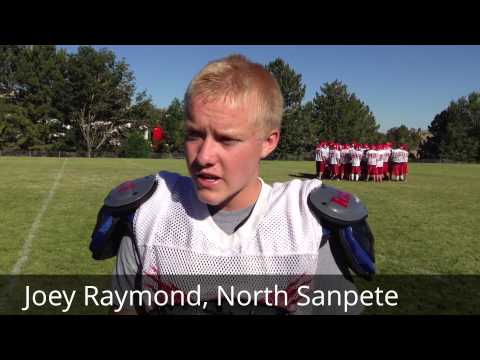 View 10 Items

Note: North Sanpete finished with a 5-6 overall record in 2012 and tied for second in Region 12 with a 3-2 record. It lost to Dixie 35-6 in the 3A first round.
2012 North Sanpete statistical recap
MOUNT PLEASANT — North Sanpete's football program is officially out of helmets and shoulder pads, and coach Matt Roberts couldn't be happier.
In his second season as head coach at his alma mater, Roberts has 30 more kids coming out for football than he did last year. For a 3A school that hasn't had a winning record since 2007 (6-5) and hasn't won a playoff game since 2001, that's a huge boost to the program.
Along with the increased participation comes higher expectations, something Roberts isn't shy about reminding his players of.
"We understand if we go .500 this year that's not acceptable," said Roberts.
Last year's 5-5 regular-season record and then first-round playoff loss to eventual champ Dixie was nothing to be ashamed of — far from it, in fact. The up-and-down campaign was a great first step for Roberts in his quest to get North Sanpete back on the map.
There are several reasons to believe the program is heading in the right direction, including being lumped into the smaller 3A classification in the UHSAA's realignment.
The smaller classification doesn't necessarily make the regular season any easier; it just makes success in the playoffs more attainable. But region foes Delta, Juab, Richfield, Canyon View and Manti are all thinking the same thing, which should make for very competitive Friday nights in September and October.
"Manti is going to be tough; they return a lot. The good thing about our region, week in and week out it kind of reminds me how it was down in St. George. Week in and week out you didn't know who was going to win. It was a battle every week," said Roberts, who was an assistant coach at Desert Hills before taking over at North Sanpete.
Two additional factors have Roberts believing North Sanpete will be right in the thick of the region race all season. The first is the progression of junior quarterback Brady Wheeler. The second is the presence of two outstanding move-ins.
Offensively, it starts with Wheeler. As a sophomore last season, Wheeler looked awkward at times and only completed 37 percent of his passes for 574 yards, four TDs and six interceptions.
A year later, he's a new man.
"Now he's one of the fastest kids on the team. He's put the weight room work in, the speed and agility work out. He's been the first one there and the last one to leave," said Roberts.
Wheeler participated in camps at Utah State, BYU and Utah to help hone his skills.
"Anything you can do to get better he's done. Hopefully he has a breakout season because of all the work," said Roberts. "He's got this offense down as good as any quarterback I've seen both at Desert Hills or here."
Defensively, without any returning starters, North Sanpete's coaching staff was always going to experience some anxiety about this season. That all changed when a couple of defensive linemen moved to Mount Pleasant.
Garrett Turpin is a transfer from Provo High, and the junior will be a huge asset at 6 foot, 240 pounds.
"He's just a mean, hard-nosed kid. From day one he came in with a work ethic, and that's something these kids respect," said Roberts.
The other addition is Hunter transfer Mark Out, a big, athletic nose guard who can also catch and block on the offensive side if necessary.
"He's the kind of kid these 3A centers are going to have a tough time with him," said Roberts.
Their physical presence defensively should help toughen up North Sanpete's presence defensively, which Roberts hopes ultimately leads to some long overdue postseason success.
North Sanpete at a glance
Coach: Matt Roberts is entering his second season as head coach at his alma mater, having amassed a 5-6 record in 2012.
Offense
(2 returning starters; I-back offense)
Having Brady Wheeler back at quarterback is a great foundation to start with, and so is the return of right tackle Ryan Milne to help protect the backside of the left-handed QB. Colton Barkdull was a role player on the offensive line last season, but this year he'll man the center position. Coach Roberts said in many ways Barkdull is the leader of the team. Wheeler's primary receiving threats will be tight end Bob Serrano and receiver Joey Raymond. At 6 foot 2 and 200 pounds, Serrano has the potential to be a big mismatch for opposing defenses. Running back is a question mark heading into the season, but may ultimately become a strength if sophomore Spencer Applegarth settles into the position right away. He's lightning fast, according to Roberts, and should be an all-state caliber player by his senior season.
Defense
(0 returning starters)
North Sanpete was a decent defensive team a year ago, ranking in the top 10 in 3A scoring defense at 21 ppg. None of the Hawks' starters are back, but Roberts isn't really concerned about the inexperience. Defensive line move-ins Mark Out and Garrett Turpin will help strengthen up the defensive front, while Barkdull will anchor the linebacking corps after seeing spot varsity playing time last season. Kayden Cook will patrol one of the outside linebacker positions. Wheeler will start in the secondary at either corner or safety, and Roberts said Wheeler's intimate understanding about offenses as a QB should pay dividends defensively as well.
Coaches preseason 3A South straw poll: Fourth
Deseret News 3A South prediction: Fourth
Bottom line: For a team with very little returning varsity experience, confidence is very high at North Sanpete. Offensively, the team should be fine with a couple of returning starters and athletic skill-position players surrounding them. Defensively, the Hawks' 11 new starters look decent on paper, but they've got to prove it on the field. They'll find out right away how good they are when Bear River comes to town for the season opener. The Bears have one of the best offensive lines in 3AA, and they will be a great early test for North Sanpete's highly touted defensive line newcomers. If everything comes together as the coaching staff hopes, North Sanpete will certainly be in the hunt for a region and state title later this October and November.
North Sanpete coaching history
2012-current — Matt Roberts (5-6)
2011 — Steve Coburn (4-7)
2008-2010 — Casey Jensen (6-24)
2005-2007 — Ben Morley (13-19)
2004 — Blake Turner (6-5)
1991-2003 — Mark Wootton (73-56)
1988-1990 — Todd Peacock (17-11)
1987 — Gary Stears (2-7)
1985-1986 — Dale Barker (1-15)
1984 — Dave Peck (7-3)
1979-1983 — Paul Tidwell (16-30)
1974-1978 — unknown (13-36)
1973 — Roger Tree (3-5-1)
1967-1972 — unknown (20-33)
1965-1966 — Brent Rock (10-7)
1960-1964 — unknown (18-14)
1956-1959 — Mack Wilkey (16-12)
1954-1955 — Don Holbrook (5-7-1)
1951-1953 — unknown (2-21)
1950 — E.G. Brunger (3-3)
1929-1949 — unknown (21-73-4)
1927-1928 — Donald Simmons (4-6)
1919-1926 — unknown (14-10-2)
1915-1916 — unknown (2-3-1)
1912-1913 — unknown (1-1)
.....
Deseret News First Team all-staters the past 10 years
2007 — Russell Christensen, DL
2005 — Tyson Church, RB
2003 — Brett Madsen, RB
2003 — Trevor Johnson, DB
To view second team and honorable mention all-staters through the years, check out the Deseret News All-State Archives.
Follow Deseret News prep editor James Edward on Twitter @DNewsPreps