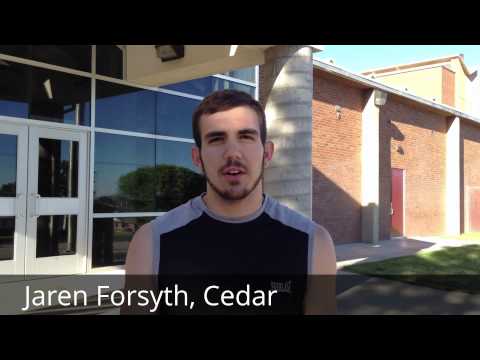 View 6 Items

I feel really good about the year to be honest. I love our region. I love how tough it is. I think we got a message we've got to get better, and I think our younger kids are working hard to get there.

—Cedar coach Todd Peacock
Note: Cedar finished with a 1-8 overall record in 2012 and was sixth in Region 9 with a 1-5 record. It did not qualify for the playoffs.
CEDAR CITY — The writing was always kind of on the wall for Cedar last season.
Coach Todd Peacock said he had a great group of seniors, but there wasn't much team speed and the squad lacked a true No. 1 fullback coming off a 2011 semifinal appearance. In another region Cedar might've done OK, but in Region 9 that formula equated to one victory.
Heading into the 2013 season, Peacock is cautiously optimistic even though his region is more unforgiving than ever with the departure of Canyon View and the addition of Payson.
"I feel really good about the year to be honest. I love our region. I love how tough it is. I think we got a message we've got to get better, and I think our younger kids are working hard to get there," said Peacock.
Cedar will be young though, with only a handful of seniors contributing.
Peacock said that when he's relied heavily on sophomores and juniors in years past, Cedar fared all right, but it always benefitted the following year with an experienced, senior-laden team. If that plays out similarly this season, 2013 will be an average year but 2014 should be a great year.
With all that said, Peacock isn't about to settle for marginal because the pieces are there to be much better than that.
"We have a lot better team speed, which will help a ton," said Peacock. "And, we're probably bigger, stronger and more athletic on the front line this year, which will help."
That speed and size should make a huge difference defensively, because quite frankly Cedar wasn't that good last year. Against the top four in Region 9 last year — Desert Hills, Hurricane, Dixie and Pine View — Cedar gave up 42, 31, 47 and 42 points, respectively.
Aside from Hurricane, which runs a traditional wing-T offense, the other three utilize elaborate spread offenses that Cedar has struggled to adapt to.
"We've been geared up to cover running teams and 50-50 teams, but these teams that are throwing we have to evolve and change to be able to do a better job. We're trying to do that, and we think we have some good ideas," said Peacock.
Unfortunately for Cedar, it won't get much early practice against passing teams as it faces Grantsville, Canyon View and Skyline the first three weeks of the season. After that it opens with reigning Region 9 co-champ Desert Hills.
That game will be at Cedar, as will region games against Pine View and Dixie —a favorable draw to help fight for a playoff spot.
Having depth at fullback will certainly help too.
Dallin Grover, Dallin Brooks, McCray Murray and Enterprise transfer Dylan Tripp are all talented fullbacks with the potential of contributing.
Grover figures to get the early reps as he tries to follow in the footsteps of his three older brothers who also played fullback for Cedar. He's definitely not going to wow anyone with his size.
"He's tiny," said Peacock. "He started several games for us last year at about 5 foot 2 and 120 pounds. He's not any bigger, but he's a ton stronger and he's back, and he's very good even though that's what size he is."
Tripp is a 5-foot-10, 220-pounder who Peacock calls the strongest kid he's ever seen.
With so much depth at fullback, Cedar's coaching staff is considering utilizing two fullbacks at times this season.
Cedar Redmen at a glance
Coach: Todd Peacock is entering his 23rd year as Cedar's head coach and his 27th overall, having spent three years at North Sanpete and one at East Carbon. He is 132-110-1 at Cedar and 154-125-1 overall. He's a graduate of Emery High School.
Offense
(4 returning starters; Option offense)
Cedar only averaged 18 ppg last season, but a better offensive line should make the team much more productive in 2013. Kole Dotson is a returning starter on that line, while Jaren Forsyth was a part-time starter. Brock Esplin and Dallin Jacoby will be newcomers on the line. Dotson, Esplin and Forstyth are all seniors. The quarterback position has been up in the air this summer with the coaching staff wavering between junior Breckin Lewis and junior Austin Obering. Lewis is a tough, smart kid while Obering is extremely fast. Cedar has some other athletic kids to fill out the running back spots with Bubba Allred, Lane Black, Dusty Hone and Ty Bulloch.
Defense
(5 returning starters)
Coach Peacock is confident he has the speed to keep up with some of the better teams down South this season. A couple of those key guys are cornerbacks Obering and Hone, who will need to have strong years if Cedar is going to be able to slow down the passing attacks of teams like Dixie, Desert Hills and Pine View. Cedar's linebacker corps will be anchored by Lewis and Grover, both returning starters. Dallin Brooks was a standout defensive end last season, but the junior will likely be moving to linebacker this season.
Coaches preseason 3AA South straw poll: Fifth
Deseret News 3AA South prediction: Sixth
Bottom line: History has a way of repeating itself, and don't be surprised if that happens again with Cedar football. In 2004 it advanced to the 3A semifinals, and followed it up with a 1-9 season in 2005. Peacock's team bounced back quickly with an 8-3 season in 2006. Fast forward seven years and Cedar is hoping to cap a similar three-year cycle after advancing to the semifinals in 2011 and then winning one game in 2012. With such a tough schedule in 3AA, it's hard to imagine Cedar winning eight games this season, but if the team speed is as good as advertised, a winning record and a return to the playoffs are certainly possibilities.
Cedar coaching history
1991-current — Todd Peacock (139-103)
1986-1990 — Kit Janes (19-31)
1980-1985 — Dave Jensen (43-18)
1977-1979 — Jim Dalton (10-18)
1974-1976 — Jack Bishop (12-14)
1971-1973 — John Pensis (14-21)
1970 — Jim Marshall (2-6)
1967-1969 — Unknown
1966 — Jack Sawyers (4-3)
1956-1965 — Harold Norton (49-30)
1952-1955 — Glen Jackson (26-6)
1937-1950 — Unknown
.....
Deseret News First Team all-staters the past 10 years
2011 — John Ursua, QB
2011 — Kahi Eldredge, OL
2010 — Matt Grover, RB
2010 — Connor Ottenbacher, OL
2009 — Jackson Carter, DB/QB
2009 — Jesse Woods, DL
2008 — Ryan Decker, DL
2008 — Trent Grover, LB
2007 — Dylan Fox, LB
2007 — Spencer Montgomery, OL
2007 — Logan Obering, DB
2006 — Todd Whitney, LB
2004 — Kaylon Pickett, DL
2004 — Jordan Wood, DB
2004 — Joe West, SP
2003 — Taylor Ruud, OL
2003 — Bradon Grover, LB
2003 — Marty Sims, DB
To view second team and honorable mention all-staters through the years, check out the Deseret News All-State Archives.
Follow Deseret News prep editor James Edward on Twitter @DNewsPreps